CarGo has surgery, might not be ready by spring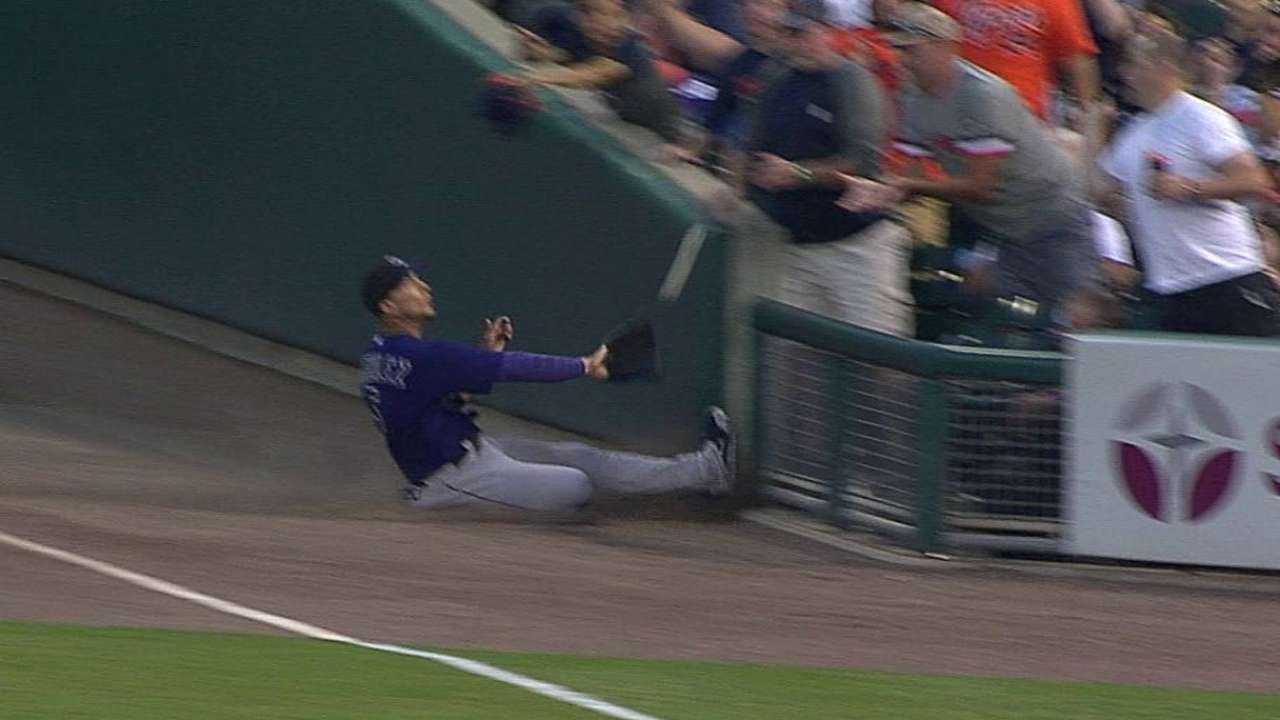 DENVER -- Rockies outfielder Carlos Gonzalez had the middle third of the left patella tendon repaired and a bursa sac removed in a surgery on Monday. Head athletic trainer Keith Dugger cautioned that it won't be known for months if Gonzalez will be healthy enough to begin Spring Training on time.
"The fatty pad [bursa sac] was beat up and torn up," Dugger said. "they cleaned that out. The middle third of the patella tendon was where the actually diseased tissue was. They cut that out and sewed it back together."
Doctors knew from MRI readings that the tendon was damaged, but understood that the full extent of damage could not be assessed until the surgical procedure, performed by Dr. Thomas Hackett in Vail, Colo.
Dugger said Gonzalez was placed in a straight-leg knee immobilizer and will be on crutches at least three weeks.
Gonzalez tweeted: En Vail saliendo a Denver. Todo salió perfecto, gracias a Dios y a mi Chinita... Ahora unos meses de terapia. --CarGo"
En Vail saliendo a Denver. Todo salió perfecto, gracias a Dios y a mi Chinita... Ahora unos meses de terapia pic.twitter.com/2WhSUlEo1v

- Car Go (@CarGoMedia5) August 19, 2014
Translated, in part, he said: "Thank God and my sweetheart that everything went perfect. Now four months of physical therapy, but it will all be worth it."
But when he'll be full-speed is uncertain.
"We really won't know how he is going to be until that 4 1/2- to 5-month mark," Dugger said. "He might be a little delayed for Spring Training, but our goal is to get him there and get him ready.
"Nothing is a cure-all. The closest thing to a cure-all is the rehab."
Rockies teammate Michael Cuddyer had a similar surgery after the 2010 season, when he hit a career-low 14 home runs. Cuddyer returned in 2011 to hit 20 homers and drive in 70 runs, and the Rockies signed him after that season.
Gonzalez, who underwent surgery in June to remove a benign tumor from his left index finger, played in just 70 games and batted a career-low .238 with 11 home runs and 38 RBIs.
Thomas Harding is a reporter for MLB.com. Follow him on Twitter @harding_at_mlb. This story was not subject to the approval of Major League Baseball or its clubs.