Twins' five-run first inning goes for naught
Arcia's three-run blast caps big frame, but Gibson, 'pen lose lead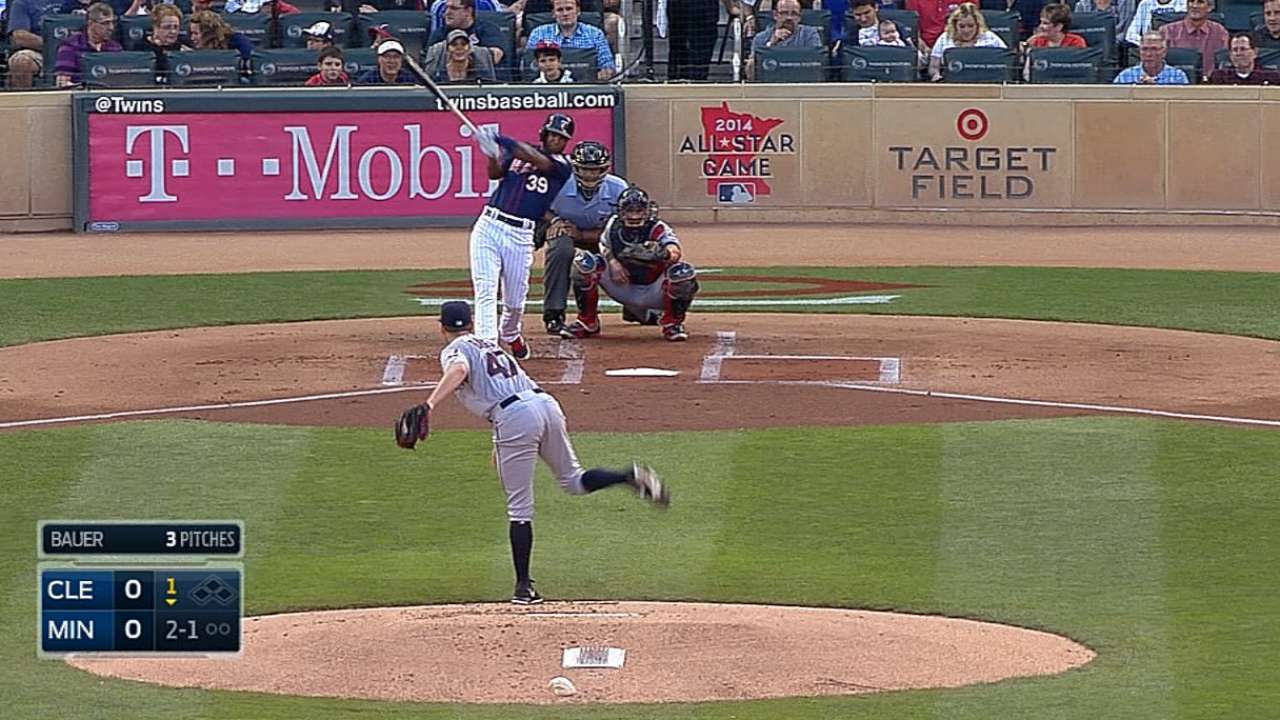 MINNEAPOLIS -- In a season that has seen its fair share of frustrating losses, the Twins' showing against the Indians on Tuesday night ranks near the top.
The Twins scored five runs before they even registered an out in the first inning, but they couldn't hold on to the early lead in a 7-5 loss to the Indians at Target Field.
Minnesota jumped all over Indians right-hander Trevor Bauer in the first inning, scoring five runs in a hurry, but right-hander Kyle Gibson simply couldn't protect the lead. Gibson gave back all five runs to get saddled with a no-decision, while reliever Brian Duensing gave up two runs as part of a three-run sixth to get stuck with the loss.
"You gotta pitch and you gotta stop them and we didn't do a very good job of that," Twins manager Ron Gardenhire said. "They kept scoring one here, two there and then the next thing you know they're in it."
It started out looking good for the Twins, as Danny Santana opened with a double and Brian Dozier walked before Joe Mauer brought home the game's first run with a ground-rule double to left field.
Kennys Vargas followed with an RBI single before Oswaldo Arcia connected on a three-run blast to right field to give the Twins a five-run lead. It was Arcia's 13th homer of the year and his fifth over his last seven games.
But the early offensive output wasn't enough, as Gibson struggled and ultimately couldn't preserve the lead. The right-hander gave up five runs on eight hits and a walk over 5 1/3 innings and was clearly not happy with the result.
"It's just a bad job," Gibson said. "The offense does a great job scoring five runs against a guy who has been pretty good at times this year. To just give it away slowly and give all the momentum back is the opposite of my job."
The Indians kept chipping at the lead, scoring in the second on a solo blast from Yan Gomes. They scored two more times in the fourth on a two-run single from Zach Walters with one out.
Cleveland cut the Twins' lead down to 5-4 in the fifth, when Michael Bourn scored on a wild pitch from Gibson with two outs and Carlos Santana at the plate with two strikes.
"That might've been the turning point of the game right there," Gibson said. "I had two strikes on Santana and I went with an offspeed pitch and choked it. It was probably the worst one I've had in a while."
It all unraveled for the Twins in the sixth as the Indians scored three times to take the lead for good. Gibson exited after giving up a one-out single to Gomes with Duensing replacing him.
Duensing gave up a single to Lonnie Chisenhall, but got Walters to pop out for the inning's second out. But Cleveland struck with two outs, as pinch-hitter Tyler Holt smashed a two-run double off the wall in right-center field to give the Indians the lead. Bourn gave them an insurance run with an RBI single to left field to score Holt.
The double gave Holt the first two RBIs of his career. He was called up from Triple-A Toledo right before the game.
"He's always ready," Indians manager Terry Francona said. "He's swung the bat real well off left-handers in the Minor Leagues and he's certainly going to get an opportunity to do that here."
The Twins threatened in the seventh, as Eduardo Escobar and pinch-hitter Eduardo Nunez both singled with no outs, but they didn't score. Santana couldn't get a sacrifice bunt down and struck out, then Dozier popped out and Mauer grounded out to short.
"We didn't execute," said Gardenhire, who added it was an automatic decision to call for the bunt. "Santana had to get that bunt down. That's part of his game."
It was another missed opportunity for the Twins, who have lost four of five during their current 11-game homestand. The Indians used eight pitchers on the night, including closer Cody Allen, who tossed a scoreless ninth to get his 16th save.
"It was frustrating watching that," Gardenhire said. "We scored five in the first and then nothing after that. You can't shut down after that. You can see what they're playing for. Francona, I didn't know he had that many relievers. But he's doing what he can to keep them in a race."
Rhett Bollinger is a reporter for MLB.com. Read his blog, Bollinger Beat, and follow him on Twitter @RhettBollinger. This story was not subject to the approval of Major League Baseball or its clubs.