On day of callup, Holt keys Tribe's win
Rookie's two-run double in sixth gives Indians lead for good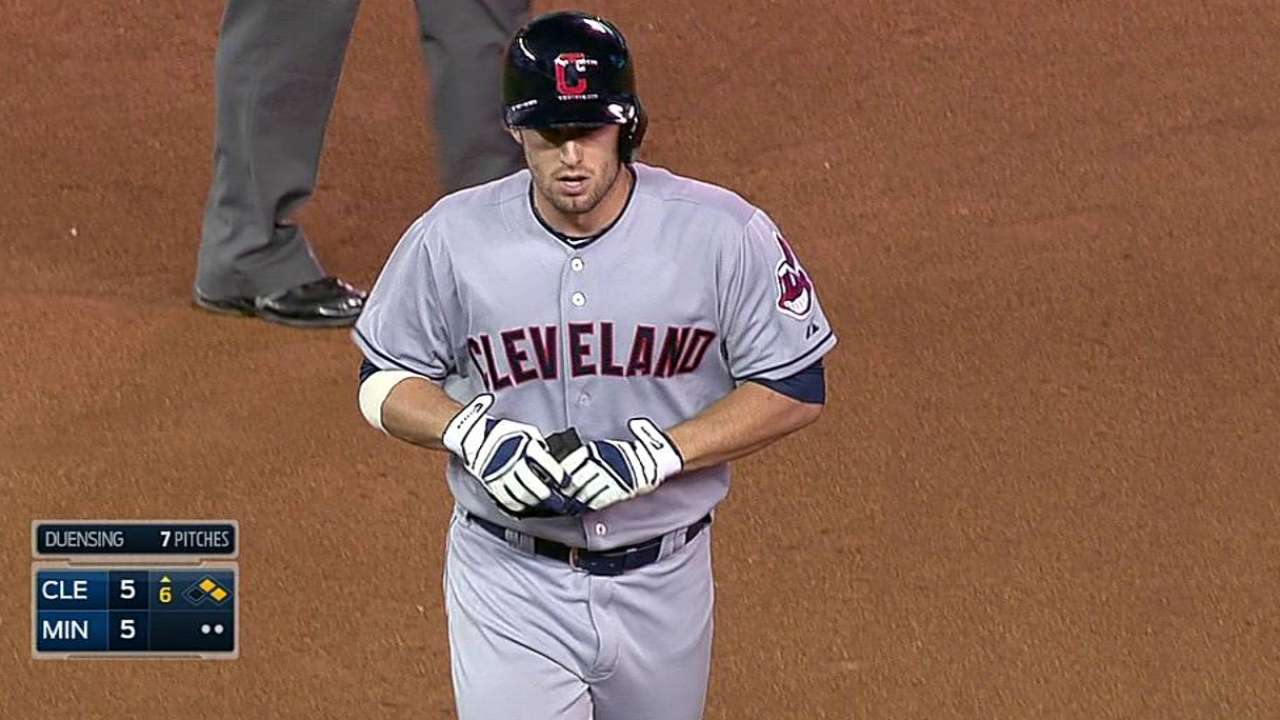 MINNEAPOLIS -- A big part of Tyler Holt's game is his speed. It was fitting then that the Indians' rookie outfielder was racing to Target Field in an effort to arrive in time for Cleveland's clash with the Twins on Tuesday night.
Recalled from Triple-A Columbus prior to the contest, Holt landed in Minnesota less than an hour before the first pitch and arrived to the ballpark shortly before the game began to give the club an option off the bench. There was just one slight hiccup: Holt's taxi driver was not sure where the stadium was located.
"I got in a cab and told him to take me to Target Field," Holt said with a laugh after the Indians' 7-5 comeback win over the Twins. "He said, 'Where?' He didn't know where Target Field was."
No harm done. Holt arrived with enough time to deliver the decisive hit in the Tribe's victory.
Following a first-inning disaster from Indians starter Trevor Bauer, Cleveland settled things down, chipped away and rallied for a victory in the opener of this three-game set in the Twin Cities. Bauer reeled himself in, the bullpen did the rest and the offense -- led by catcher Yan Gomes' three-hit showing -- swung the game back in the Tribe's favor.
The win was the sixth in the past eight games for Cleveland.
Holt, who was summoned from Triple-A after the Indians placed veteran utility man Ryan Raburn on the 15-day disabled list with a right wrist injury, got to the clubhouse around 6:50 p.m. CT and rushed to get something to eat. It was a less-than-ideal situation for the 25-year-old outfielder, who did not learn he was headed back to the big leagues until around 2:30 p.m. back in Ohio.
"I think he was a little rattled," Indians manager Terry Francona said.
Trailing by one run, Cleveland called upon Holt with two outs and two runners aboard in the sixth inning. The outfielder was in the batting cage, thinking he was going to enter the game in the seventh or eighth, when Indians bench coach Brad Mills let him know he was needed on the field.
"[Mills] slams through the door and says, 'Hey, you're up!'" Holt said. "I didn't really have any time to think or get ready. So, I just threw on some gloves."
Facing Twins lefty Brian Duensing, Holt drilled a 2-2 pitch to the wall in right-center field, scoring two runs to put Cleveland ahead for good. Holt's double completed a rally that effectively erased an ugly opening from Bauer.
In a span of 23 pitches, Minnesota's first five batters in the first inning each reached base and scored a run to put the Tribe in a swift 5-0 hole. After a leadoff double by Danny Santana, Bauer walked Brian Dozier, gave up an RBI double to Joe Mauer, surrendered a run-scoring single to Kennys Vargas and then yielded a towering three-run home run to Oswaldo Arcia.
It was the continuation of an unfortunate trend for Bauer, who now has a 5.68 ERA in the first inning this season and a 6.07 ERA in the first inning in his Major League career.
"We've certainly seen it with guys," Francona said. "Once they get comfortable, they're better. But, I don't think that should happen. That was a bit much. I think he's got to be able to make some adjustments early on. He just fell behind every hitter and paid dearly for it."
As has been the case in previous efforts, though, the young right-hander calmed the storm before it got entirely out of hand.
Arcia's home run preceded a run of 14 consecutive outs for Bauer, who was pulled from the game on his 87th pitch, which resulted in a two-out walk to Dozier in the fifth. From there, Francona utilized his army of relievers, using seven more arms to keep Minnesota's bats at bay.
All told, Bauer was charged with five runs on four hits -- all in the first inning -- and ended with four strikeouts and two walks in his 4 2/3 innings.
"It's nice to know you can turn the ball over to them," Bauer said of the relievers, "and they're going to throw up zeros, they're going to keep you in the game and it's not going to get out of hand. You almost get stronger when you turn it over to them. That's a credit to everyone down there."
Gomes initiated Cleveland's comeback in the second inning, when he belted a 2-0 offering from Twins starter Kyle Gibson into the second deck beyond left field for a solo homer. The blast was the 17th of the season for Gomes, who went 3-for-4 with three runs on the night, giving him a .359 average over his past 30 games.
In the fourth inning, Zach Walters cut the Twins' advantage to 5-3 with a two-run single into right field. Michael Bourn scored from third on a wild pitch in the fifth and then -- following Holt's clutch double -- contributed an RBI single in the sixth to increase the Tribe's lead, 7-5.
Holt, who is in his fourth tour with the Tribe this season, was hardly stunned by the rally.
"Since I've been here, it's nothing unusual," Holt said. "These guys battle until the 27th out, so it's not a surprise that they came back. Luckily, I got the opportunity to come through and got a little lucky and hit a double."
Fortunately for Cleveland, Holt got to the ballpark.
Jordan Bastian is a reporter for MLB.com. Read his blog, Major League Bastian, and follow him on Twitter @MLBastian. This story was not subject to the approval of Major League Baseball or its clubs.