Infante's four hits help Royals keep pace in race
Shields gives up two runs in seven before offense takes control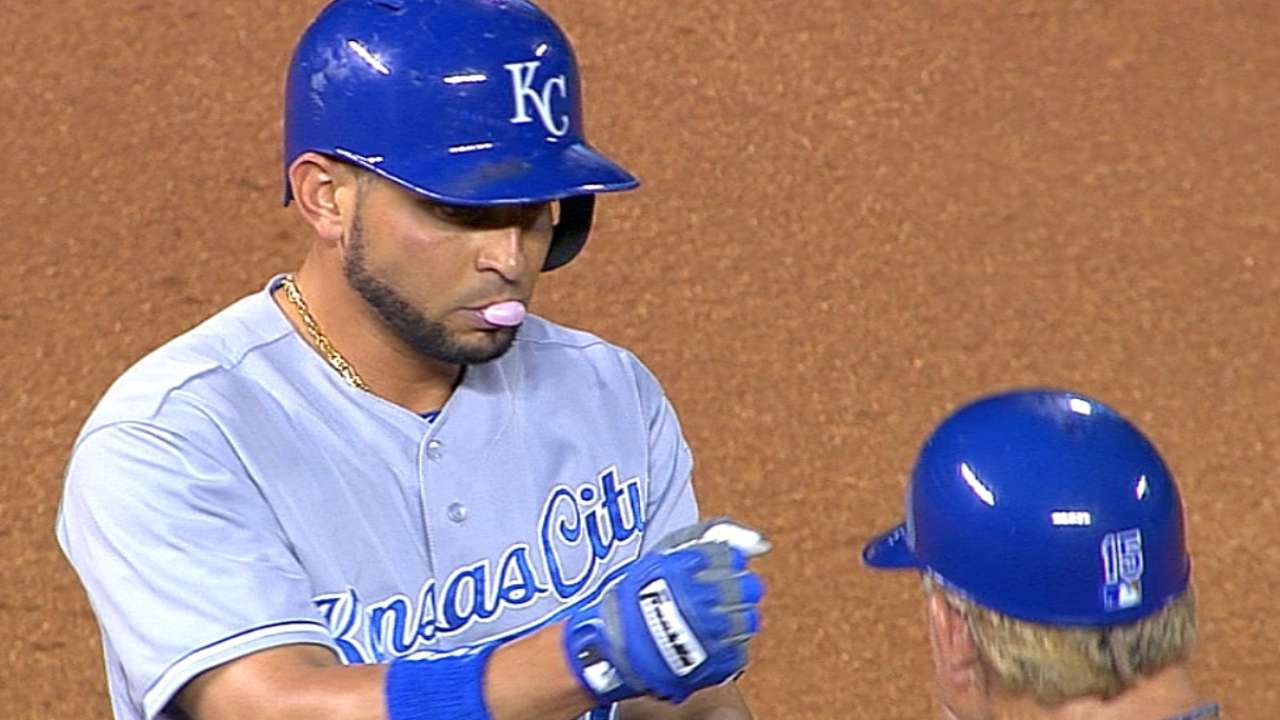 DENVER -- If nothing else, the Royals have timing.
The hottest team in the Majors waited till the season was half past gone to rattle off eight straight series victories and take control of the American League Central. On Tuesday, the Royals took nearly as long to come alive before scoring six runs with two outs in the seventh and eighth.
After the Royals rallied for a 7-4 victory at Coors Field, first base coach Rusty Kuntz kept with Kansas City's timing theme by surprising manager Ned Yost with a birthday cake just seconds into his postgame presser.
Then again, when you're the skipper for a club that has won 22 of its last 27, every day must feel like your birthday. Especially when you've won your last two by scoring 12 of 13 runs with two outs.
"For 35 years, I've always thought I've been a winner on every one of my birthdays because I'm with a group of guys a really like and have fun being around," said Yost. "But when you win the game, it makes it that much sweeter."
Trailing 2-1 after six, the Royals still appeared to be stumped against rookie Tyler Matzek as the left-hander registered the first two outs of the seventh on seven pitches.
Although Josh Willingham eventually singled to break up the monotony, Matzek quickly got back on track by jumping on Nori Aoki with an 0-2 count.
But after his next four pitches missed the mark, Aoki took his base and Matzek took his seat on the bench.
"I wish I would've got him," Matzek said. "I threw a couple of pretty decent sliders and he did a good job of laying off of them. I've got to be a little more aggressive in the zone against him and force him to beat me."
With two on and two out, right-hander Adam Ottavino came on to face Omar Infante. After taking all the way to fall behind 1-2, Infante slapped an opposite-field double off Ottavino to clear the bases and capture a 3-2 lead. Salvador Perez then returned the favor with a double off the center-field fence to tack on another.
"We've really been putting some two-out rallies on the board here the last couple days," Yost said. "Their guy threw the ball well. It took us a while to get to him. But Omar's big hit off a tough righty is the thing that got us going."
Shields struck out six but surrendered nine hits, a surprising total considering his .223 batting average since July 7. One of those hits was a solo shot from Nolan Arenado that put the Rockies up 2-1 in the fifth. The Rockies also totaled two singles off his first three pitches before scoring a run on a double-play ball in the first.
"It was a grind day," Shields said. "It was one of those days where I didn't have my good stuff at all."
The Royals struck again with two outs in the eighth against left-hander Rex Brothers.
Christian Colon drew a pinch-hit walk with the bases loaded for one run. Infante then broke it wide open with his career-high-tying third double of the game, plating two more. Infante would finish his night 4-for-5 with 4 RBIs and one run.
"Omar's swing is so simple," Yost said. "It's not a lot of moving parts. His bat-head is real quick to the ball. He can get on a streak in a hurry."
The Royals got their first run in the third when Billy Butler dusted the cobwebs off his burners to score from first on Lorenzo Cain 's double. DJ LeMahieu's well-timed relay throw gave catcher Michael McKenry a chance but he couldn't secure the ball.
Following the Royals' 15th Interleague win in 19 tries, Butler seemed to still be catching his breath from the altitude.
"I was sitting there thinking, "Man, is my heart rate ever going to come down," Butler said. "Granted, going from first to home, I haven't done that too many times."
Drew Stubbs left the yard against left-hander Francisley Bueno in the ninth to get two back but that's as close as the Rockies would reach with right-hander Greg Holland coming on for his Major League-best 39th save.
Cody Ulm is an associate reporter for MLB.com. This story was not subject to the approval of Major League Baseball or its clubs.