Reds want Hamilton to pick his spots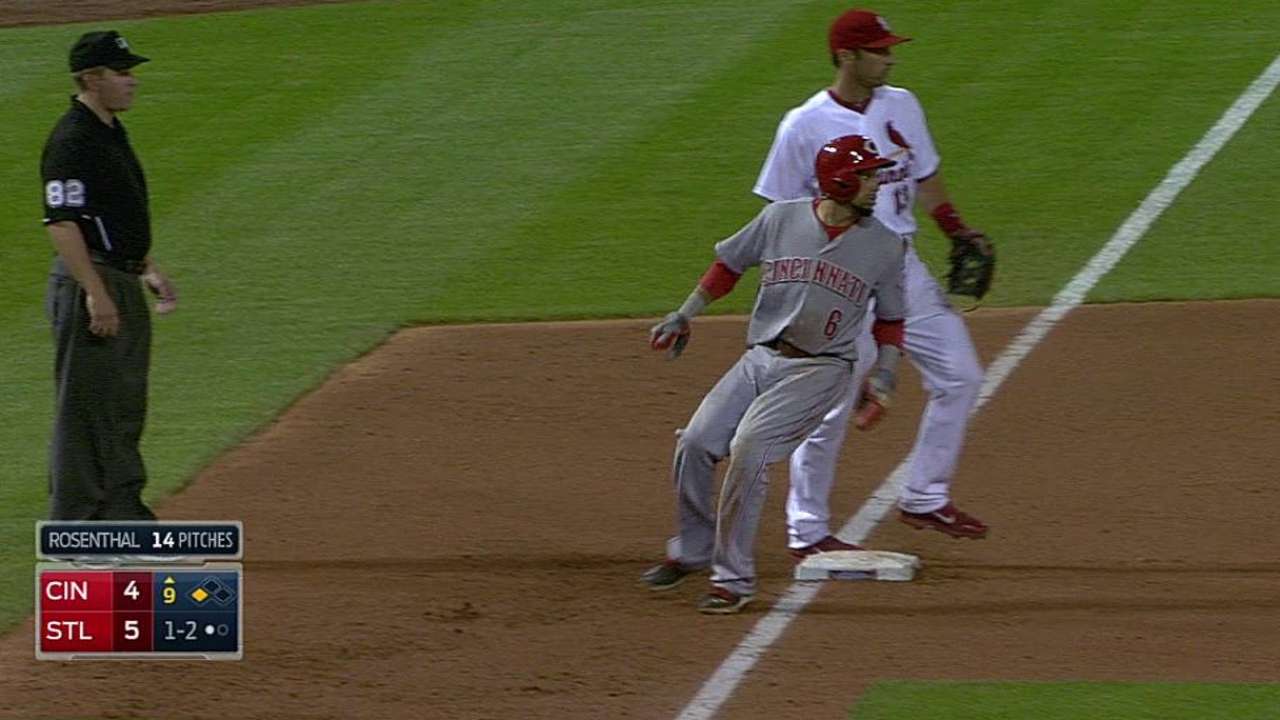 ST. LOUIS -- It may sound counterintuitive, but the Reds feel that if Billy Hamilton attempts fewer steals, he could ultimately be a more successful basestealer.
Hamilton, the Reds' leadoff man and center fielder, has successfully swiped his last three bases -- including one in the ninth inning vs. the Cardinals that led to a tying run in Monday night's 6-5 loss at Busch Stadium -- but he entered Tuesday with only six attempts in August.
"To me, it's the evolution of a basestealer at this level," Reds manager Bryan Price said on Tuesday. "The number of stolen bases is impressive, but we want to cut down on the number of caught stealing. That part of the education is getting a better understanding and taking the better opportunities when they are there, instead of forcing yourself into opportunities that are not there."
Hamilton's 46 steals entering the night were the most for a Reds player since Deion Sanders had 56 in 1997 and eight shy of the club's 105-year-old record for a rookie. In June, Hamilton attempted 20 steals and was caught six times. In July, he had eight steals and was caught four times.
Price and the Reds' coaching staff have noticed pitchers working faster to the plate with extra quick slide-step deliveries to try to prevent Hamilton from bolting from first base.
"Some of these guys are like record-setting slide-step times when he's on base. That's enough of a difference," Price said. "I think those are the things that when you're an outstanding young player, you think you can do about anything. We've tried to be more practical with when he runs."
On Monday, with Trevor Rosenthal pitching, Hamilton walked and stole second base even with a good pitch. He was able to take third on catcher A.J. Pierzynski's throwing error.
"He was able to force a bad throw and steal a base," Price said.
Mark Sheldon is a reporter for MLB.com. Read his blog, Mark My Word, and follow him on Twitter @m_sheldon. This story was not subject to the approval of Major League Baseball or its clubs.