Cards stay hot with another walk-off win
Jay's plunking in ninth sinks Cincy as St. Louis keeps pace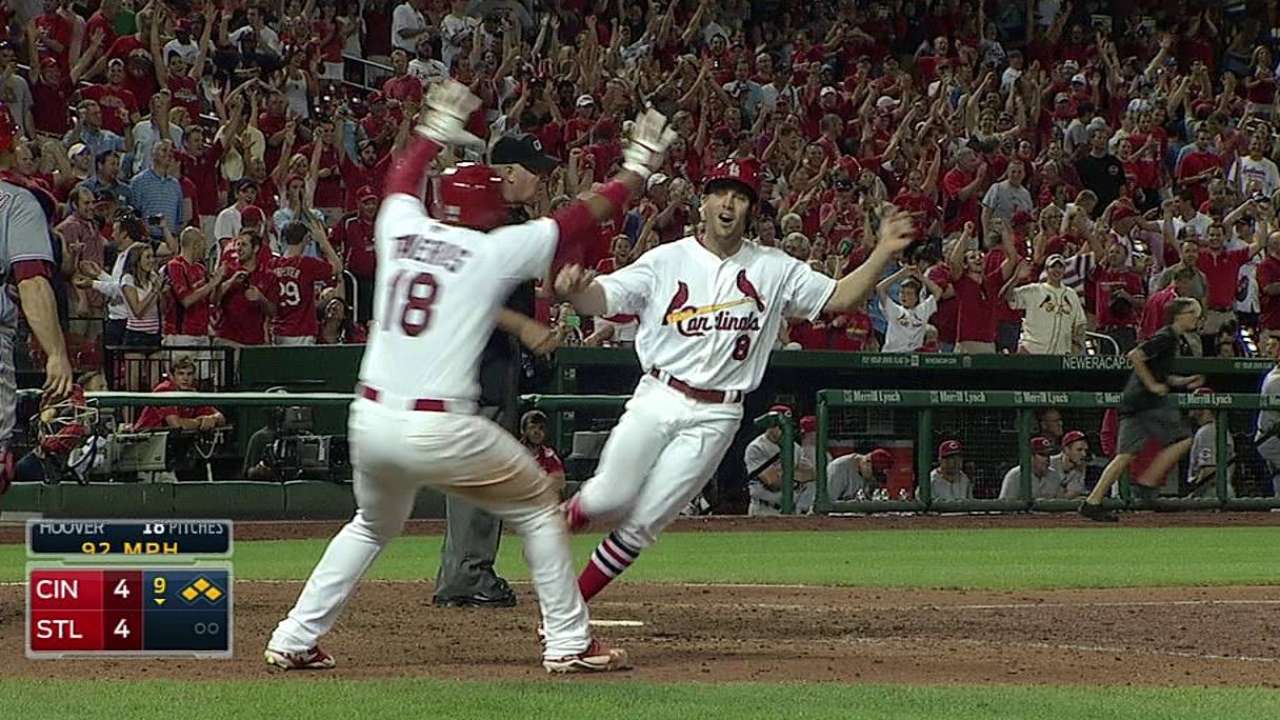 ST. LOUIS -- As the Cardinals trod through the first four months of the season, regularly locked in tight games but losing as many as they were winning, manager Mike Matheny continued to preach of payoff.
A team beat down by tough losses then, Matheny believed, would be a more resilient one later.
The Cardinals' season continues to be defined by narrow margins of victory, but those close games are increasingly falling in the win column these days. They were walk-off winners for the second consecutive night on Tuesday, this time celebrating after Jon Jay was hit by a pitch in the ninth inning to force home a run in a 5-4 win over the Reds in front of 42,573 at Busch Stadium.
The win, the team's sixth in seven games, inched the Cardinals 11 games above .500 for the first time all year. Of the five wins on this homestand, four have come by one run (including three straight), the other by two, and three have featured game-winning RBIs in the team's final at-bat.
The Cardinals have kept pace with the Brewers, still 2 1/2 games ahead in the National League Central, by making the close ones count.
"It toughens a team up," Matheny said. "It doesn't necessarily make it easy on you because it does beat you up. You're constantly grinding. There are never those days where you constantly breathe. But that's not what we're here for. We're here to win games."
In order to avoid being sunk by defensive miscues, the Cardinals rode the production of their bench and the unexpected aid of their starting pitcher's bat to the come-from-behind win. The club scored four unanswered times, beginning with Jhonny Peralta's team-leading 17th homer in the sixth and capped by Jay being hit by a pitch for the fifth time in five games.
A club that has seen 62 of its 125 games determined by one or two runs, is now 8-2 in such affairs this month.
"I think that says a lot about this team, how they battle," starter John Lackey said.
"Call it whatever you want to call it," Daniel Descalso added. "I think we're just playing better baseball right now. We got down the last couple of nights and came back. That's always a good sign."
Descalso, for the second straight night, helped in that comeback. After Shane Robinson delivered a pinch-hit RBI in the sixth to pull the team to within one, Descalso stepped up in the eighth with a game-tying double off the bench, as he had on Monday. It was preceded by A.J. Pierzynski's pinch-hit single, giving the Cardinals' bench a 3-for-3 night.
That was after Lackey, hitless since 2011, had twice singled from the ninth spot in the order to help the club score off Alfredo Simon early.
"Guys were ready," Matheny said. "I think they're feeling good about what we're doing as a club."
The Cardinals then wasted no time getting to reliever J.J. Hoover in the ninth. Two walks and a Matt Adams single loaded the bases for Jay, who was hit for the Major-League-most 15th time this year.
"I don't know," Jay shrugged, when asked about being such a magnet. "Guys try to throw inside on me and I get hit. It's not like I go up there hoping to get hit by a pitch every time."
It was the second time this season that the Cardinals have walked off with a hit batter, the last coming on May 13, when Greg Garcia took one for the team in a win over the Cubs. St. Louis had been 2-43 when trailing after seven innings.
"I wasn't really hitting any spots out there tonight," Hoover said. "I wasn't nervous. I wasn't overly amped up. I have all the confidence in the world I can do that job. I didn't have it tonight and that's very frustrating."
St. Louis outhit the Reds, 14-7, but wasn't nearly as optimistic until late. The Reds took the lead in the fourth inning with Todd Frazier's two-run homer, and they stretched it in the sixth with a pair of unearned runs. A dropped fly ball by Matt Holliday and a muffed grounder at third by Matt Carpenter set the Reds up to score twice on Ryan Ludwick's double.
Lackey kept the inning from spiraling out of control by stranding a pair of runners in scoring position.
"Once I got to bases loaded, you want to try and keep the team in the game, give them a chance to win the ballgame," Lackey said. "You just try to make pitches. You try not to let things you can't control affect you and try to make some pitches."
His night would end there, as the Cardinals elected to pinch-hit for him in the bottom half of the frame to capitalize on a run-scoring opportunity. They did so successfully with Robinson's hit.
Randy Choate, Seth Maness and Pat Neshek, who covered the ninth because Trevor Rosenthal was unavailable, followed Lackey with three scoreless innings.
"It hasn't been easy," Matheny said. "There haven't been a lot of laughers one way or the other. They show grit. They show fight. It's a hard team not to love."
Jenifer Langosch is a reporter for MLB.com. Read her blog, By Gosh, It's Langosch, and follow her on Twitter @LangoschMLB. This story was not subject to the approval of Major League Baseball or its clubs.