Reds' bullpen struggles mount in fourth straight loss
Hoover hits Jay with bases loaded in ninth inning as Cards walk off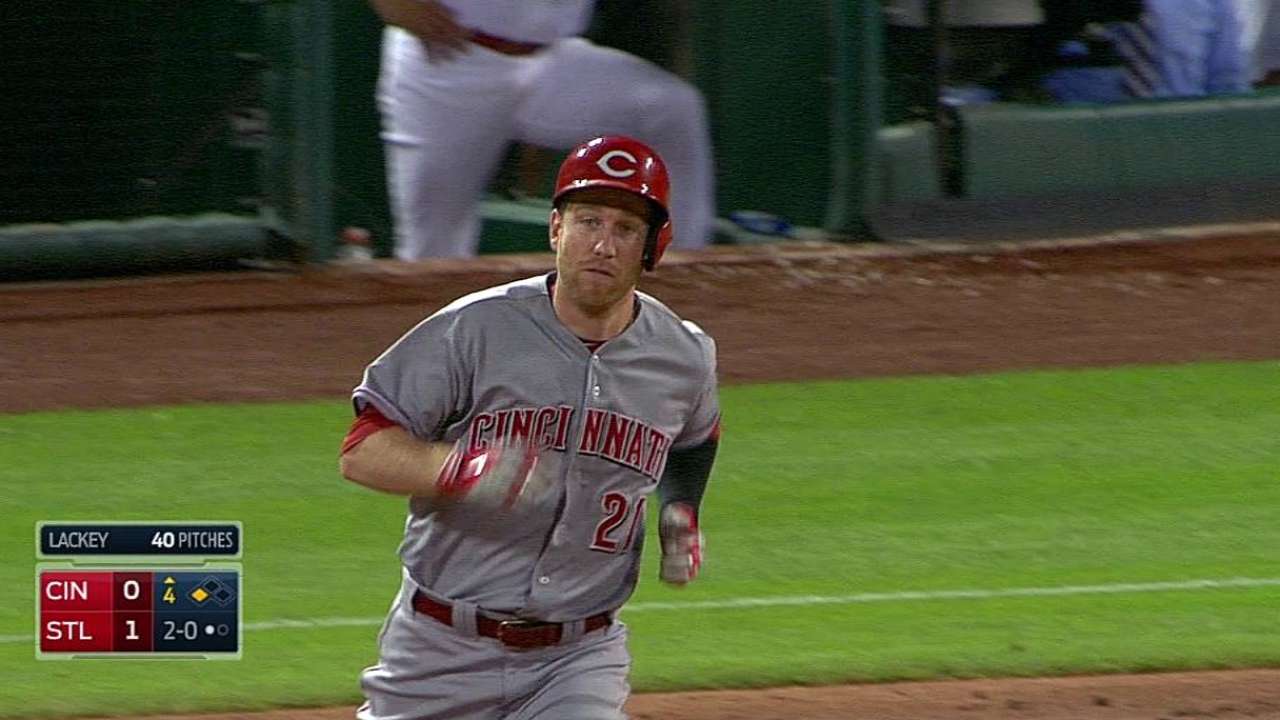 ST. LOUIS -- While Reds manager Bryan Price is running low on fresh-armed relievers, his bullpen is not running out of creative ways to deliver heartbreaking defeats on this road trip.
The struggling J.J. Hoover hit Jon Jay with the bases loaded in the bottom of the ninth, and that's how the Cardinals walked off to hand the Reds a 5-4 defeat at Busch Stadium on Tuesday night.
"I just didn't have any feel out there tonight. I just hate that I let the team down again," Hoover told MLB.com.
He is now 1-10 after he lost his 10th straight decision. The 10 losses tie a club record for a reliever. The 10th straight set a club mark.
Back for the ninth inning after escaping a two-out jam in the eighth, Hoover walked leadoff batter Matt Holliday, gave up a Matt Adams lined single and walked Jhonny Peralta to load the bases with no outs.
On the first pitch to Jay, Hoover plunked him on the right leg to end it. On Sunday in Game 1 of a doubleheader, he surrendered a walk-off homer to the Rockies.
Tuesday's walk-off loss was the Reds' third in four games. The other came Sunday when relievers gave up five runs in the eighth inning in a 10-5 loss in Game 2 of the doubleheader.
In four games, totaling 10 2/3 innings, Reds relievers have allowed 19 runs (18 earned) on 26 hits. Asked about reinforcements being called up, Price conceded there weren't many options other than what he already has.
"It's not like we have guys in the system that are lighting up the opportunity radar in Triple-A kicking butt or in Double-A with us feeling organizationally that they are mature enough, ready enough or polished enough to come in and help," Price said.
For the second straight game, Price did not have closer Aroldis Chapman available because of an achy left shoulder and Jonathan Broxton was being held back to close if the Reds took the lead.
"It's a different style of losing, unfortunately, in the sense we've been playing more consistent offensively," Price said. "We've taken advantage of some opportunities to score and we haven't been able to shut the door."
Against Cardinals starter John Lackey, the Reds took a 2-1 lead in the fourth when Todd Frazier hit a two-run homer to center field. It became a 4-1 lead in the sixth, when two Cardinals fielding errors led to Ryan Ludwick's a two-run double to left field with one out.
"We just have to keep scoring. It's the name of the game," Frazier said. "You know, in the Majors Leagues, no lead is safe. We just have to keep attacking and attacking."
Reds starter Alfredo Simon labored early on, needing 60 pitches to get through three innings and 92 pitches through five. While he did nice job of minimizing the damage in the one-run third, leaving the bases loaded, Simon's inability to complete at least six innings would have consequences later. He finished with 109 pitches after 5 1/3 innings.
"As you can see, it's tougher when we get those shorter starts," Price said. "That has bitten us on the tail on this trip. We've had three or four of these short starts, and it blows up the bullpen, and it asks guys to sometimes pitch out of role. We just haven't been able to get it done."
Simon, who is winless since July 9, is 0-5 with a 5.40 ERA over his last seven starts.
By the bottom of the sixth, Simon gave up a mammoth solo homer to left field by Peralta. Following Jay's single, Simon was done, but Sam LeCure entered and gave up two hits and an inherited run.
Manny Parra, working his third straight game, turned in a one-hit scoreless seventh inning. Jumbo Diaz, working for his third straight day, also had a third straight appearance without a clean inning. Called on to hold a 4-3 lead in the bottom of the eighth, Diaz issued a one-out walk and a two-out single before Daniel Descalso burned the Reds for the on consecutive nights with a pinch-hit RBI double that tied the game.
A Matt Carpenter walk loaded the bases and ended Diaz's turn, leaving it up to Hoover to get the third out. Hoover got a fly out ball to center field warning track by Kolten Wong.
When it came to the ninth, Price had no thoughts of replacing Hoover with Broxton as the heart of the Cardinals' order was due up.
"No there wasn't," Price said. "You've got to get through the lineup at some point in time and shut the door to create the opportunity. It's obviously easier to do at home than it is on the road."
The losers in seven of its last eight games, Cincinnati's season-high deficit in the National League Central is 10 games behind the first-place Brewers. The Reds have also dropped a Major League-most 31 one-run decisions.
Cincinnati, now 1-5 on its seven-game road trip, has assured itself of losing 11 of the last 12 series vs. the Cardinals.
"It's crazy, I've never been around something like that," Frazier said. "I never want to go through it again. We just have to keep going."
Mark Sheldon is a reporter for MLB.com. Read his blog, Mark My Word, and follow him on Twitter @m_sheldon. This story was not subject to the approval of Major League Baseball or its clubs.