Trouble finds Quintana late vs. Orioles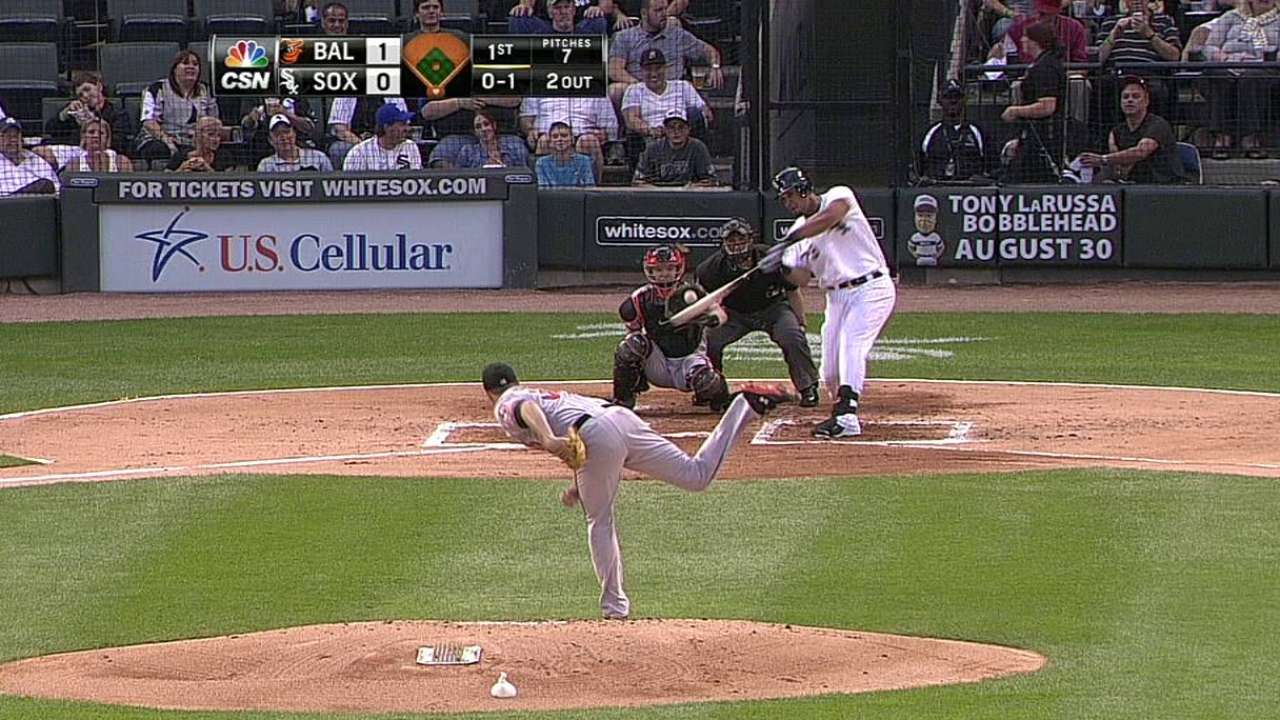 CHICAGO -- Chris Sale and Jose Quintana form an impressive 1-2 punch at the top of the rotation, one that has the potential to be one of the American League's better 1-2 punches for years to come.
But that time apparently does not include this present August. Baltimore's 5-1 victory over Quintana and the White Sox on Tuesday night at U.S. Cellular Field means that Sale and Quintana each have made four starts this month and neither talented hurler has picked up an individual victory. The White Sox (59-67) themselves have won just two of those starts and none made by Quintana, who has lost three straight.
"It's really hard," said Quintana, who holds the seemingly ridiculous total of 37 no-decisions since 2012 and has a 2.45 ERA over his last 12 starts. "But I think I need to keep working, and one day that's going to change for me. More preparation and keep going. That's it."
Quintana (6-10) cruised through five innings with one run allowed on four hits but yielded three runs on four hits in the sixth. Delmon Young singled home Adam Jones, who reached on a one-out double down the first-base line, and Chris Davis doubled home two more.
That frame took 26 pitches for Quintana to complete, which took him to 97 for the game. On the season, Quintana has held hitters to a .220 average in pitches 51 to 75, but a .331 average in pitches 76 to 100, according to Baseball Reference. He didn't allow a walk and struck out three.
"He had a couple pitches he didn't locate very well, and he paid for it," said manager Robin Ventura of Quintana's troublesome sixth. "This is a team that offensively, they can grind you out. That was the inning.
"They got a guy on, and they ended up scoring a run and those add-on runs. You go through a tough part of the lineup, and if you don't make a pitch they're going to make you pay for it. He pitched OK except for that inning."
Jose Abreu provided the lone true bright spot when he connected for home run No. 32 off Chris Tillman (10-5) in the first inning. The blast ended a streak of 77 plate appearances and 67 at-bats without a long ball for Abreu and was his first since July 29, in Detroit.
Tillman limited the White Sox to that one run on three hits over eight innings. He allowed one baserunner -- an Abreu walk leading off the seventh -- and no hits after Alejandro De Aza's two-out single in the third.
In fact, the only White Sox baserunners from the fourth inning to the end came on that walk, and an error by third baseman Ryan Flaherty with two outs in the ninth. Nineteen of the final 21 hitters were knocked down by Tillman and Tommie Hunter in the ninth.
Even if Quintana could have stopped the Orioles (72-52) after that first run in the sixth, it might have been tough to win on this night.
"Offensively, we didn't get anything going," Ventura said. "We've been that way for a couple days. We haven't really got a rally going to get a big hit and keep it going. If we're not going to score, it's going to be tough on him anyway."
"My stuff was better," Tillman said. "I was able to execute early in the count and then work my other stuff from there. If I execute and make my pitches, we'll be all right."
There's little doubt that the White Sox have made significant progress compared with last season's 99-loss debacle. But without Adam Eaton at the top of the lineup and with the team already on the absolute fringe of playoff contention, having all but completely dropped off, those losses again could pile up quickly.
Ventura certainly isn't questioning his team's effort in losing nine of its last 13 games, including a 2-3 mark on this homestand. But his team looks as though it has hit a wall.
"I don't know if it's a wall, but we are hitting a stretch where, if you don't have Eaton at the top … We were scoring runs when he was there," Ventura said. "It was just enough of a spark of getting on, he was pretty hot at the time. We have to find somebody else to get on there and get something going."
Scott Merkin is a reporter for MLB.com. Read his blog, Merk's Works, and follow him on Twitter @scottmerkin. This story was not subject to the approval of Major League Baseball or its clubs.