Tillman twirls a gem for rolling O's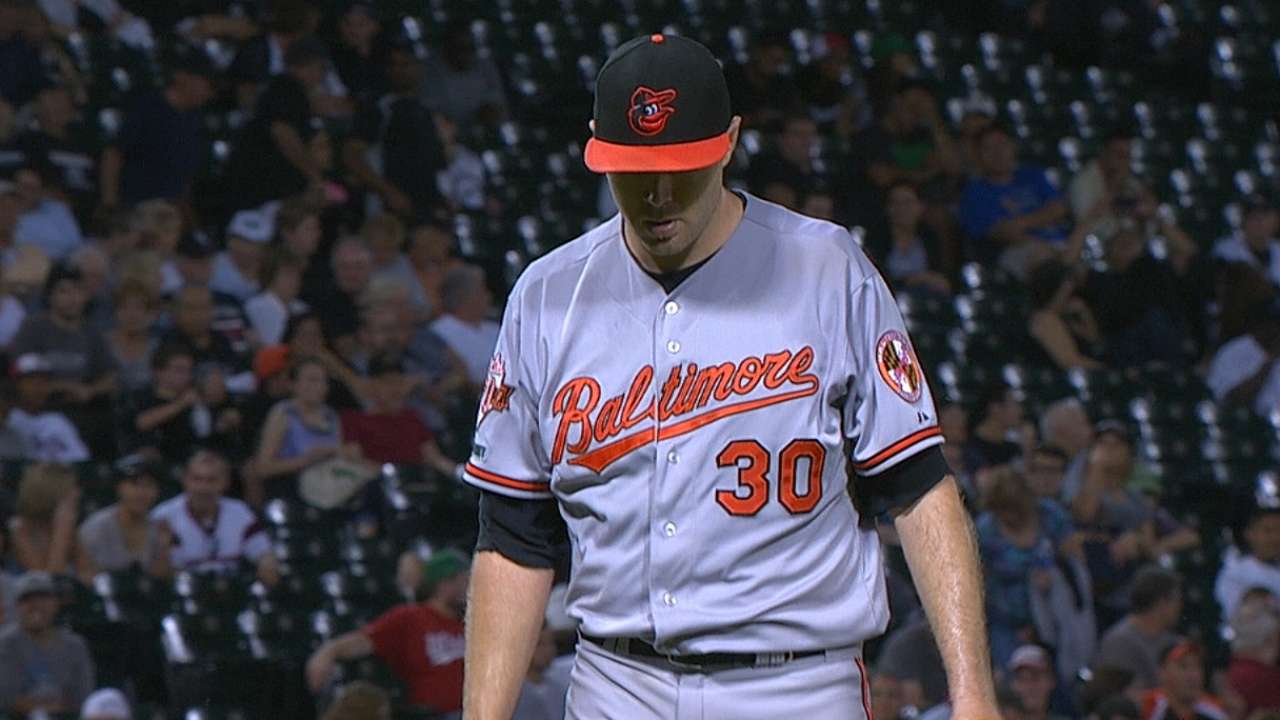 CHICAGO -- At the heart of the Orioles' surge of nearly two months -- during which they have the best record in baseball -- has been the pitching staff, with the rotation stepping up and allowing one of the game's best bullpens to stay rested and dominant down the stretch.
So it was no surprise that on Tuesday, on the heels of a fantastic outing by Bud Norris, it was Chris Tillman's turn. The Orioles' Opening Day starter, Tillman continued an impressive stretch with an eight-inning gem that kept first-place Baltimore (72-52) rolling to a 5-1 win -- and series victory -- over Chicago.
"You can't say enough about them," catcher Nick Hundley said of a group of starters who have posted a 2.74 ERA over their last 16 road games. "Our offense gets more publicity, but there's no way we'd be in this spot if we didn't get quality start after quality start from all five, six of our guys. So it's been really impressive since I've been here. I've been really impressed with the quality and depth of the rotation."
The O's, who have won nine of their last 10 series, have a commanding 8 1/2-game lead in the American League East and are a Major League-best 30-13 since June 20. Their pitching staff over that span has a 2.89 ERA.
"They've been solid. They've been the reason we've been able to stay consistent with some ups and downs offensively," manager Buck Showalter said of his hurlers, who have helped the O's win a league-leading 38 road games. "Effort, pitching and defense -- if you can stay consistent in that, you can be a consistent team."
Tillman has been a model of consistency over the past two months, going 5-1 with a 2.23 ERA over his last 12 starts. He held the White Sox to just one run -- a solo shot by Jose Abreu in the first inning -- on Tuesday, allowing three hits and tying a career high with nine strikeouts.
"I think this time of year, [throwing quality starts is] a big deal," said Tillman, who has done that in 12 of his last 14 games. "Every pitcher, to get to where we want to be, we're going to have keep doing that. We know that as a pitching staff. It's fun. Bud set the table perfectly for this game. I've just got to go out and execute. That's what it's all about."
Tillman, who needed just 78 pitches to get through the first six innings, pounded the strike zone and retired 10 straight after Abreu's homer and 13 of the next 14.
"[Tillman] was outstanding," said Hundley, who extended the Orioles' lead with a solo homer off Daniel Webb in the seventh inning. "He was ahead in a lot of counts, he got on the mound and got after it. I thought his focus was really, really sharp, and it translated. We kind of put them on the defensive, and that's a very, very good offensive club. They score a lot of runs. The way he attacked them was pretty aggressive."
Added White Sox outfielder Jordan Danks: "I faced him a bunch in the Minor Leagues, and it's no different up here. He's always a tough battle, and he proved that today."
And the O's continue to prove that they deserve a spot in October, with the offense breaking a 1-1 tie in the sixth inning and never looking back. The Orioles got a trio of two-out runs off White Sox starter Jose Quintana, with Delmon Young driving in Adam Jones -- who'd hit a one-out double -- and shortstop J.J. Hardy following with a base hit into center.
Chris Davis doubled them both in on a line drive to center to extend the lead to three in Quintana's final inning. The lefty was tagged for eight hits and four runs, with Jones singling in a run in the first, in a 97-pitch outing.
The Orioles, who have their largest lead since Sept. 7, 1997, are starting to think that perhaps this is a special season.
"This time of year, you have to -- especially if you're playing good baseball," Tillman said. "We're playing a good brand of baseball right now. Guys are showing up to the field ready to play. It's fun. It's been a lot of fun, especially the turnaround the pitching staff has had. We're all pretty excited about it."
Brittany Ghiroli is a reporter for MLB.com. Read her blog, Britt's Bird Watch, and follow her on Facebook and Twitter @britt_ghiroli. This story was not subject to the approval of Major League Baseball or its clubs.