Anderson chased in third as D-backs can't stop Nats
Righty charged with six runs allowed over two-plus innings in defeat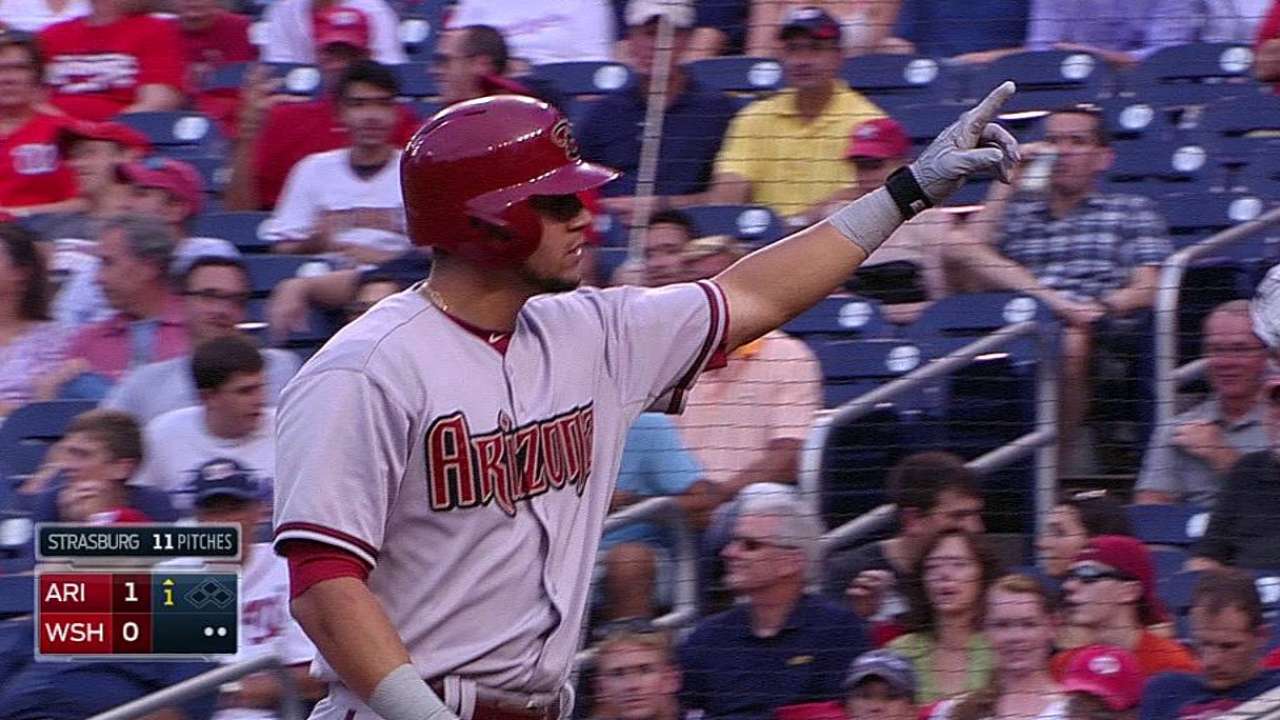 WASHINGTON -- Despite losing five of the first seven games on their current road trip, the D-backs could take some consolation in the fact that they were close games, with all but one decided by a single run.
Tuesday night's game, not so much.
The Nationals scored six runs in the third inning en route to an 8-1 win over the D-backs at Nationals Park.
The loss was the fourth straight for the D-backs, while the surging Nats, who own the best record in the National League, ran their winning streak to eight.
Chase Anderson has been the D-backs' best starter over the past month, but it was clear from the get-go that the rookie did not have his best command on Tuesday. And as a pitcher who lacks overpowering stuff, Anderson needs that command to be successful.
"I wouldn't say he's the kind of pitcher that has had great command so far this year, but he's always been able to make the pitch to get out of it," said D-backs manager Kirk Gibson. "These guys had a good approach against us, when he tried to make an out pitch, they were on it. He's pitched good, to be fair, for us, but tonight was just not his night."
Anderson (7-5) managed to escape the first two frames unscathed, but like dark skies in the distance, there were warning signs in how hard the Nats had hit the ball.
In the third, the skies opened up and the downpour of hits began.
The first six Washington hitters reached base against Anderson, and he was removed with three runs in and the bases loaded.
"I felt real good physically, I was just fighting myself not to rush to the plate and keep my front side closed," Anderson said. "That's kind of been the thing I've worked on all year, just tried to stay consistent with that command, but it's been kind of hit or miss. I felt fine, I just didn't execute."
Following Anderson's exit, Asdrubal Cabrera promptly unloaded the bases as he greeted reliever Eury De La Rosa with a double to right-center that gave the Nationals a 6-1 lead.
While Anderson made a quick exit, Nats starter Stephen Strasburg was in this one for the long haul.
"He had his fastball working, he was locating," D-backs second baseman Aaron Hill said. "He's one of the better fastball pitchers in the game, and we were hoping to maybe get his pitch count up a little bit and get into the bullpen, and it just didn't happen. He was pumping the strikes and did what he's capable of doing. He did a great job."
Strasburg allowed a two-out home run David Peralta in the first inning and then gave up just two hits the rest of the way as he went eight innings to improve to 10-10.
"I just wanted to go out there build off the last start and keep doing the things that I've been trying to work on," said Strasburg. "[Catcher Jose Lobaton] called a great game, we played great defense."
"He threw the ball good, obviously," Gibson said. "We got the run in the first inning and he settled right down. We had minimal opportunities off him. He started with his fastball early, his change was good tonight, he's got a good breaking ball and he's much more polished than he used to be. He used to be more of a thrower, now he's got great stuff, electric, and he's certainly grown up to become a good pitcher, as well."
The D-backs are hoping that Anderson grows into the kind of pitcher who can occupy a spot in the rotation in the future. With that in the mind, the team is keeping a close eye on his innings total.
Last year, due to some injury issues, Anderson threw just 88 innings for Triple-A Reno. This year, between his early-season stint with Double-A Mobile and his 16 big league starts, he is already at 126 1/3 innings.
"Where his innings are is OK," Gibson said. "I told you we'd keep an eye on it, and he'll make his next start, for sure."
Steve Gilbert is a reporter for MLB.com. Read his blog, Inside the D-backs, and follow him on Twitter @SteveGilbertMLB. This story was not subject to the approval of Major League Baseball or its clubs.