Mariners stay in Wild Card tie on Iwakuma's gem
Righty fans 11 with no walks in eight innings; Seager hits 19th homer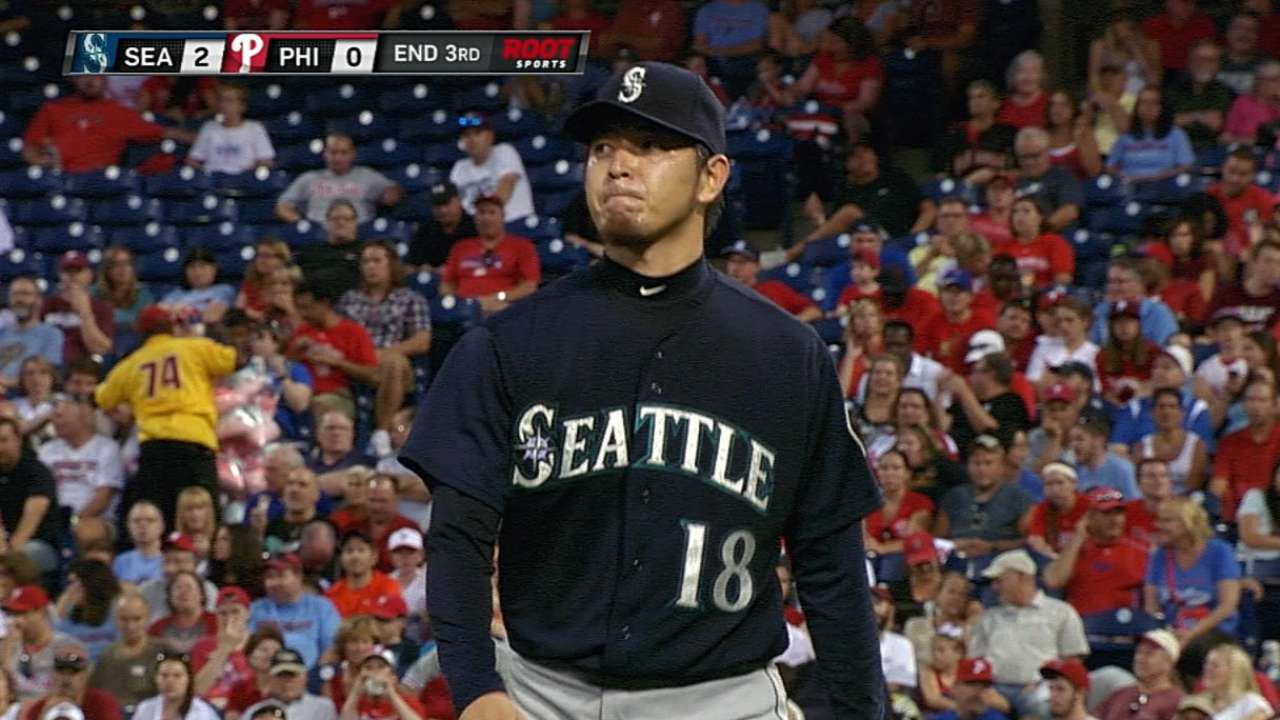 PHILADELPHIA -- On a night Phillies starter A.J. Burnett was having trouble throwing strikes, Hisashi Iwakuma showed once again the value of efficiency as the Mariners' starter chalked up eight shutout innings as Seattle topped the Phillies, 5-2, on Tuesday and stayed in a tie for American League's second Wild Card spot.
Iwakuma cranked out a season-high 11 strikeouts with nary a walk as the 33-year-old standout allowed just four hits in another dominant outing in what is turning into a stellar second half.
Despite missing the first month of the season, Iwakuma improved to 12-6 with a 2.57 ERA. The Japanese right-hander is 7-2 with a 1.63 ERA over his last 10 starts since July 1, playing an integral part in a pitching staff with the lowest ERA in the AL at 2.94.
That pitching has the Mariners squarely in the hunt for their first playoff berth since 2001. With Detroit topping Tampa Bay, 8-6, in 11 innings, the Mariners remained tied with the Tigers for the final Wild Card berth at 68-57.
Seattle has gone 13-5 over its last 18 games and 3-2 on this nine-game road trek, which continues with Wednesday's series finale at Citizens Bank Park.
The Phillies scored twice in the ninth after Iwakuma's departure, but he was near-perfect for his eight frames before being pinch-hit for after throwing 96 pitches.
Iwakuma has been the most efficient starter in baseball this season with four walks in his last 10 starts and just 12 in 147 innings over his 21 outings for the year, a 0.73 ratio per nine innings that puts him well on the way to shattering Jamie Moyer's club record for lowest walk ratio of 1.61 in 1998.
"He's unbelievable," Mariners third baseman Kyle Seager said. "I looked up in the eighth and he hadn't even thrown 20 balls yet. He just goes right at hitters, throws strikes with all his pitches, gets swings and misses with all his pitches and he works quick, gets ground balls. He's everything you could ask for. He's awesome to play behind."
Seager provided some of the necessary run support as he led off the sixth with a home run. It was just his fourth blast on the road this season but 19th overall as the All-Star third baseman is now three shy of the career-high 22 he hit last year. Seager increased his team RBI lead to 78.
Catcher Mike Zunino broke things open with a two-run single in the eighth off a tiring Burnett, providing Seattle a 5-0 lead and capping a 2-for-3 day that also included his AL-leading 14th hit by pitch.
In stark contrast to Iwakuma, Burnett walked four and hit two batters while allowing five runs and six hits in 7 2/3 innings as his record fell to 6-14 in a 125-pitch outing.
"I was sort of watching the at-bats before I got up and it looked like his command was up and down," Zunino said. "I knew he was at 120 pitches or around that point, so I was just looking for some strikes early in the count. Then when I got to two strikes, I just had to be on time for the fastball and adjust from there."
The Mariners had taken a 2-0 lead in the first when Burnett walked the first two batters -- Austin Jackson and Dustin Ackley -- on eight straight balls and the two stole their way to second and third before scoring on an RBI groundout by Robinson Cano and a run-scoring single by Logan Morrison.
Ackley went 1-for-3 with a double and two walks, making him 4-for-7 with three doubles in the first two games of the series.
The Phillies got their two runs in the top of the ninth off relievers Charlie Furbush and Yoervis Medina following Iwakuma's departure before closer Fernando Rodney came on with two on and two out to get the final out for his 36th save.
But while things got a little tense when Medina put the tying run at the plate before Rodney struck out Cody Asche to end the drama, Iwakuma was the story of this one.
"He was on from the get-go," Zunino said. "A couple of his past starts, he was searching for a little bit of his command with his fastball or off-speed. But tonight he had command of all four of his pitches and that sums up what he can do when he's really locked in."
Other than a small cramp in his calf that caused him to limp slightly as he left the field after running to cover first on his final out in the eighth, Iwakuma said it was a perfect night.
"We had the lead early, which is big for me because I'm all about pitching to contact," he said through interpreter Antony Suzuki. "I was just trying to get quick outs, being aggressive and going after hitters. And that worked out well for me again."
As for the ninth-inning, which Iwakuma spent in the Mariners' clubhouse icing down? No sweat there, either, he insisted.
"We have strong belief in our bullpen," Iwakuma said, "so I was able to watch the TV very calmly."
Greg Johns is a reporter for MLB.com. Follow him on Twitter @GregJohnsMLB as well as his Mariners Musings blog. This story was not subject to the approval of Major League Baseball or its clubs.