Carter's 30th homer unlocks Astros' win in ninth
Slugger logs career high on 3-0 pitch after fanning four times in Bronx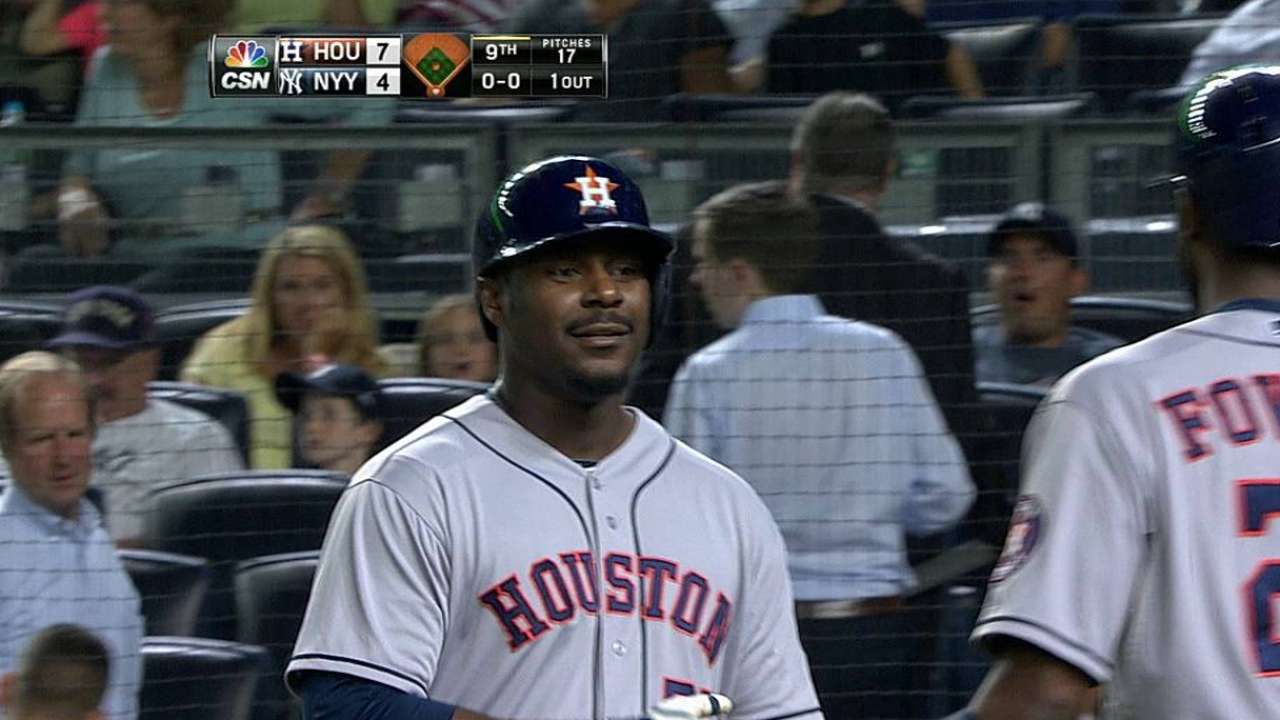 NEW YORK -- A group of reporters was standing around the locker of Astros designated hitter Chris Carter as he was bent over tying his shoes following Tuesday's game while his teammates were giving him a hard time.
"Let's talk about those four strikeouts," reliever Tony Sipp quipped.
Carter has grown accustomed to being asked about his strikeouts since he came to the Astros at the beginning of last season, but this time, his final at-bat -- a game-winning, three-run homer in the ninth inning to beat the Yankees, 7-4 -- was the topic of the day.
"I was just trying to hit it and put it in play," said Carter, who struck out in his first four at-bats. "My first four at-bats, I didn't do anything."
Yankees reliever David Robertson grooved a 3-0 pitch over the middle of the plate, and the surging slugger crushed it, sending a majestic blast over the left-field wall to snap a 4-4 tie and send the Astros to their third win in four games against the Bombers this year.
"Again, this guy could change the game on one swing," manager Bo Porter said. "And he changed the game tonight with one swing. He got the green light, 3-0, and he didn't miss that ball."
The Astros' bullpen threw 3 2/3 scoreless innings -- with Sipp retiring all five batters he faced, Josh Fields (3-6) throwing a scoreless inning for the win and Chad Qualls working the ninth for his 14th save.
Carter, playing his first game since being named American League Player of the Week, reached a career high with his 30th homer. He also is the first Astros player to hit 30 in a season since Lance Berkman (34) and Carlos Lee (32) in 2007.
Since July 1, Carter is hitting .307 and leads the Major Leagues in homers (17) and RBIs (42) while posting a .693 slugging percentage and a 1.046 OPS in that span.
"Obviously, Chris had his struggles early, and you look at the success which he's had over the last six or seven weeks, I think that is the player that he has the capability of being," Porter said. "Now I think it's just a matter of him finishing the season strong and being consistent the way he's been consistent."
Everybody in the building knew Carter would swing at 3-0, and Porter wasn't about to not give him the green light.
"You know that he's swinging there," Yankees manager Joe Girardi said. "You can't just groove one, and I'm sure [Robertson wishes] he had it back. He wasn't trying to throw it there, but [it's] just kind of the way the night went for him."
Astros starter Brett Oberholtzer's run of starts of at least six innings came to an end when he was pulled after giving up four runs and seven hits in 5 1/3 innings in his shortest outing since April 30. He had pitched at least six innings in 11 consecutive starts.
Oberholtzer was rolling along until a two-out single by Martin Prado in the fourth led to a two-run homer by Brian McCann on an 0-2 pitch that put the Yankees ahead, 2-0. Prado's two-run double in the sixth tied the game at 4.
"I thought I threw the ball pretty well through the first five," Oberholtzer said. "The home run to McCann, yeah, I mean, 2-2 hanging slider out over the plate which I got him on in the [second] inning with the strikeout -- but, yeah, I think that [pitch in the fourth] was a mistake, and you know in the sixth they put up a good battle. You know they are the Yankees, and they made me work to throw some strikes, and Prado came up big with the 3-2 pitch to drive in two."
The Astros rallied for three runs in their half of the sixth inning to take a 4-2 lead, capped by a pinch-hit, two-run single by Marwin Gonzalez. He was batting for Gregorio Petit, who had doubled in his first two at-bats. Petit started against lefty Chris Capuano -- who struck out eight over 5 1/3, charged with four runs on eight hits -- but Gonzalez was brought on to face reliever Adam Warren and the rest of the Yankees' right-handed-dominant bullpen.
"I think that there is a perfect example of what a platoon really is," Porter said. "So the ballgame stays close, it's going to be righties the rest of the way, and Marwin's going to hit the rest of the way, so you might as well take your shot right there. And Gonzo did a great job coming through with two RBIs."
Brian McTaggart is a reporter for MLB.com and writes an MLBlog, Tag's Lines. Follow @brianmctaggart on Twitter. This story was not subject to the approval of Major League Baseball or its clubs.