Yankees zapped late, take step back in WC chase
McCann, Prado power club, but Robertson loses control in ninth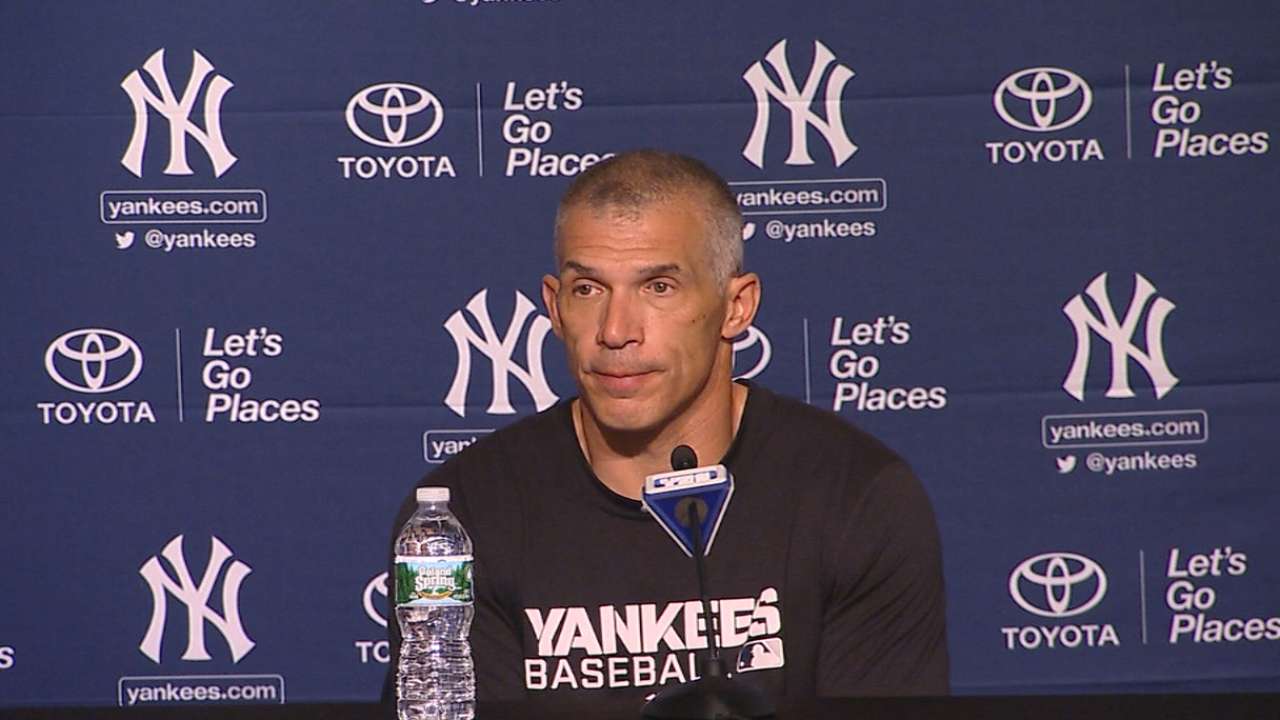 NEW YORK -- Before Tuesday night's disappointing 7-4 loss to the Astros, Yankees manager Joe Girardi was quick to deflect the importance of having long winning streaks at this point in the season. As the Yankees -- riding two straight wins -- stared down six home games with two fourth-place opponents, the focus was merely on winning both series.
But as David Robertson threw ball after ball in the ninth inning of the opener, the urgency both on the mound, in the dugout and in the stands didn't seem to indicate that broader perspective. Eventually, Robertson's lack of command gave in, and he gave up a tiebreaking and decisive three-run homer to Chris Carter.
"My thought process is the same," said Robertson. "It's make a quality pitch, just repeat, repeat, repeat, and I wasn't repeating anything tonight. I struggled out there tonight, and I blew it for our team."
With Tuesday night victories by the Mariners and Tigers, the Yankees dropped to four games back in the American League Wild Card chase.
The ninth inning started out well when Robertson induced a lazy popup to center field by Marwin Gonzalez. But then he couldn't find the plate, walking two straight batters that warranted crescendoing nervous groans from the crowd. Carter worked a 3-0 count and then was given the green light to unload, sending the blast to left. Robertson entered the game having allowed just four earned runs in his last 27 appearances.
"I didn't make any pitches," said Robertson. "I walked two guys. You can't do that with a tie ballgame in the ninth inning. ... I threw it right into his bat path, and he put it 30 rows deep."
"You know that he's swinging there," Girardi said of Carter. "You can't just groove one, and I'm sure if he had it back ... he wasn't trying to throw it there, but [it's] just kind of the way the night went for him."
Rich Hill recorded the final two outs with K's to give the Yankees a chance in the ninth, but the offense, which hasn't scored more than four runs in a game since Aug. 8 against Cleveland, continued to sputter. The Yanks rode Brian McCann's fourth-inning two-run homer and Martin Prado's two-run double two innings later, but couldn't produce anything around them.
"Our guys come to work every day," said Girardi. "They work at their trade, and they work really hard, and they grind it out, and they try to get better every day, and that's all you can really ask for. Sometimes it works really well, and sometimes it doesn't, and it's been inconsistent this year. ... I think we had seven or eight guys that hit early today."
Yankees starter Chris Capuano began the game strong, striking out four of his first seven hitters and relying on his unsolvable changeup for most of the night. But after completing at least six innings in his first four Yankees starts, he couldn't do it a fifth time, finding trouble as he approached 100 pitches.
Dexter Fowler led off the sixth inning with a standup triple to left-center field and quickly scored on an RBI grounder by Jason Castro, which tied the game at 2. After back-to-back singles, Capuano -- who finished with eight strikeouts while allowing eight hits -- was relieved by Adam Warren, who allowed a go-ahead two-run single to pinch-hitter Gonzalez.
"It's frustrating," said Capuano. "We're right there in the game, it just hasn't gone our way. The command wasn't as sharp as I would have liked it to have been in those last two innings. I started leaving some balls out over the middle."
The Yankees responded immediately off starter Brett Oberholtzer. Jacoby Ellsbury led off the bottom of the sixth with a single, Carlos Beltran walked and Martin Prado lined a full-count two-run double into the left-field corner to even the game at 4. Reliever Tony Sipp then stranded Prado at second, retiring Brian McCann and Chase Headley.
"I don't think there's any magic formula," said Mark Teixeira, speaking on behalf of the offense that went 1-for-9 with runners in scoring position. "We've just got to get more hits. Two-run lead in the fourth inning doesn't mean much. You've just got to keep adding on."
The bright spot might have been that early cushion due to McCann's blast, which came on a flat Oberholtzer knuckleball, whacked into the second deck for the catcher's 14th homer of the year, his 12th at Yankee Stadium.
The need to win the next two games, though, now seems necessary for the Yankees to keep within striking distance in the Wild Card race. As Girardi stated, "there's not a ton of room for error."
"This is a crucial point in our season and not the way we would have liked to start off the homestand," said Capuano. "But we still have every chance to go out and win the series in the next two days, and that's what we've got to focus on."
Jake Kring-Schreifels is an associate reporter for MLB.com. This story was not subject to the approval of Major League Baseball or its clubs.