Rays burned by walk, missed catch in extras
Kiermaier's miscue on triple leads to decisive three-run 11th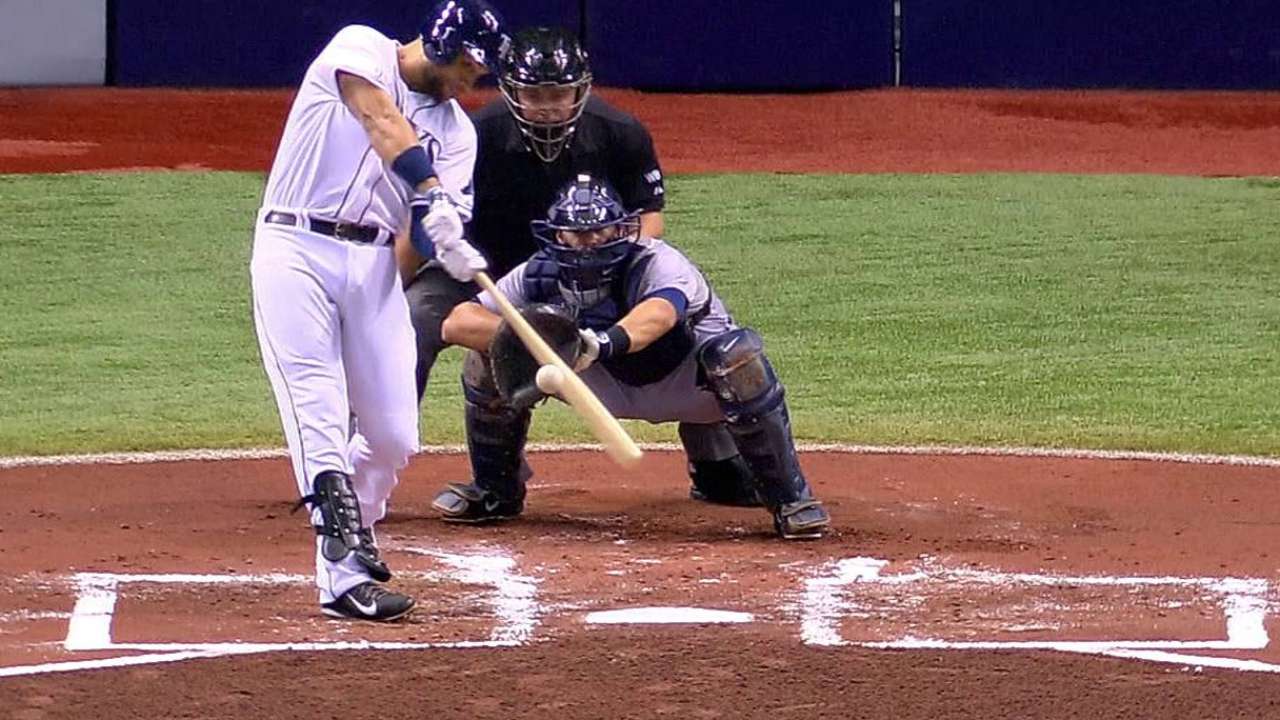 ST. PETERSBURG -- What happened in the 11th inning of the Rays' 8-6 loss to the Tigers defied logic, but it served as a microcosm of the season and a series of frustrating losses.
"In a long and illustrious line," manager Joe Maddon said. "Got a nice lead, we gave that back up, fought back into it, had opportunities to win it."
But they didn't.
The Rays (61-64) have lost three straight after winning seven of their previous nine, making the math to qualify for the postseason look even more difficult to overcome.
Grant Balfour started the 11th for the Rays with the score tied at 5 and Ian Kinsler opened the inning with a sinking drive to right. Kevin Kiermaier dove to try for the catch, but the ball bounced off his glove and kept on rolling. By the time the right-fielder got the ball back to the infield, Kinsler stood on third with a triple.
"I wouldn't have dove if I wasn't 100 percent," Kiermaier said. "I'm still trying to figure out how I missed it. That was a ball that I had a good read on, and I dove, and I thought for sure that I had it. I wouldn't have dove if I wasn't 100 percent. I missed it somehow.
"Very frustrating because once a runner's on third with no outs, it's really hard to pitch to because the odds are in their favor. It's just tough because I just put that loss on my shoulders, and these are games that we need to win."
Balfour proceeded to walk Torii Hunter before Miguel Cabrera was intentionally walked to load the bases for Victor Martinez.
"There was a much better chance, I thought, to put Victor on the ground right there than the other guy," said Maddon when asked to explain the move. "So that's what I chose. ... It's a horrible moment, it's only right if it works. It just didn't work."
That verdict came when Martinez walked to force in the go-ahead run and chase Balfour.
"You feel like you give up a base hit and next thing you know the guy's at third," said Balfour, harkening back to Kiermaier's gaffe. "When does it end? ... Just tough luck. Then, you're in a tough spot and you pretty much have to go out and strike everyone out so they don't get that run. It makes it tough.
"I probably should have been more aggressive. If I concede that one run, I concede one run. ... We ended up scoring a run anyway, would have tied it up. Just trying to be too fine. Trying to do too much, not wanting to give up that run at all after that play. Yeah, just a lot of frustration."
Jeff Beliveau took over for Balfour and struck out the first batter he faced before uncorking a wild pitch with Don Kelly up to bat, allowing Hunter to score. Kelly walked to again load the bases and Bryan Holaday drove home Cabrera with a sacrifice fly to make it 8-5.
A two-out rally in the bottom half of the 11th saw Evan Longoria drive in a run and Sean Rodriguez come to the plate as the potential winning run with two runners aboard. But Rodriguez struck out to end the game.
The Rays got busy early when James Loney hit his seventh homer of the season, a three-run shot in the first off Max Scherzer. Ben Zobrist added an RBI single in the second to put the Rays up 4-0.
Meanwhile, Chris Archer started for the Rays and posted four scoreless innings before a bizarre fifth inning changed the texture of the game.
With runners on first and second and one out, Rajai Davis grounded to Loney, but the normally dependable-throwing first baseman made a bad throw to second base trying to get the force. That left the bases loaded for Kinsler.
Archer walked Kinsler on five pitches to force home the Tigers' first run. Hunter then grounded out to drive home the Tigers' second run before Cabrera hit a ball to center field. Desmond Jennings appeared to make a diving catch of the drive for the third out, but the call on the field was overturned. Cabrera's hit became a single and the Tigers' third run scored on the play.
Archer ran into more trouble in the sixth when he walked Alex Avila and Andrew Romine with two outs. Davis followed with an RBI single to center to tie it at 4.
Archer came away with a no-decision after allowing one earned run on five hits and five walks in 5 2/3 innings.
Joel Peralta started the eighth for the Rays and J.D. Martinez was the first batter he faced. After falling behind 1-0, Peralta threw a curve to Martinez, who drove the ball over the center-field wall for a go-ahead homer.
The Rays answered in the bottom of the eighth when Vince Belnome's sacrifice fly scored Longoria to tie it at 5, setting up the extra-inning finish.
"It's nice to come from behind," Tigers manager Brad Ausmus said. "We definitely needed a win, but we're in a position where we need to win every day. To be four runs down in the blink of an eye and come back and not only take the lead, but take it twice, it's a nice feeling to come back to the clubhouse after that, as opposed to hanging your heads after a loss."
Bill Chastain is a reporter for MLB.com. This story was not subject to the approval of Major League Baseball or its clubs.