Tigers hold second Wild Card with extras win
V-Mart's bases-loaded walk sparks decisive three-run 11th inning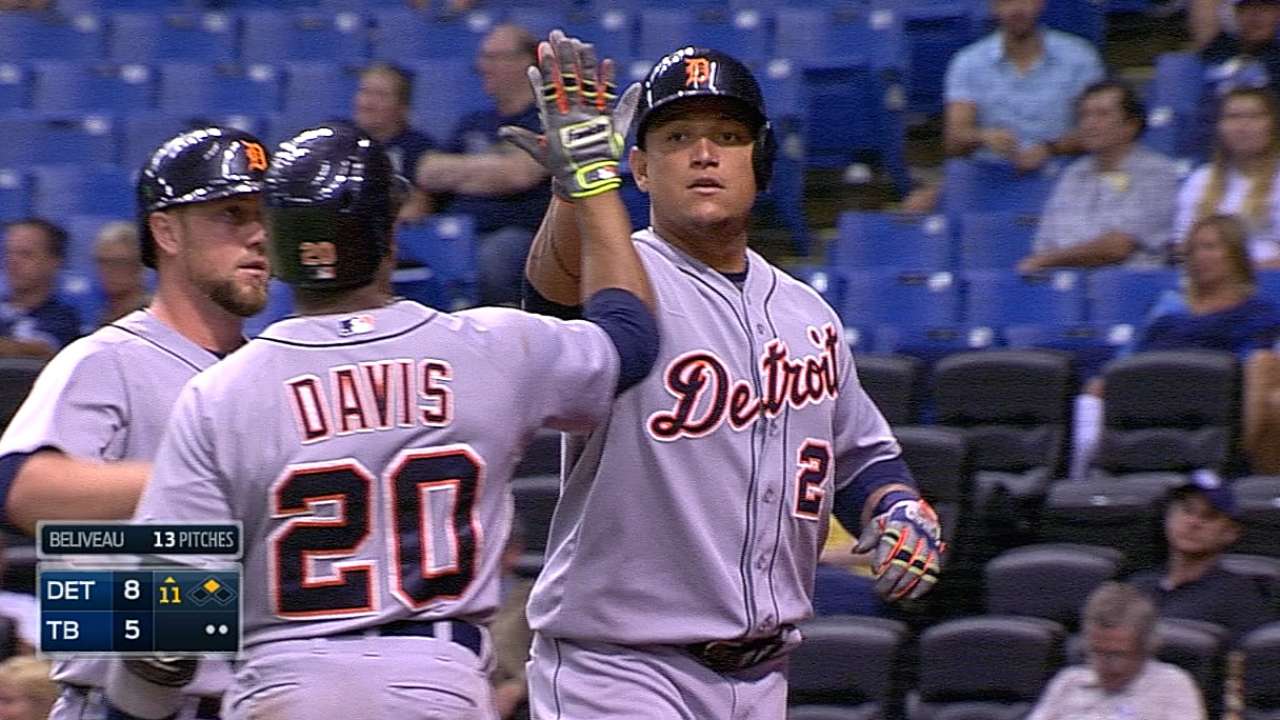 ST. PETERSBURG -- It turned out that to finally finish off their 8-6, extra-innings win over the Rays on Tuesday night, the Tigers just needed to keep their vaunted bats on their shoulders.
With the series opener at Tropicana Field tied at 5 in the 11th inning, Victor Martinez drew the go-ahead bases-loaded walk off Grant Balfour. Balfour started the inning, but he gave up a leadoff triple to Ian Kinsler and then walked three straight batters -- one, Miguel Cabrera, intentionally -- before he was pulled without recording an out.
"They were gonna pitch around me to get me to chase a little bit, and me getting on base, fill it up for Victor and hopefully, he hits a ground ball so they can throw home," said Torii Hunter, the first to walk against Balfour. "So they had a strategy behind it, but we did what we had to do, had good at-bats, and we came through with some runs in the end ... That's what it was all about."
Hunter eventually scored on a wild pitch by Jeff Beliveau, on in relief of Balfour. That run provided the margin of victory, as closer Joe Nathan ended up surrendering a two-out RBI single to Evan Longoria in the bottom of the inning. Bryan Holaday tacked on the Tigers' third run of the frame with a sacrifice fly.
The win kept the Tigers in the second American League Wild Card spot by percentage points, ahead of the Mariners, who also won on Tuesday. It was a big win for Detroit, which had been scuffling lately and found itself in a 4-0 hole early despite having Max Scherzer on the mound.
"We definitely needed a win, but we need to win every day," manager Brad Ausmus said. "But to be four runs down in the blink of an eye and then come back -- it's a nice feeling to come back into the clubhouse after that."
For the first few innings on Tuesday, Scherzer didn't look a whole lot like the reigning AL Cy Young Award winner who had gone 6-1 with a 1.78 ERA in his last 10 starts. Scherzer struggled to command his fastball, repeatedly yanking it far from where catcher Alex Avila was set up. It cost the Tigers four runs, three in the first and one in the second.
In the first inning, one of those fastballs got far enough away to plunk Ben Zobrist, and a couple more contributed to Scherzer's walk of Evan Longoria, which put two men on with two out. And in the next at-bat, the most harmful of all ran across the plate and into left-handed hitter James Loney's sweet spot, down and in. Loney golfed it into the right-field seats, just inside the foul pole, to give Tampa Bay a 3-0 lead.
"Typical lefty swing," Ausmus said.
Then, with two outs in the second, Scherzer missed over the plate with his fastball again -- this time to Ben Zobrist, who slashed a run-scoring single up the middle that put the Rays ahead 4-0.
"I was giving up some runs, and walking guys, and, you know, that's frustrating," Scherzer said. "But I didn't let it beat me down. They didn't knock me out of the game. I didn't let them get the best of me. I was able to settle down and get back on track. Just found a way to get it done. That's all I can say."
Scherzer lasted seven innings, holding the Rays scoreless after the second and allowing just two baserunners in that span. That gave the Tigers time to fight back against Chris Archer, who ran into control problems of his own, which helped the Tigers close to within a run in the fifth inning and tie it in the sixth.
In the fifth, Detroit loaded the bases with one out, and Archer walked Kinsler to force in a run. Hunter followed with a run-scoring fielder's choice, and Cabrera laced a two-out RBI single to center to make it 4-3.
It was initially ruled that Desmond Jennings had made a sliding catch on Cabrera's hit, but Ausmus challenged the play and the call was overturned, as Jennings had trapped the ball.
An inning later, Archer issued back-to-back two-out walks with the bases empty, and Davis looped an RBI single to center to tie the game.
"The two-outs-and-nobody-on syndrome happened to us again right there," Rays manager Joe Maddon said.
The Tigers looked like they had put the finishing touches on the comeback in the eighth inning, when J.D. Martinez blasted a solo home run to dead-center field off Joel Peralta to give Detroit a 5-4 lead. But in the bottom half of the inning, Tampa Bay got the run back against Joba Chamberlain when Vince Belnome notched his first career RBI with a sacrifice fly.
The score stayed tied until the 11th, when the Tigers found a way to put the game away -- by not swinging.
"I'm sick of making excuses for why we lose," Scherzer said. "Let's find a way to win."
David Adler is an associate reporter for MLB.com. This story was not subject to the approval of Major League Baseball or its clubs.