Sox rally to pull even, but fall to Halos on late hit
Uehara allows RBI double in ninth; Holt robbed of three-run homer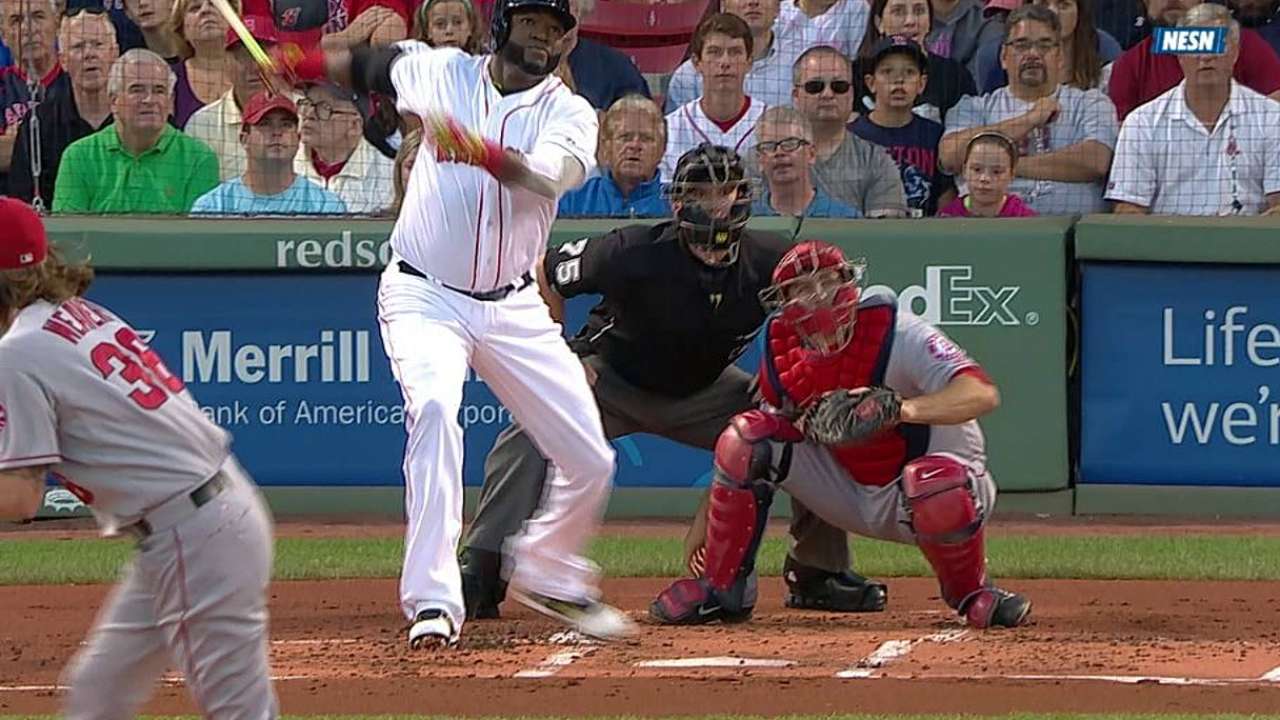 BOSTON --- After manufacturing a few runs to get back in the game Tuesday night, the Red Sox just couldn't create another one to win it. That's been the story this season for Boston, after all.
Instead, it was Angels catcher Chris Iannetta who delivered a ninth-inning RBI double to give the Halos a 4-3 win at Fenway Park. Los Angeles has taken the first two games of the four-game set.
Red Sox starter Allen Webster allowed three runs -- all in the third -- over six innings. Alex Wilson pitched two perfect frames before giving way to Koji Uehara in the ninth. After Uehara got two quick outs, Brennan Boesch hit a ground-rule double to center. Iannetta followed with a line drive to left that narrowly evaded the leaping Daniel Nava and hit the Green Monster, putting the Angels ahead. Uehara said he left his splitter up on both hits.
"It was the movement," Uehara said. "I didn't have that drop."
Huston Street allowed Yoenis Cespedes' pinch-hit single to open the bottom of the ninth and intentionally walked David Ortiz with two outs, but struck out Mike Napoli with a slider to end it.
Boston went 0-for-6 with runners in scoring position and left 10 men on base.
The Red Sox tied it in the sixth on a sacrifice fly by Brock Holt, scoring Xander Bogaerts. Boston's shortstop walked and moved to third on Christian Vazquez's line-drive single off the Monster. Boston trimmed the Angels' lead to one in the fifth when Napoli's groundout to short scored Dustin Pedroia, who singled and reached third after a walk to Ortiz and a wild pitch.
In his fifth outing, Webster scattered seven hits, two walks and three strikeouts. He turned in his third consecutive quality start; the first coming against the Angels on Aug. 8. In Anaheim, he allowed two runs on four hits with two walks over 6 2/3 innings. Fastball command can be his biggest ally or enemy, and it's been friendlier to him over the last few outings.
"I've just got to keep telling myself to trust my stuff," Webster said. "Let them put the ball in play."
In his five starts, Webster has allowed 12 of his 15 runs in the third. The third got him again Tuesday, but he bounced back to retire nine of the next 12 batters, including six of his final seven.
"When he's right like for the vast majority of tonight, put the ball on the ground, ground balls," manager John Farrell said. "It's good to see him continue to back up outings in a positive way and build some momentum and I'm sure some confidence in his own right."
Angels starter Jered Weaver allowed three runs on seven hits and four walks over 5 1/3 innings. He exited in the sixth with runners on first and third before Holt's sac fly off Jason Grilli tied the game.
The Angels got on the board in the third when Kole Calhoun's RBI single scored Iannetta, who had doubled. Mike Trout followed with a triple to plate Calhoun and an infield single by Albert Pujols -- following a review -- brought home Trout, giving Los Angeles a 3-1 lead.
Ortiz hit an opposite-field homer over the Green Monster in the first to open the scoring.
In the second, Holt smoked a fly ball to right field that was headed for the Angels' bullpen, but Calhoun timed his jump perfectly and robbed Holt of a three-run homer.
"Obviously, that was a difference-maker in the game right there," Weaver said. "Great play by him to stay with that. The little guy got over that little wall. It was nice. Great play. We needed it, obviously."
Mookie Betts reached over the short wall in the center-field triangle to deny David Freese a two-run homer in the top half of that inning. But in the fifth, Freese hit a sinking liner to center that Betts misread and missed on a dive. Freese tripled on the play.
The Red Sox optioned Jackie Bradley Jr. to Triple-A Pawtucket Monday because of his offensive struggles and recalled Betts to play center more regularly. Betts has played second base for most of his professional career, and said he's still working on balancing being aggressive and smart.
"That's the hard part. That's the part that I'm still learning," Betts said. "I have no true answer for that."
Boesch's drive in the ninth went just over Betts' head before bouncing over that same short wall in the triangle. Bradley is one of the game's elite outfielders and ranks third among all players in defensive wins above replacement, according to Fangraphs. It's possible Bradley would've tracked down Boesch's drive, but regardless, the Angels, who passed Oakland in the AL West standings Monday, emerged victorious.
"It makes this time of year that much better when you have something to play for, and you can go out there and just keep battling," Weaver said. "This team is relentless. We always find a way to win games."
Steven Petrella is an associate reporter for MLB.com. This story was not subject to the approval of Major League Baseball or its clubs.