Fantasy mailbag: Moves crucial for stretch run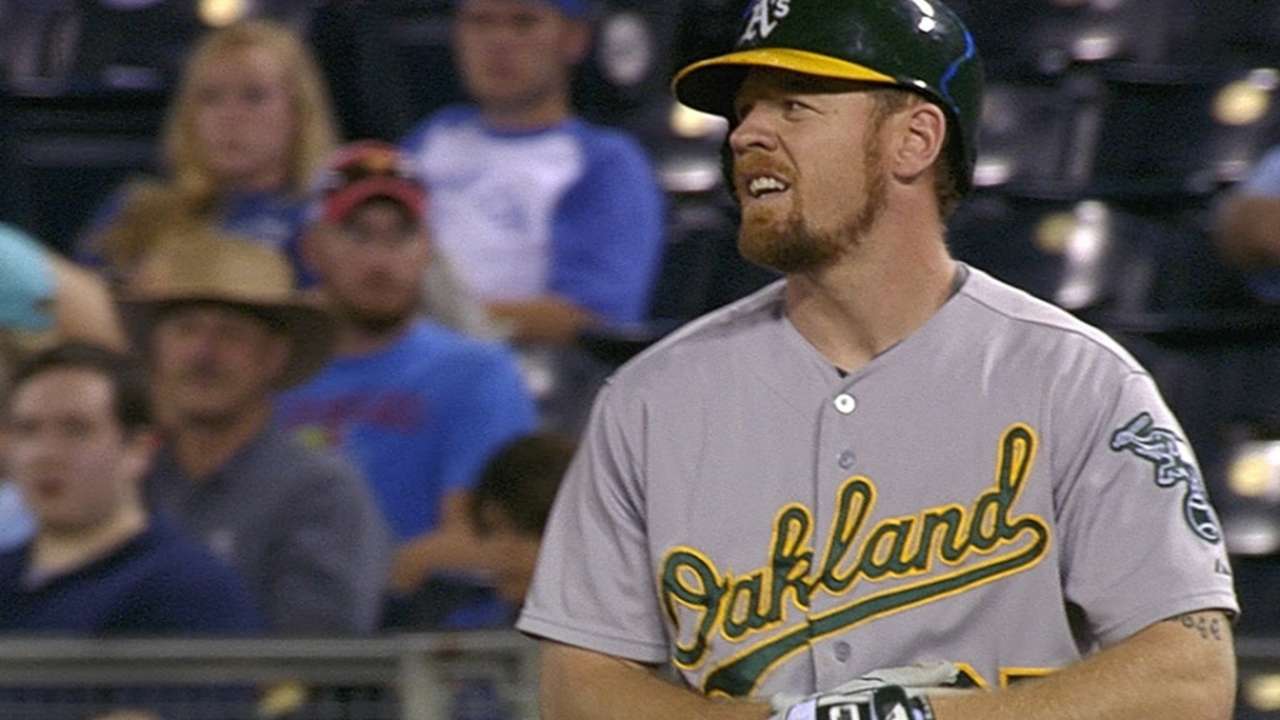 Tweet your questions each and every Monday to @Fantasy411 and you could find your answer in our weekly mailbag. Here are some of topics that are puzzling fantasy owners right now:
What's w/ Brandon Moss? Stick or ditch?
-- @terry067
This answer is going to be a mixed bag, even though the short version is to stick with Moss. The lefty slugger has not hit for average in the second half, and his power has disappeared in August. He is one of the big reasons that the A's have struggled this month. But it's nearly impossible to bench a player who collected 21 homers and 66 RBIs prior to the Midsummer Classic. Moss could still be a 30-homer, 100-RBI player this season, and that is extremely valuable in an era when power is not especially prevalent.
Despite the recommendation to stick with Moss, he should be on the bench for the coming week. The A's play just five games this week. The 30-year-old often sits vs. southpaws and Oakland faces two left-handers during a weekend set against the Angels. Because Moss is struggling, and because he may start just three games this week, he should be benched in mixed leagues. But Moss should go back into the starting lineup next week. Perhaps a light workload in the coming days will allow Moss to clear his head and get back on track.
What ... do I do with Nelson Cruz?
-- @PTB_00
Cruz hit .287 with 28 homers and 74 RBIs prior to the All-Star break, making him one of the most valuable fantasy hitters in the first half. And then he went completely cold, as he has hit .167 with three homers and nine RBIs so far in the second half. In reality, fantasy owners should have seen this decline coming in June, when he hit .215. Cruz slugged five homers that month, which masked his fading performance.
Like Moss, Cruz needs to stay active in most leagues because he offers so much power. Even with his recent slump, the right-handed slugger is on pace for more than 40 homers and 100 RBIs. Fantasy owners will have a tough time finding 20-homer players on waivers, let alone a player who can double that total. And there have been some recent signs of hope for Cruz. He has collected a hit in eight of his past nine games, and he has ripped a pair of homers over that stretch. As the Orioles cleanup hitter, Cruz offers immense upside if he can get back on track. Cruz plays in a hitter-friendly home park, and he is surrounded by talented hitters. Even though he may make or break many fantasy seasons, Cruz must stay in the active lineup.
Need to cut one in a dynasty lg: [Jimmy] Nelson, [Jacob] deGrom, [Carlos] Martinez, [Chris] Tillman. Who should go?
-- @mike_oliveri
Dynasty-league questions are tough to answer late in the season without knowing if the team in question is in the race or not. But this one should be easy to handle. Whether @mike_oliveri's team is competing for first or looking to 2015, Nelson and deGrom must be retained. Both hurlers have shown outstanding skills in the second half. They should help mixed-league teams down the stretch, and they will be valuable commodities in 2015 drafts.
If the goal is to win this season, then Martinez is definitely the player to cut. It is unlikely that Martinez will be a contributor in mixed leagues down the stretch. Tillman does not offer spectacular stats, but he is the type of reliable, middle-of-the-rotation starter that populates championship clubs. If an owner is playing for 2015, then he can consider dropping Tillman, who will be easily replaceable in 2015 drafts. Martinez has struggled this season, but he still boasts plenty of upside, and the Cardinals have a great track record of working with pitchers.
Drop [Martin] Prado for someone like [Jordy] Mercer or [Scooter] Gennett?
-- @MikeDellDQ
Prado is hitting just .200 since joining the Yankees, and his overall .263 mark is not impressive. The 30-year-old offers multi-position eligibility, but that is not of much value if he is not performing at a higher level. With just seven homers and three steals, Prado has not helped fantasy owners in any category. He is also on pace for fewer than 65 runs and RBIs. Prado has been a valued fantasy commodity for years, but the truth is that he has walked a razor-thin line for a long time. He consistently struggles to reach double digits in homers, and he has swiped more than five bases in a season just once. Prado used to be someone that fantasy owners could count on for a high batting average, but that isn't the case right now. The best plan for Prado in mixed leagues is to ship him to waivers.
Gennett and Mercer are both uninspiring options, but either one can be added for Prado. However, there is likely a much better option sitting on the waiver wire in Mookie Betts. The rookie was recalled on Monday for his third stint with the Red Sox. Betts' numbers in the Majors have not been great, but he received sporadic playing time in his first two trials, which made it hard to get in a groove. His Minor League numbers are terrific, and there is reason to believe that this recall will be different. Boston optioned Jackie Bradley Jr. to Triple-A, which should give Betts a full-time job as the team's center fielder. Betts has two weeks before rosters expand in September to show that he can be Boston's future in center field. At that point, Bradley could rejoin the club, and the two youngsters could share playing time in the season's final month. Betts is a much better waiver-wire grab than players such as Prado, Gennett or Mercer. He offers the potential to be a high-average hitter who can steal bases and smack the occasional homer. And he is eligible at second base and outfield in most leagues.
Fred Zinkie is a contributor to MLB.com. This story was not subject to the approval of Major League Baseball or its clubs.