Angels alone in first place after topping Red Sox
Bullpen comes up big as Halos win with help from Boston errors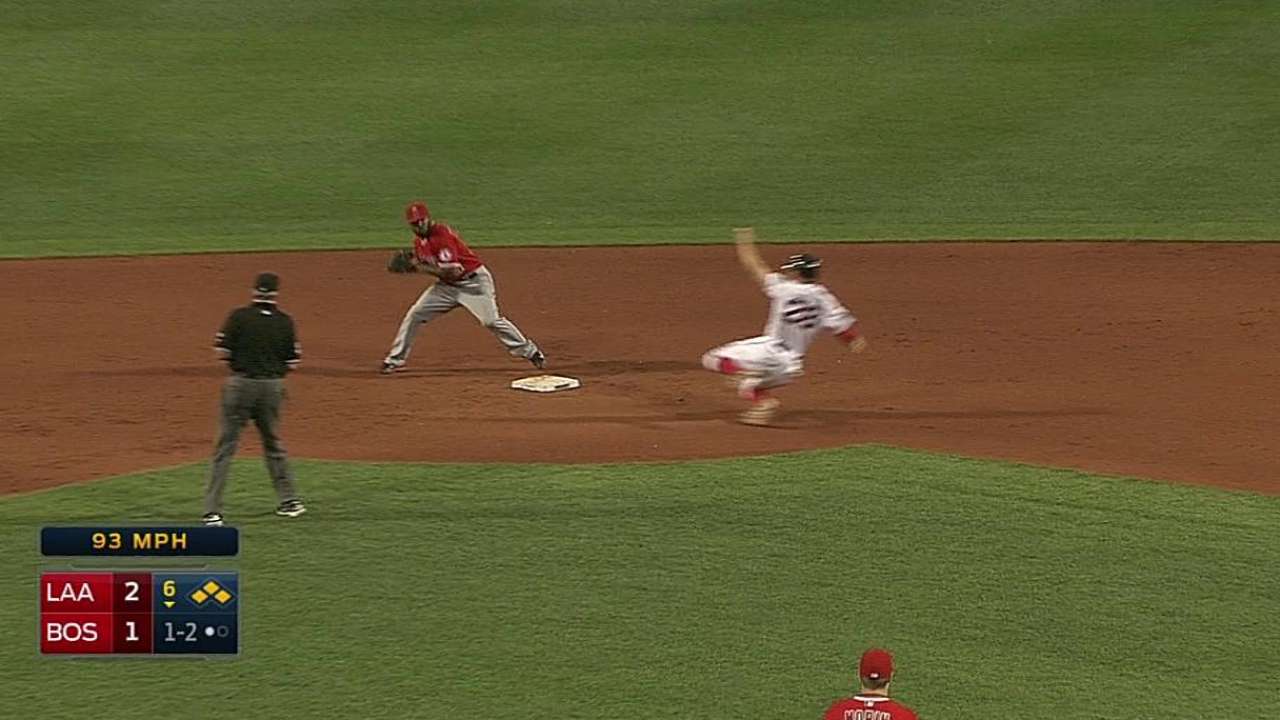 BOSTON -- C.J. Wilson battled some control issues, the offense struggled to get much going and the bullpen was shorthanded -- and yet the Angels still found a way to win at Fenway Park on Monday night.
They've been pretty good at this persevering stuff lately.
The offensive production has slowed since the All-Star break, with Josh Hamilton in a downward spiral and Mike Trout recently riding a rare rut, and Wilson is still trying to get back on track after a nightmarish stretch. And yet the Angels have found a way to win 16 of 29 games in the second half -- 13 of them by two runs or fewer -- to put them a half-game up on the idle A's for the best record in the Majors.
"The tighter the team is knit, the more often they're going to come back and win from behind and the more often they're going to hold tight when it's close," Wilson said after his Angels held off the Red Sox in a 4-2 win. "That's why Oakland's been so good the last few years. That's a difference-maker."
So is a very deep bullpen.
Setup man Joe Smith and closer Huston Street weren't available after appearing in each of the last three games, and Wilson lasted only 5 1/3 innings in a start that saw him throw 62 pitches in the first three frames and walk a season-high-tying five batters. But Mike Morin, Fernando Salas, Jason Grilli and Kevin Jepsen stepped up, locking down the game's final 11 outs to give the Angels five wins in their last six games.
They're 23 games above .500 again and in sole possession of first place for the first time since May 15, 2011.
Their bullpen depth is a big reason why.
"We're much better at holding leads right now with our bullpen than we have in a long time," Angels manager Mike Scioscia said. "I'm going back three, four years. We've got an offense that right now is obviously not firing on all cylinders, but when we are getting leads, we're holding a lion's share of them. That's going to be very important going down the stretch, and I think that's a very good sign."
Mike Trout put his team on the board with an RBI double off the center-field wall in the third, then scored on Albert Pujols' single down the third-base line to give the Angels a 2-0 lead.
Their lead was cut in half by the sixth, and Morin loaded the bases with one out for Dustin Pedroia. After throwing three straight fastballs, Morin came back with a fastball on 1-2 -- a count where he typically throws his trademark changeup -- and Pedroia grounded into an inning-ending, 6-4-3 double play, prompting a boisterous fist pump from the rookie right-hander.
"I wasn't any more pumped up on the mound than I normally am," Morin alleged. "I told myself that I need to calm down and just get people out."
The Angels (73-50) got some much-needed insurance runs in the eighth, when Red Sox reliever Junichi Tazawa booted a potential inning-ending double-play ball by Howie Kendrick and then threw wide of home, allowing two runs to score.
Jepsen gave up back-to-back singles to start the ninth, but struck out David Ortiz, induced a run-scoring groundout to Yoenis Cespedes and retired Mike Napoli on a lineout to record his first save since Sept. 16, 2012.
"I'm glad Sosh let those two guys have a day, because it allowed me to steal a save away from Huston," Jepsen said, within earshot of Street, who responded by yelling, "Do it!"
Wilson admitted he needs to get deeper into games, consistently pitching into the eighth inning "like I feel I'm capable of."
"But," he said, "I feel like I'm really close to doing that."
Wilson gave up only one run and got his second straight win. He hasn't been dominant for a while, but the last couple of starts have been dramatic improvements for someone who was riding an 11.03 ERA over a six-start stretch.
He feels he has another gear, and maybe the Angels have one, too.
"We're in every game," Wilson said. "We had a streak where we got really hot and won 15 in a row at home or something like that. We can do that again. We still have [39 games] left, and we have to learn how to fire on all cylinders again. I think the All-Star break kind of got us out of a groove, for whatever reason."
Alden Gonzalez is a reporter for MLB.com. Read his blog, Gonzo and "The Show", and follow him on Twitter @Alden_Gonzalez. This story was not subject to the approval of Major League Baseball or its clubs.