Tazawa's errors seal Workman's hard-luck loss
Starter allows two runs in seven innings; reliever falters in eighth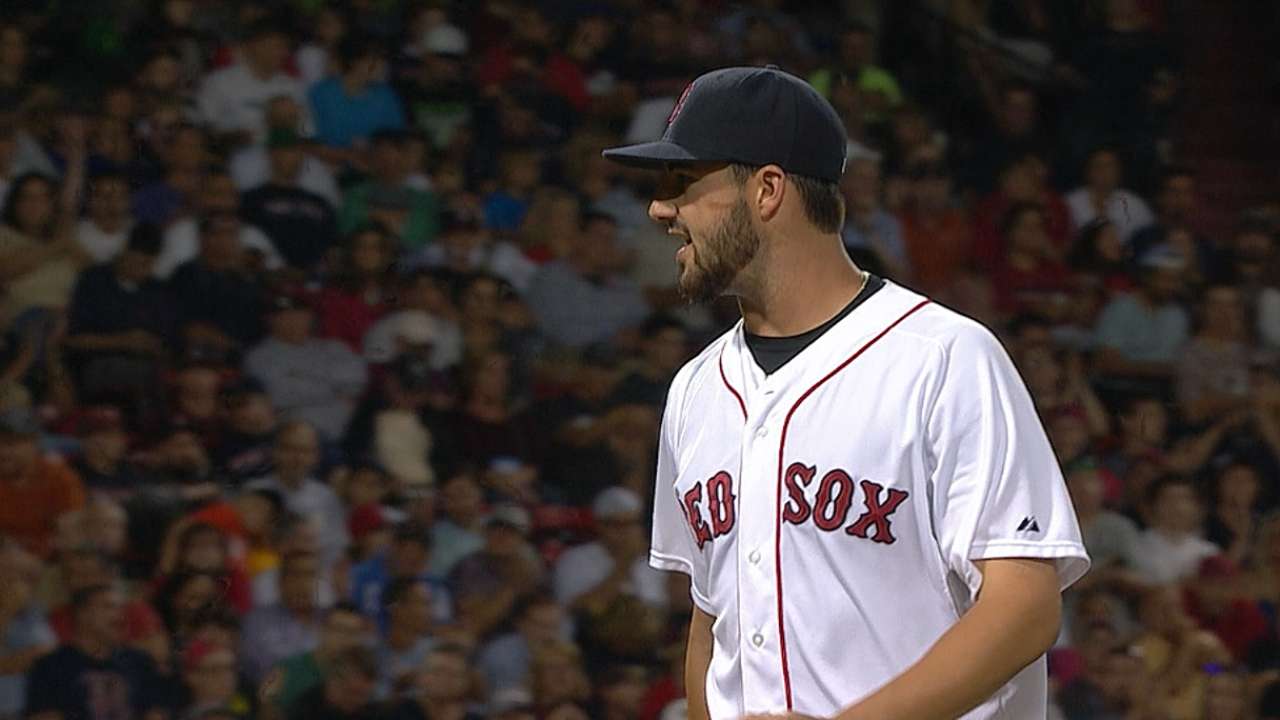 BOSTON -- Junichi Tazawa just tried to do too many things at once.
The righty reliever wound up making two errors on one play. The double gaffe was the breaking point for the Red Sox in a 4-2 loss to the Angels.
With the bases loaded and one out in the top of the eighth inning, Tazawa got the soft contact he was looking for from Howie Kendrick.
The ball was hit to the third-base side of the mound, and Tazawa went to get it, thinking he would have a play at the plate.
Instead, he bobbled it and had to retrieve the ball even farther toward third base. In his haste to still get the out at the plate, he made a poor throw that hit Chris Iannetta in the leg as he scored. The ball scooted to the first-base side of the plate, allowing a second run to score.
"I was in between -- it was an in-between play," said Tazawa. "I was thinking of going to the backhand or just going to the front and I was caught in between. If I had knocked it down straight, I probably had a better shot. It rolled to the third-base side so that made it a little difficult but I should have made that play."
In one quick instant, Boston's one-run deficit became three runs.
The mishap became more painful in the bottom of the ninth, when the Red Sox staged a rally that produced one run on an RBI groundout by Yoenis Cespedes.
In defeat, there was a positive development for the Red Sox. Right-hander Brandon Workman turned in his best performance in weeks, giving up six hits and two runs over seven innings.
Workman walked two and struck out five.
"I felt a lot better," said Workman, who had given up four runs or more in his previous five starts. "I was throwing the ball where I wanted to, for the most part. I was throwing a lot of strikes, getting ahead of hitters, so I felt good tonight."
The Red Sox skipped Workman last time through the rotation due to fatigue, and he definitely looked crisper in this one.
"Obviously the added rest helped," said Red Sox manager John Farrell. "I thought his stuff ticked up in terms of action, crispness, velocity, he was down in the strike zone with more consistency. With the exception of a two-out walk in the third and a couple of base hits to follow, he more than did his job tonight."
With two outs in the third, Workman walked Kole Calhoun. Mike Trout followed with an RBI double. Albert Pujols delivered with an RBI single down the third-base line, and Boston was in a 2-0 hole.
Mookie Betts, who was recalled from Triple-A Pawtucket to replace Jackie Bradley Jr. (optioned back to Pawtucket) in center field, went 1-for-3 with a walk and scored a run.
It was Betts who got a two-out rally started for the Red Sox in the bottom of the fourth against C.J. Wilson with a walk. Christian Vazquez ripped a single to right. Brock Holt looped an RBI single into left to cut the deficit to 2-1.
In a scenario that has been all too familiar for the Red Sox this season, they created opportunities, only to let them pass by.
Boston was 1-for-14 with runners in scoring position while leaving 12 on base.
"Once again, I thought we had a very good approach offensively," said Farrell. "A number of opportunities, and once again, getting a key base hit was critical tonight."
Wilson weaved in and out of traffic, allowing five hits and five walks, but just one run over 5 1/3 innings.
"It was one of those games where I had a plan of staying on the corners and not giving them anything over the middle, regardless of the situation, and I feel like that paid off," said Wilson.
Ian Browne is a reporter for MLB.com. Read his blog, Brownie Points, and follow him on Twitter @IanMBrowne. This story was not subject to the approval of Major League Baseball or its clubs.