Mariners drop opener to fall into Wild Card tie
Seattle now in tie with Detroit for final AL postseason berth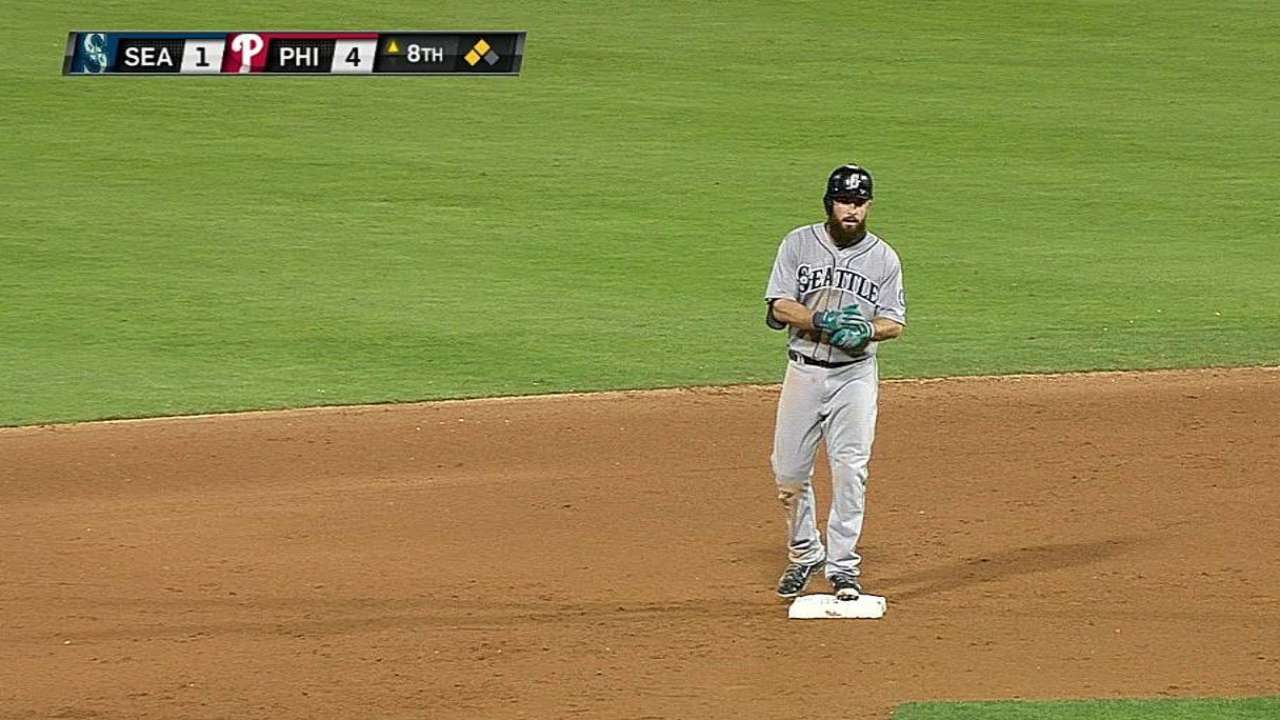 PHILADELPHIA -- Rookie starter Roenis Elias got through just four innings in his first game back with the Mariners on Monday and Seattle's outstanding bullpen couldn't save the day this time as the Phillies rolled to a 4-1 victory in the opening game of an Interleague series at Citizens Bank Ballpark.
Elias had command problems from the start, walking six and hitting a batter in a 90-pitch outing. Though the 26-year-old Cuban allowed just one run on three hits, manager Lloyd McClendon had to go to his 'pen in the fifth and rookie right-hander Dominic Leone surrendered a three-run homer to Andres Blanco that inning.
The loss dropped Seattle back into a tie with the Tigers for the American League's final Wild Card berth at 67-57. The Mariners are still 12-5 over their last 17 games and 2-2 on the current nine-game road trip, which has two more outings against the Phillies before wrapping up in Boston.
"You're not always going to win the battles," second baseman Robinson Cano said after the Mariners managed just six hits and a lone run off old nemesis Jerome Williams and a pair of Phillies relievers. "Tomorrow is another day."
Elias' wildness didn't hurt him until the third, when he walked Carlos Ruiz and Ryan Howard before giving up an RBI double by Marlon Byrd with two outs. But after escaping a bases-loaded jam in the fourth following a single, walk and hit batter, Elias got the hook from McClendon as his record fell to 9-10 with a 4.09 ERA.
"He wasn't sharp and got his pitch count up, but heck, he only gave up one run," McClendon said. "We had to go to the bullpen a little early, but we just didn't get it done tonight."
Elias had just returned from a 10-day stint with Triple-A Tacoma that was designed largely to give him a break and ease the amount of stressful innings he's accumulated. The youngster will now be given two extra days of rest before his next start, pushed back to next Monday against the Rangers in Seattle. He's thrown 138 2/3 innings this season, second to the Royals' Yordano Ventura (139 2/3) for the most by any rookie in the Majors.
Elias threw 148 1/3 innings for Class A High Desert in 2012 and 130 for Double-A Jackson last year, so the Mariners are trying to be careful with his workload. Elias hit a rough patch in midseason, when he went 0-3 with a 10.05 ERA in his last three starts before the All-Star break. But after getting some extended time off there, he's returned to go 2-2 with a 2.11 ERA in his last five starts, even with Monday's messy outing.
"I was a little erratic with my fastball command, but I felt good physically," Elias said through interpreter Mike Rojas, the Mariners bullpen coach. "[Being sent down to Tacoma] didn't affect me at all. It helped me learn more from baseball. This just wasn't my day. But the next outing, I'll go after it."
It wasn't Leone's day either. The rookie right-hander has been a big part of Seattle's outstanding bullpen and came in with a 2.20 ERA, but he surrendered a double and a walk and then gave up Blanco's first home run since July 1, 2011, as the Phillies took a 4-0 lead in the fifth.
Blanco was recently recalled from Triple-A and the three RBIs tied a career high for the 30-year-old infielder, while the long ball was his fourth in 623 career at-bats.
"It was a changeup, just a bad pitch," said Leone. "It's just one pitch, honestly. Notoriously, that guy -- I don't know his stats off the top of my head -- but it's his first homer in three years or something. But it just goes to show you, you leave one over the middle and someone is going to make you pay and that's just how it was.
"He kind of hooked it in the corner there," Leone said. "It's a good hitter's park and that doesn't help. Maybe in Safeco that's not out, but if you start playing that game, you start getting into your own head. It is what it is."
Though Seattle's offense has been much improved of late, the Mariners mounted little opposition against Williams. Left fielder Dustin Ackley had the Mariners' only two hits until Kyle Seager singled with one out in the seventh.
Ackley finished 3-for-4 with a pair of doubles and finally got Seattle on the board with a run-scoring double in the eighth off reliever Ken Giles. But Giles struck out Cano and Kendrys Morales to strand runners on second and third to end that threat.
Williams, a waiver-wire pickup by the Phillies earlier this month after struggling for the Astros and Rangers, went seven-plus innings with just one run on three hits, three walks and four strikeouts. The veteran previously pitched for the Angels and has a long history against the Mariners as he improved to 6-2 with a 3.36 ERA in 16 games (eight starts) against Seattle.
"He's seemed to have had our number the last couple times," McClendon said. "You can't take anything away from him. He threw the ball pretty good. He was in and out, his two-seamer and cutter worked well. He threw the ball pretty decent."
Williams, 32, has put up a 2.19 ERA in his first two starts for the Phillies.
"Obviously my game plan wasn't really working early in the year," he said. "That's why I'm on my third team. So we're just using the same weapons that I have, but just moving the ball everywhere and anywhere."
Greg Johns is a reporter for MLB.com. Follow him on Twitter @GregJohnsMLB as well as his Mariners Musings blog. This story was not subject to the approval of Major League Baseball or its clubs.