Bucs' power surge not enough after early jolt
Six-run first stings Worley; Marte hits two HRs, Walker goes deep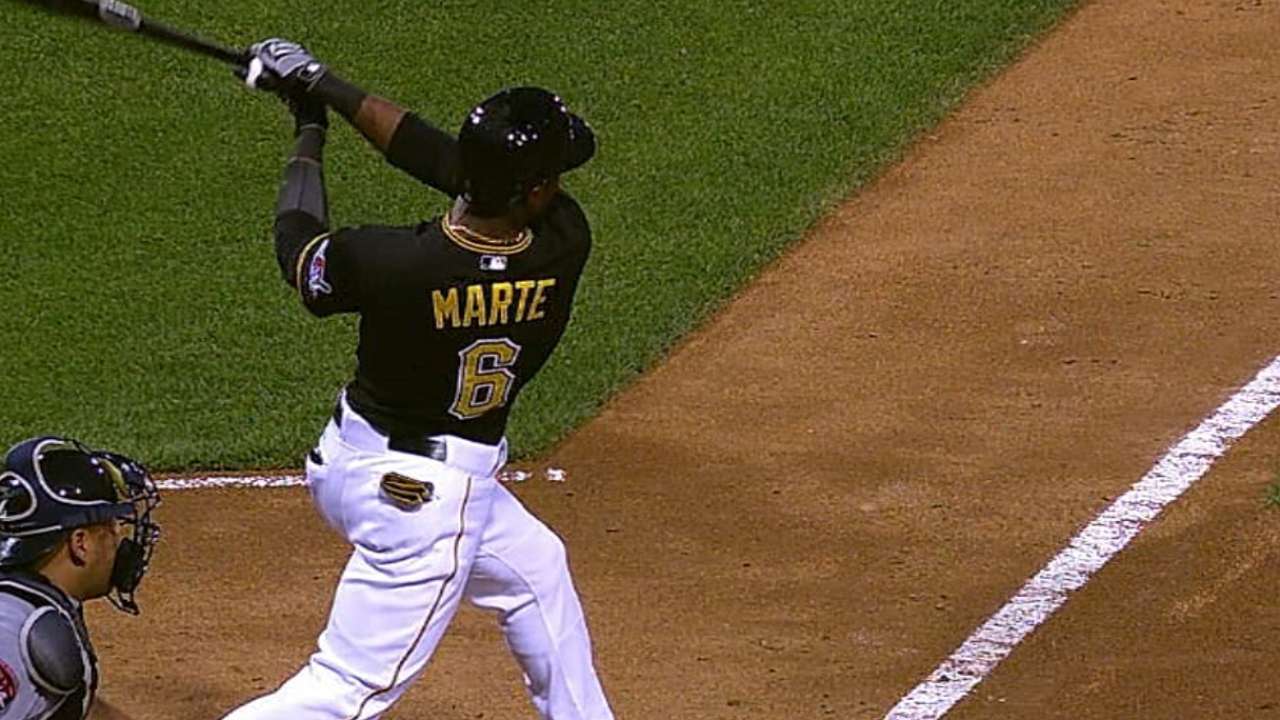 PITTSBURGH -- Pedro Alvarez made his debut as a first baseman, but that highly anticipated development wasn't nearly as instrumental Monday night as Vance Worley coming out looking as though he'd never before been on a mound.
The man who for two months had steadied the Pirates' rotation came briefly undone in a six-run first-inning, and the Pirates couldn't completely recover from that ambush, losing to Atlanta, 7-3, in front of 31,669 at PNC Park.
"Yeah. Very, very unfortunate," Worley said of the overture for a club coming off an 0-5 road trip and happy to be home. "But tomorrow is another day, and these guys are not going to give up."
Tomorrow could be a very good day, as Andrew McCutchen is expected to return to center field Tuesday and give a charge to a team in need of a jolt.
Oh, the Bucs tried to jolt themselves into avoiding a sixth consecutive defeat. They went to their comeback Mojo on two solo homers by Starling Marte and a long one by Neil Walker, and even got the potential tying run to the plate in the sixth.
"We scratched back. A big night for Marte, Walker, [Travis] Snider," said manager Clint Hurdle. "But the hole was deep, and we needed one more big swing."
Ultimately, allowing a six-run first inning and facing Atlanta's wins leader was a very bad combination. Ervin Santana withstood the trio of solo homers to go 5 1/3 innings, barely enough for his 13th victory.
"For me, it was one of my best games because I gave up three runs," Santana said. "When you don't have your best stuff and you only give up three runs, that's huge. Three solo homers, that doesn't hurt."
A big crooked number before even taking the ball is a pretty good anesthetic.
Alvarez's introduction across the infield from his customary position was relatively uneventful. Two infielders were charged with throwing errors, but both came on legitimately wide throws out of Alvarez's reach.
Unfortunately for the Bucs, Alvarez's uneventful night extended into the batter's box, where he went 0-for-4, stranding a total of four baserunners.
"We would've liked to do a little more damage," Hurdle said of the offensive approach that held Santana within an out of matching his shortest start of the season. "We gave him a good shot, pushed him. But not enough damage."
Marte, a .372 hitter in his two weeks on McCutchen's turf, bid a torrid goodbye to center field with a double and his second career two-homer game. The first was on June 25, 2013, in Seattle.
Snider, the other outfielder to help cover for McCutchen's absence by stepping into Marte's left-field shoes, went 2-for-4 to extend his hitting streak to nine games over which he has hit .412 (14-for-34).
The Pirates' comeback volleys also included a third-inning dunker by Walker, a 432-foot homer that became the 35th ever to reach the Allegheny River on a bounce. Walker became the 23rd player to do it.
"Tell you the truth, I couldn't care less," Walker said. "I wish it had come with the bases loaded and us down by three runs. As it was, it was just one run in another loss."
The Bucs got the tying run to the plate -- which seemed inconceivable as the first inning unfolded -- in the sixth. Marte and Snider led off with back-to-back doubles -- Marte had to stop at third in case Snider's high drive to center was caught. But Brent Morel fanned and left-handed pinch-hitter Ike Davis' liner off lefty reliever Luis Avilan was snared by third baseman Chris Johnson, whose peg doubled up Snider off second, ending the inning.
Everything hit off Worley in the first was hard, from the leadoff back-to-back homers by Jason Heyward and Andrelton Simmons, to Santana's smash up the middle on which Josh Harrison made a sparkling diving stop and got a force at second -- but which merely turned into two more runs when Walker's relay throw sailed wide of first for an error.
"Get him early before he settles in" is a timeworn advisory, especially applied to top-notch pitchers, but Worley took that concept to a whole new level. After reeling through a six-run, five-hit first inning, Worley blanked the Braves on four hits across the next five frames, spicing it with eight strikeouts.
In the first, Worley simply could not "get on top of the ball," in pitching parlance. Rather than throw north-south, he was going east-west -- the same direction as batters' swings.
"I was staying flat, giving them more bat-pass," Worley said. "After that, I figured it out, and I was able to drive the ball down in the zone -- that's the hardest pitch in baseball to hit."
What goes through a pitcher's mind when taking the mound for a second inning, after having been rocked for six in the first?
"Be better," said Worley, who had obeyed the order.
Tom Singer is a reporter for MLB.com and writes an MLBlog Change for a Nickel. He can also be found on Twitter @Tom_Singer. This story was not subject to the approval of Major League Baseball or its clubs.