Braves ride loud opening act past Pirates
Back-to-back HRs from Heyward, Simmons spark six-run first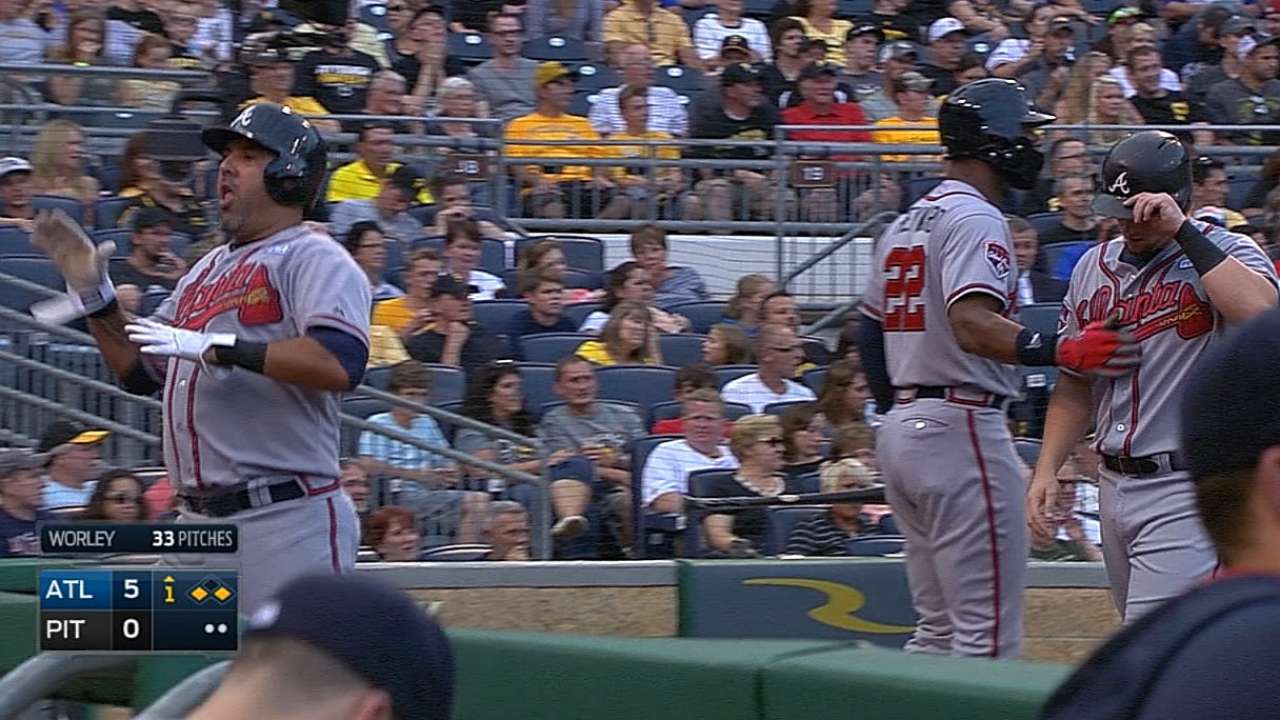 PITTSBURGH -- Given the tremendous struggles they had experienced before sweeping the A's this past weekend, there was not much reason to believe the Braves would experience a letdown. But if there were any concerns, they were likely erased during a six-run first inning that proved decisive in Monday night's 7-3 win over the Pirates at PNC Park.
After Jason Heyward and Andrelton Simmons opened the game with back-to-back home runs, Ervin Santana battled through 5 1/3 innings that proved much more challenging than expected after he was given a six-run advantage before throwing a pitch. But the three solo home runs surrendered by Santana were not enough to defeat the Braves, who have won four straight games since exiting last week's Dodgers series with 12 losses in their previous 15 games.
"This is good," Braves manager Fredi Gonzalez said. "This is a carryover of the last five or six days where we've been playing good baseball. Hopefully, the season is full of ebbs and flows. Hopefully, we're on top of one and we can ride it out a little bit."
With their sudden surge, the Braves have stayed within striking distance of the first-place Nationals in the National League East. Along with attempting to defend their division title, the Braves are also now just one game back in the battle for the NL's second Wild Card spot.
"It's good to keep this streak going at the moment and good to win the first game of a series," said Heyward, who has seen the Braves go 5-1 since he moved back to the leadoff role.
Heyward and Simmons became the fifth duo in Braves history to open a game with consecutive home runs. More importantly, they created the spark that led the Braves to put five guys on base before Vance Worley recorded his first out. Worley surrendered hits to five of the first six batters and found himself staring at a six-run deficit when a pair of runs scored on a Santana grounder that would have been an inning-ending double play had Neil Walker not made an errant throw.
This certainly did not look like the Worley who produced a 2.32 ERA in the previous 10 starts he made for the Pirates. Instead, he looked more like when he last faced the Braves on May 22, 2013. Pitching for the Twins that day at Turner Field, he allowed eight earned runs in 3 2/3 innings and exited during a five-run fourth inning.
"I was throwing east-west, missing, staying flat," Worley said. "After that, I figured it out, and I was able to drive the ball down in the zone and get the results I needed."
Instead of adding to their comfortable early advantage, the Braves allowed Worley to settle into a groove, holding them scoreless over the remainder of his six-inning stint. Meanwhile, Santana had no answers for Starling Marte, who accounted for two of the three homers that allowed the Pirates to keep things interesting.
Along with going deep in both the second and fourth innings, Marte also doubled to begin the sixth inning. When Travis Snider followed with a double of his own, it looked like the Pirates might cut into their three-run deficit. But after Santana ended his night with a strikeout of Brent Morel, Luis Avilan entered and got Ike Davis to line into an inning-ending double play.
Given that he lacked a feel for his slider and struggled to keep his fastball down, Santana had reason to feel fortunate about allowing just the three earned runs while surrendering nine hits over 5 1/3 innings. The third-inning solo shot he surrendered to Neil Walker was the first home run to enter the Allegheny River this year.
"I didn't have my stuff today, but for me it was one of my best games because I gave up three runs," Santana said. "When you don't have your best stuff and you only give up three runs, that's huge. Three solo homers, that doesn't hurt."
Heyward provided some cushion with a sacrifice fly in the eighth inning. But it was his third leadoff homer of the season that got things rolling for the Braves, who received RBI singles from Chris Johnson and Gerald Laird during Worley's 36-pitch first inning.
"I think it was just one of those nights," Heyward said. "I looked at the pitch I hit out and it wasn't a bad pitch. We just kind of ran into some barrels. We had some good swings and we went up there confident. Once one guy saw it, we were like, 'OK, let's go up there and get something to hit,' and we didn't miss."
Mark Bowman is a reporter for MLB.com. This story was not subject to the approval of Major League Baseball or its clubs.