Alvarez 'pretty comfortable' in first-base debut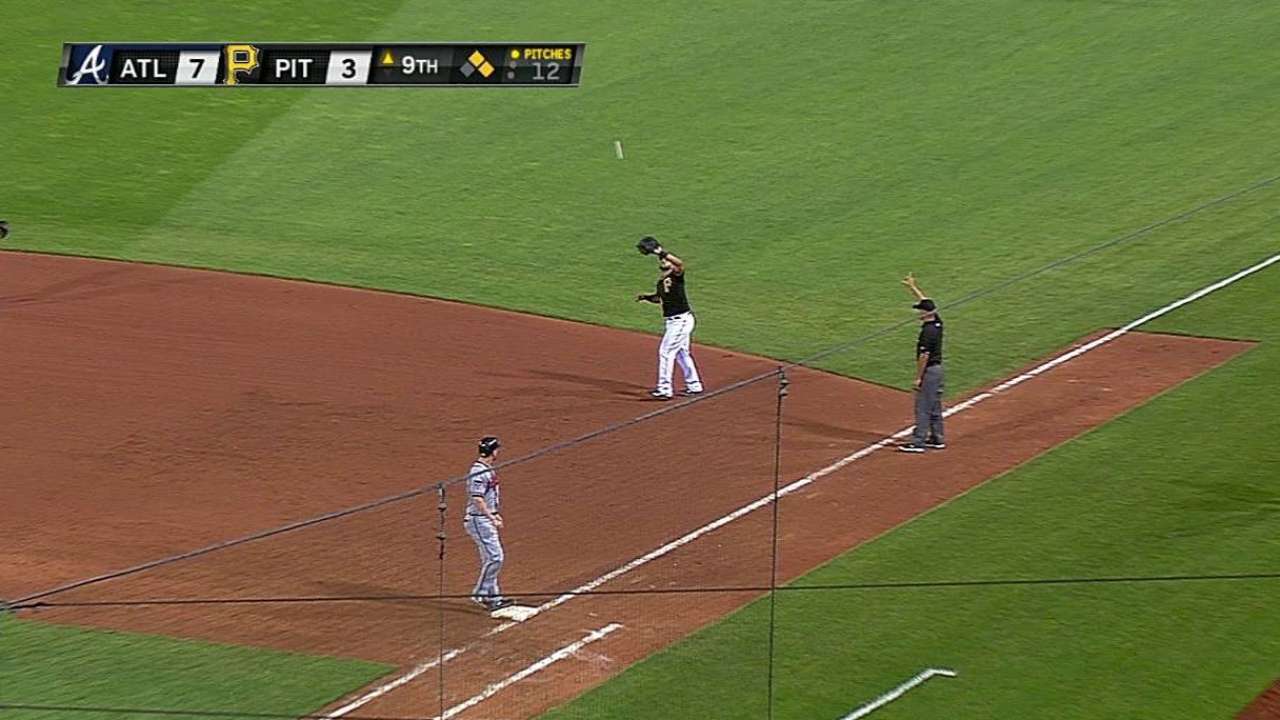 PITTSBURGH -- Pedro Alvarez took the field by jogging to the right corner of the infield on Monday, opposite of where the lifelong third baseman was used to starting.
Less than two weeks after the Pirates decided to have Alvarez start taking practice at first base, he made his first career appearance there, starting against the Braves. Alvarez noted the speed of a game cannot be replicated during infield drills, but he said he felt "pretty comfortable" in his new role.
"It felt new. The first time out there, it takes some getting used to," he said. "It's a different angle, it's a different point of view and different responsibilities come with the position. It's just foreign."
The 27-year-old dealt with a number of routine plays in his first-base debut and had a few others that stood out.
Alvarez moved to his right to field a chopper by Jason Heyward in the fourth inning. He scooped the ball and underhanded it to pitcher Vance Worley at first, but it was not in time to nab the Braves' leadoff hitter. In the sixth inning, shortstop Josh Harrison made a throw a bit wide of Alvarez, who was not able to catch the ball. Harrison was charged with an error.
"I don't want to start critiquing him after one game," Pirates manager Clint Hurdle said of Alvarez. "We'll just get with him and share our thoughts with him."
It was Alvarez's own throwing issues that caused the team to try him out on the other side of the infield.
Alvarez's arm has been among the most unreliable in the Majors. He leads all players with 25 errors this season, 24 of which are throwing errors. The latest came Sunday when he floated a ball over the head of catcher Russell Martin while trying to cut off a runner at home.
Alvarez had been taking more fielding practice at first of late and said he was not surprised that he saw live action there so soon.
"We've been practicing over there pretty vigorously with the intention of trying to get game ready as quickly as possible," he said. "I was eager and anxious to get out there."
As Alvarez tries to find a place on the field, he is also trying to regain footing in the batter's box. Due to the throwing issues, Alvarez has been out of the lineup more often lately, cutting down his at-bats. He went 0-for-4 with a strikeout on Monday, lowering his average to .230.
Stephen Pianovich is an associate reporter for MLB.com. This story was not subject to the approval of Major League Baseball or its clubs.