Bruce's big night can't get Reds untracked
Slugger drives in four, but Cincy drops opener vs. Cards in 10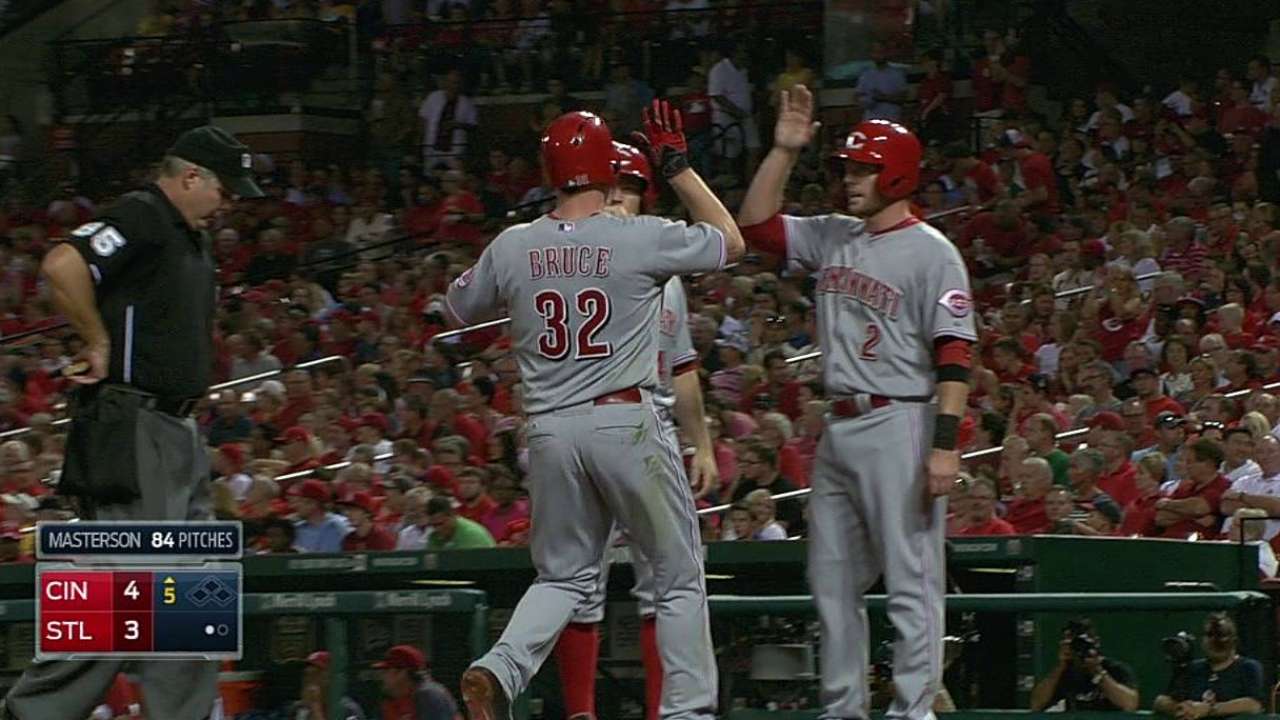 ST. LOUIS -- It wasn't enough that the Reds showed up ready to play after being swept in gut-wrenching style during Sunday's doubleheader at Colorado. They had to get off the mat with a win Monday night vs. the Cardinals.
That didn't happen. Despite Jay Bruce's four-RBI effort and a couple of comebacks, the Reds lost for the sixth time in seven games and their third in a row with a 6-5 defeat to the Cardinals in 10 innings.
Now 61-64, the Reds are a season-high nine games behind the first-place Brewers in the National League Central and five games out in the NL Wild Card race.
"I know nobody wants to hear it when you're three games under .500 and you're fading in the division right now, but I'll tell you, they fight every day," Reds manager Bryan Price said. "Considering how we lost those two games yesterday and got in at 4 o'clock this morning to the hotel, they came out early to the ballpark, busted their tails and lost in extra innings in a tough way. It stinks to lose, but I'm proud of our guys."
Fresh from being activated from the disabled list, Reds reliever Logan Ondrusek took over a 5-5 game from Manny Parra with one out and the bases empty in the bottom of the 10th. Ondrusek, who last pitched on July 12 before going out with a strained right shoulder, could not retire a batter. He promptly gave up singles to Matt Holliday and Matt Adams.
Jhonny Peralta ended the game with a walk-off single to left field over the head of Ryan Ludwick, who was playing in.
It capped a brutal two days for the Reds' bullpen. In three games, totaling eight innings, Reds relievers allowed 17 runs with 16 earned while going 0-3. Since the All-Star break, the bullpen has a 0-9 record.
Price did not have closer Aroldis Chapman, who was unavailable because of an achy left shoulder after he allowed four walks in Sunday's 10-9 loss to the Rockies. Sam LeCure and Carlos Contrereas were also not options. Jonathan Broxton was being held back to close if Cincinnati took a lead.
"I wanted to go with more of the fresh arm there," Price said. "This isn't Logan's first trip around the block and his first time here. He's pitched here and he's pitched well. I would have liked to put him in a little bit softer landing."
The Reds and starting pitcher Mike Leake trailed, 3-0, after three innings but came storming back with a four-run top of the fifth inning as St. Louis starter Justin Masterson's clean evening came apart.
Following a Brayan Pena leadoff double for the Reds' first hit since the first inning, Zack Cozart's RBI double to right field got them on the scoreboard. Bruce slugged a 1-0 Masterson pitch to right field for a three-run homer -- his 14th of the season -- to put the Reds ahead, 4-3.
"I think we came out ready. We've had trouble holding leads lately," said Bruce. "There were some opportunities I don't think we took advantage of. It's the way the ball has been bouncing lately. I personally had a good game but at the end of the day, it's not what it's about. It's about winning games. They're more of a premium than they have been at this point in the season and we needed that one."
Pinch-hitter Daniel Descalso tied the game against Leake with his RBI double to the wall in left-center field that scored Jon Jay. Leake finished with four runs and eight hits allowed over seven innings with one walk and five strikeouts.
"Obviously, we didn't do what we wanted to do," Leake said. "At least we didn't put up the same type of game as in Colorado."
With two outs in the bottom of the eighth, it was Peralta who hit a double to left-center field off Jumbo Diaz before A.J. Pierzynski drove Peralta in with a RBI single to center field to put St. Louis up by a 5-4 score.
In the top of the ninth, the Reds did not go down quietly again as closer Trevor Rosenthal blew the save chance. Billy Hamilton drew a one-out walk and, as he stole second base, advanced on Pierzynski's throwing error. Bruce's RBI double to right field scored Hamilton with the tying run.
The loss in extras gave the Reds an 18-30 record this season in one-run games, which the most losses of that type in the Majors. Cincinnati is also 3-7 this season vs. St. Louis.
"I'm not going to hammer you with all the silver lining stuff. Everybody is sick of losing," Price said. "I'm proud of the guys."
Mark Sheldon is a reporter for MLB.com. Read his blog, Mark My Word, and follow him on Twitter @m_sheldon. This story was not subject to the approval of Major League Baseball or its clubs.