Sale gives up two homers in loss to O's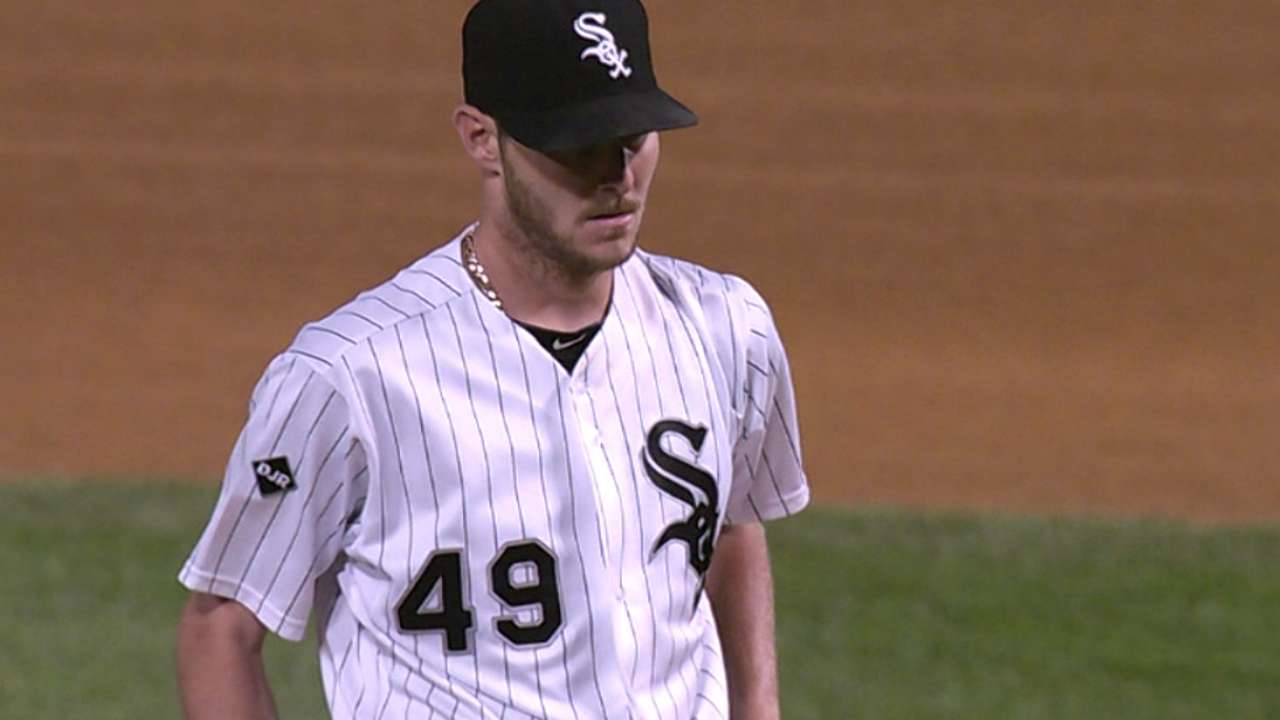 CHICAGO -- Since his Major League debut in relief at Camden Yards, on Aug. 6, 2010, when he faced two hitters and didn't retire either one, the Orioles have found a little bit of success against White Sox ace Chris Sale.
"I'd say 'a lot of bit' against me," a smiling Sale said following the Orioles' 8-2 victory in Monday's series opener at U.S. Cellular Field.
Baltimore (71-52) scored three runs on eight hits in six innings against Sale, including home runs by J.J. Hardy leading off the second and Nelson Cruz leading off the sixth. It was Sale's first start allowing multiple homers since Sept. 15, 2013, against Cleveland, when Matt Carson, Nick Swisher and Asdrubal Cabrera went deep.
Nick Markakis joined Josh Hamilton (June 7), Gregor Blanco (June 18) and Alex Gordon (July 21) as the only left-handed hitters with multiple hits off Sale in a single game in 2014. For the season the Orioles are 19-for-52 against Sale in two starts covering 12 innings, and the rest of the league is 80-for-438 over his other 18 starts.
On this particular evening, when the White Sox (59-66) dropped to 2-2 on their six-game homestand, manager Robin Ventura didn't feel Sale was at his usual Cy Young-caliber efficiency. But there's a reason why the Orioles are the lone American League team that Sale hasn't defeated in his career.
"This is a team that, no question, I've struggled against from the first pitch I ever threw," Sale said. "It's something that's just frustrating. You have a plan you want to execute. Sometimes teams come in and they do what they did tonight against me."
"You just have to go up there with a game plan, stick to it, and hopefully he leaves one over the plate or he hangs one," Markakis said. "Just go up there, have good at-bats, and when he leaves one over the plate and he makes a mistake, you've got to do your best to put wood on it. We did that pretty well tonight against a great pitcher."
Sale (10-3) exited at 121 pitches, striking out eight and walking two. He has 158 strikeouts and 26 walks in 136 innings, with six straight games of eight strikeouts or more.
His departure came after he struck out Jonathan Schoop swinging, and it also followed a mound visit from Ventura when Sale was at 115 pitches, with runners on the corners and two outs. The exact nature of the conversation comes out a little different, depending on whom you ask.
"I just made sure he wasn't trying to overthrow," Ventura said. "I knew it was going to be his last guy, just making sure he felt good before he was going after the guy. I didn't want him overthrowing and overextending himself."
"Very calm," said the intensely competitive Sale with a wry smile on how he convinced Ventura to stay in the game with Ronald Belisario warming up. "I asked how his day was going, and he commented on my shoes, and he liked them. It went very well."
While the Orioles were connecting consistently off Sale, the White Sox were doing little against Baltimore starter Bud Norris, who limited the White Sox to one Jordan Danks single in the second until the seventh inning, when Chicago pushed across two runs.
It was Avisail Garcia who bailed out the offense when he lined a 1-2 pitch to right to score Alejandro De Aza and Alexei Ramirez with two outs. Those two were at second and third with nobody out before Jose Abreu flied out and Adam Dunn struck out.
Norris (11-7) would have allowed two more runs if not for a spectacular catch by Markakis in right. On Conor Gillaspie's blast headed for the Orioles' bullpen, Markakis went over the wall with a perfectly timed leap to bring back the go-ahead home run.
"We were a great outfielder away from potentially winning that game," Sale said.
Schoop's two-out, three-run double in the eighth off Matt Lindstrom gave the Orioles a little extra room to work, followed by Markakis' two-run shot off Lindstrom during the five-run frame. That rally started with nobody on and two out via Hardy's single against Belisario and was extended when Eric Surkamp hit Chris Davis on a 1-2 pitch and Lindstrom walked Caleb Joseph after being ahead, 1-2, to load the bases.
"Throwing strikes is not the problem. It's putting them away, having a couple pitches to waste," said Lindstrom, who has allowed six runs on seven hits over his last one-plus innings. "Hopefully, I can continue working and just be able to put guys away."
Even in defeat, as part of his 16th quality start, Sale provides an expected level of postgame entertainment. His 19th individual word of the start points the White Sox toward Tuesday's action.
"Obviously, you want to extricate this from our minds," he said. "Come in fresh and ready to go."
Scott Merkin is a reporter for MLB.com. Read his blog, Merk's Works, and follow him on Twitter @scottmerkin. This story was not subject to the approval of Major League Baseball or its clubs.