Led by Markakis' bat and glove, O's top Sale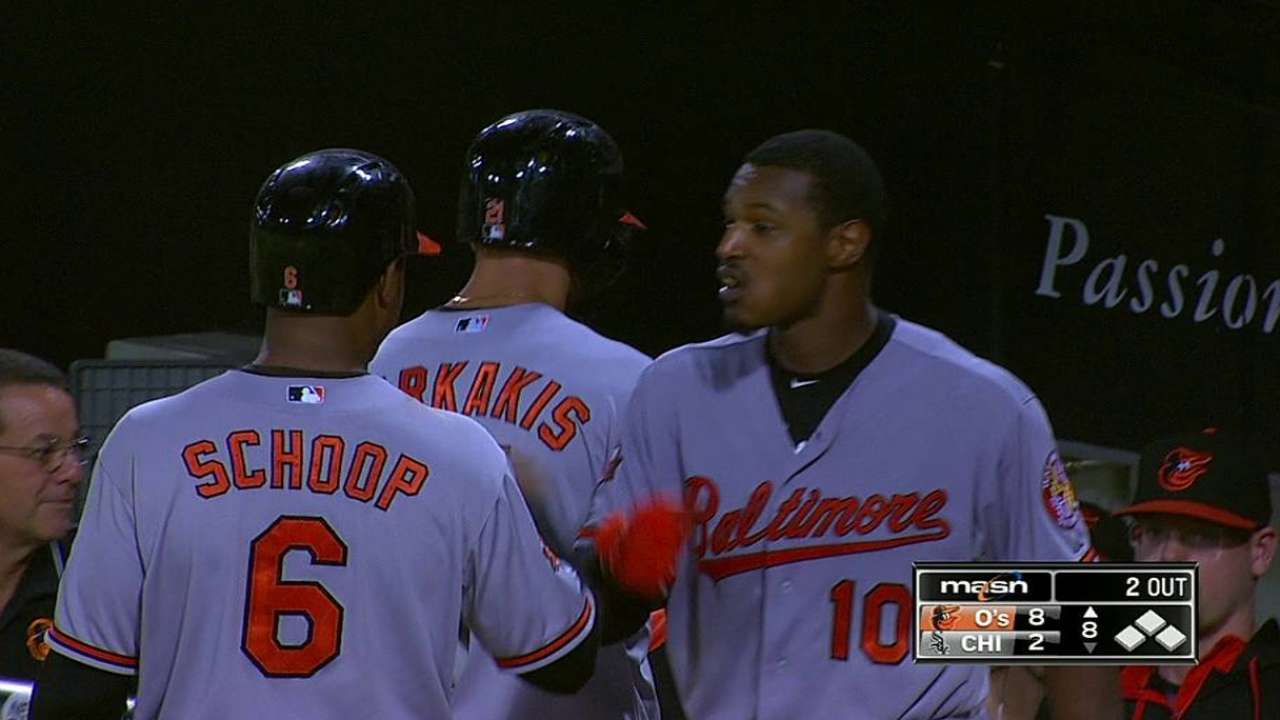 CHICAGO -- Right fielder Nick Markakis ran, leaped and crashed into the wall, hitting the ground with a hard thud and robbing Conor Gillaspie of a go-ahead homer with a game-saving catch in the seventh inning. Then the 30-year-old Markakis -- after showing he had the ball -- nonchalantly got up, put his head down and trotted into the dugout alongside Adam Jones, as unassuming as possible.
But even the reserved Markakis couldn't shun the spotlight on Monday, as the longest-tenured Oriole took center stage in the first-place O's latest win. Led by Markakis' highlight-reel worthy grab and three-hit night -- he blasted a two-run homer as part of a five-run eighth inning -- the Orioles blew past the White Sox and their ace, Chris Sale, with an 8-2 series-opening victory.
"He's the rock," manager Buck Showalter said of Markakis, who became just the fourth left-handed hitter this season to put up a multihit effort off Sale. "He's as consistent a guy as you ever want to have. We've got a lot of guys who you know what you're getting when they walk through the door every day. Nick's one of those. I can't tell you how hard it is for a left-handed hitter to go up there and get two knocks off Chris Sale. You're going to get some things tested in your gut to hang in there."
The Orioles (71-52) -- who also got solo homers from J.J. Hardy and Nelson Cruz -- are doing their best to ensure that no one else in the American League East hangs around. Winner of eight of nine series coming in, Baltimore extended its divisional lead to 7 1/2 games with Monday's win.
"We go out there every day and play hard, one guy picks up the other, and we just feed off each other," said starter Bud Norris, who threw an impressive seven innings and was particularly dominant early. "It's a 25-man roster that's been getting the job done, and we are pretty excited about it."
Norris, who allowed just one baserunner and needed 64 pitches through six innings, got into some trouble in allowing a leadoff hit batsman and Alexei Ramirez's double. He got the next two outs, then Avisail Garcia singled into right field to plate two runs and bring Chicago within one. Gillaspie looked poised to give the Sox the lead, drilling a ball over the right-field fence, but he was denied by Markakis' wizardry.
"I didn't see a whole lot of it," Showalter said. "I saw the tail end of it and I said to myself, 'He caught that?' That was big. The score won't look like it, but obviously, that was a big play."
Markakis was also at the center of the offense, opening the game with a single, and singling and scoring on Steve Pearce's double in the fifth. The O's, who got on the board with Hardy's leadoff shot in the second inning, tallied three hits off Sale in the fifth in a frame that ended on Pearce's out call at the plate.
Sale, widely regarded as a strong candidate for the AL Cy Young Award, exited after six innings after the Orioles raising their batting average to .365 in two starts against him. The rest of baseball is batting .183 off him.
"They've proven that over the last couple of years, they can hit the ball out of the ballpark," White Sox manager Robin Ventura said of the Orioles. "They've got guys who can swing it. They're in first place for a reason. [Sale] wasn't necessarily on tonight, but they worked him over pretty good as far as getting him in situations. They have some guys that can hit some homers, and they did."
The O's scored five runs off the White Sox bullpen, including a bases-clearing double for Schoop and Markakis' blast off former Oriole Matt Lindstrom. Righty Brad Brach took over for Norris and tossed two scoreless frames to put the finishing touches on the win.
Brittany Ghiroli is a reporter for MLB.com. Read her blog, Britt's Bird Watch, and follow her on Facebook and Twitter @britt_ghiroli. This story was not subject to the approval of Major League Baseball or its clubs.