D-backs hang tough, but fall to Nats in DC
Nuno's strong start, late homers not enough in series opener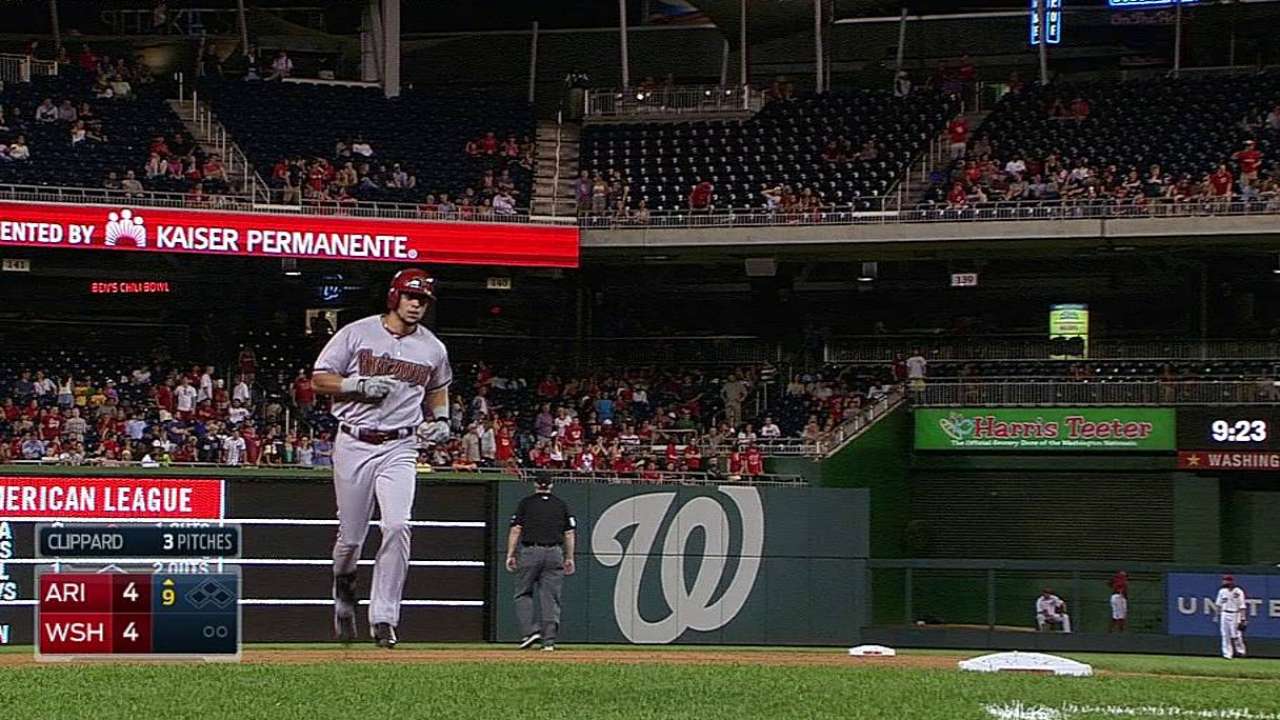 WASHINGTON -- When the count got to three balls and one strike, D-backs right-hander Will Harris figured he would throw a breaking ball to Adam LaRoche.
After all, it was a fastball count and the Nationals slugger certainly would not be looking for an offspeed pitch.
LaRoche, though, hit that Harris pitch off the facing of the upper deck in right as the Nationals walked off with a 5-4 win in 11 innings over the D-backs on Monday night at Nationals Park.
"I guess maybe in the back of his head, he thought he might be getting an offspeed pitch, that I'd be pitching around him with a righty on deck," Harris said. "I made the pitch I wanted to make and he hit it out. There's nothing else really to do about it. When you pitch a guy not to beat you, you're going to throw offspeed pitches in fastball counts. That's kind of what I did. And he got me."
Harris, who was called up from Triple-A Reno earlier in the day, retired the first two batters of the inning before LaRoche ended what had been a back-and-forth game.
It was the seventh straight win for the Nationals and their third in a row in walk-off fashion.
For LaRoche it was the first walk-off homer of his 11-year career.
"Honestly, the last thing I'm looking for right there is a 3-1 curveball," LaRoche said. "I just happened to see it really good."
The D-backs had a golden opportunity to take the lead in their half of the 11th, when they loaded the bases with nobody out against Craig Stammen.
The veteran, though, was able to fan rookie Jake Lamb and second-year player Didi Gregorius before getting Cliff Pennington to ground out and leave the bases loaded.
"We had the bases loaded the last inning, and we had some young guys up there and we didn't get it done," D-backs manager Kirk Gibson said. "They had a veteran guy in LaRoche, he's a good breaking-ball hitter, got one that hung a little bit and he hit it out. It was a good game, back and forth, but it's always disappointing when you lose a game like that."
With the playoffs out of reach, the D-backs' focus has been on developing their young players, so they can only hope that instances like the 11th inning prove to be learning experiences.
"They're younger and that's kind of an excitable moment," Gibson said. "They'll get better the more times they go through it, and that's one of the deals we've got to go through right now. But overall, I think we played our hearts out and played a good game."
Left-hander Vidal Nuno gave the D-backs seven quality innings as he and Nats starter Jordan Zimmermann matched zeros for the first four innings before the D-backs were finally able to break through.
Zimmermann issued a walk to Mark Trumbo, who would eventually come around to score on a sacrifice fly by Jordan Pacheco to give the D-backs a 1-0 lead.
It looked like Nuno might make that stand up, but he was hurt by a walk of his own in the seventh.
The left-hander started the inning by retiring LaRoche, but then walked Ian Desmond. After striking out Bryce Harper, Nuno was one strike away from getting out of the inning, but Wilson Ramos instead hit a 1-2 hanging breaking ball over the wall in center for a 2-1 Nats lead.
Just as quickly as the lead disappeared, though, the D-backs were able to reclaim it.
Lamb led off the eighth by drawing a walk from Zimmermann, and Gregorius followed with an eight-pitch at-bat that resulted in a home run to right that gave Arizona a 3-2 lead.
That's when it became clear that this was going to be a back-and-forth night.
It was the Nats' turn in the eighth, as they scored a pair of runs off setup man Brad Ziegler to go up 4-3.
With closer Rafael Soriano having worked a lot lately, the Nats brought in Tyler Clippard to try and finish things off in the ninth.
After getting the first hitter of the inning, David Peralta, quickly down 0-2, Clippard hung a breaking ball and Peralta homered to tie the game at 4.
Steve Gilbert is a reporter for MLB.com. Read his blog, Inside the D-backs, and follow him on Twitter @SteveGilbertMLB. This story was not subject to the approval of Major League Baseball or its clubs.