MLB.com Columnist
Bill Ladson
Nats' streak to seven after another walk-off win
LaRoche's homer sends club to third straight victory in last at-bat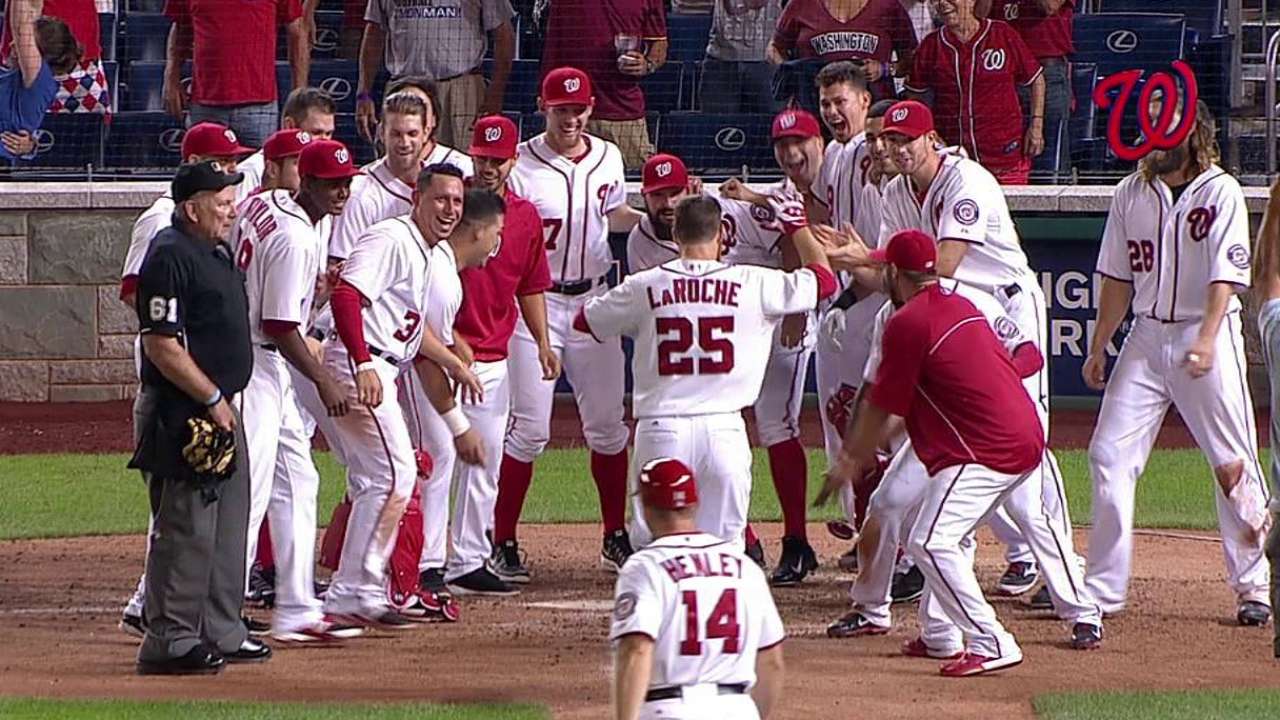 WASHINGTON -- The game between the Nationals and D-backs went back and forth Monday night. Adam LaRoche hit a solo homer, giving the Nats a 5-4, walk-off win in 11 innings at Nationals Park.
The win was the third straight walk-off victory for Washington, the first time that has happened in Nationals history. Manager Matt Williams went through three walk-off home runs as a player with the D-backs. To Williams, it's rare to see walk-off victories in three consecutive games.
"They don't come very often, that's for sure," Williams said. "They just keep fighting, which is a great trait to have. It's a fantastic trait to have ... [to] never give up."
The Nationals remained six games ahead of the Braves in the National League East race. Atlanta beat the Pirates, 7-3, at PNC Park.
Washington has won seven straight games and improved to 70-53. It became the third team in the NL to reach the 70-win plateau.
Williams talked about doing a Babe Ruth impersonation if the club went on a 10-game winning streak. As a member of the Giants, Williams did a similar Ruth impersonation at Candlestick Park in 1991.
"I didn't necessarily want to bring that up. [The Ruth impersonation] is still available," Williams joked.
The score was tied at 4 when LaRoche hit a 3-1 pitch from right-hander Will Harris for a mammoth home run over the right-field wall. It was the first walk-off home run of LaRoche's career.
"I got every bit of that one," LaRoche said. "I don't know how we got these walk-off situations the last few days, but we have. I managed to get my first one. It took me long enough. So it's a good feeling."
For LaRoche, this current streak reminds him of 2012, when the Nats won their last division title.
"A little bit, and not just right now. Even earlier in the year, we had some injuries and still kept fighting and winning ballgames without three or four of our starters at a time," LaRoche said. "Young guys coming up filling the holes for us, pitching like they do consistently. So yeah, there is definitely a 2012 feel."
Earlier in the game, it looked like Wilson Ramos was going to be the hero. The Nationals were down, 1-0, when they took the lead against Vidal Nuno in the bottom of the seventh inning. With Ian Desmond on first, Ramos hit a 1-2 pitch over the center-field wall for a two-run homer.
Nuno pitched seven innings, allowing the two runs on five hits.
Nationals right-hander Jordan Zimmermann pitched seven-plus innings and allowed three runs on four hits, but he allowed Arizona to take the lead in the eighth inning.
Didi Gregorius spoiled the party for a brief moment. The Nationals had a 2-1 lead going into the inning, but Zimmermann couldn't hold on to the margin. After walking Jake Lamb, Gregorius hit a 3-2 pitch for a two-run homer over the right-field wall to give Arizona a one-run lead.
"One pitch, and it looked a little worse than what it is. In that situation, I want to throw a strike," Zimmermann said. "Everyone knows I don't want to walk another guy. [Gregorius] was ready for it and got the bat on the ball."
The Nationals scored two runs in the bottom of the eighth inning off right-hander Brad Ziegler to regain the lead. After Denard Span doubled with one out, Anthony Rendon followed and tripled down the right-field line, scoring Span.
Jayson Werth was the next hitter and hit a sacrifice fly, scoring Rendon.
Tyler Clippard came in to pitch the ninth inning, and he blew the save, allowing a home run to David Peralta to tie the game at 4.
But the Nationals showed their resilience in the top of the 11th inning. The D-backs had the bases loaded with no outs, but Craig Stammen managed to get out of the inning without a run scored. It helped that his sinker was working. He managed to get two strikeouts in the inning.
"I started making good pitches," Stammen said. "I made good pitches and they didn't hit them. I got lucky. … You have to believe in yourself. Obviously, it was stacked against me and there was a certain way I was going to get out of it. Luckily, that's the way it went."
Stammen's performance motivated the Nationals to win the game in the bottom of the inning.
"It feels like every break is going our way," Stammen said. "You don't get out of a bases-loaded jam very often. It's a 1-in-25 thing. Walk-off home run, two outs in the 11th inning. Coming back when we're down and all that stuff. And giving up home runs and then coming back and scoring more runs, it's just resiliency."
Bill Ladson is a reporter for MLB.com and writes an MLBlog, All Nats All the time. He also could be found on Twitter @WashingNats. This story was not subject to the approval of Major League Baseball or its clubs.