Rizzo, Baez crush Mets behind stellar Hendricks
Pair of homers leads offense, while rookie goes seven strong frames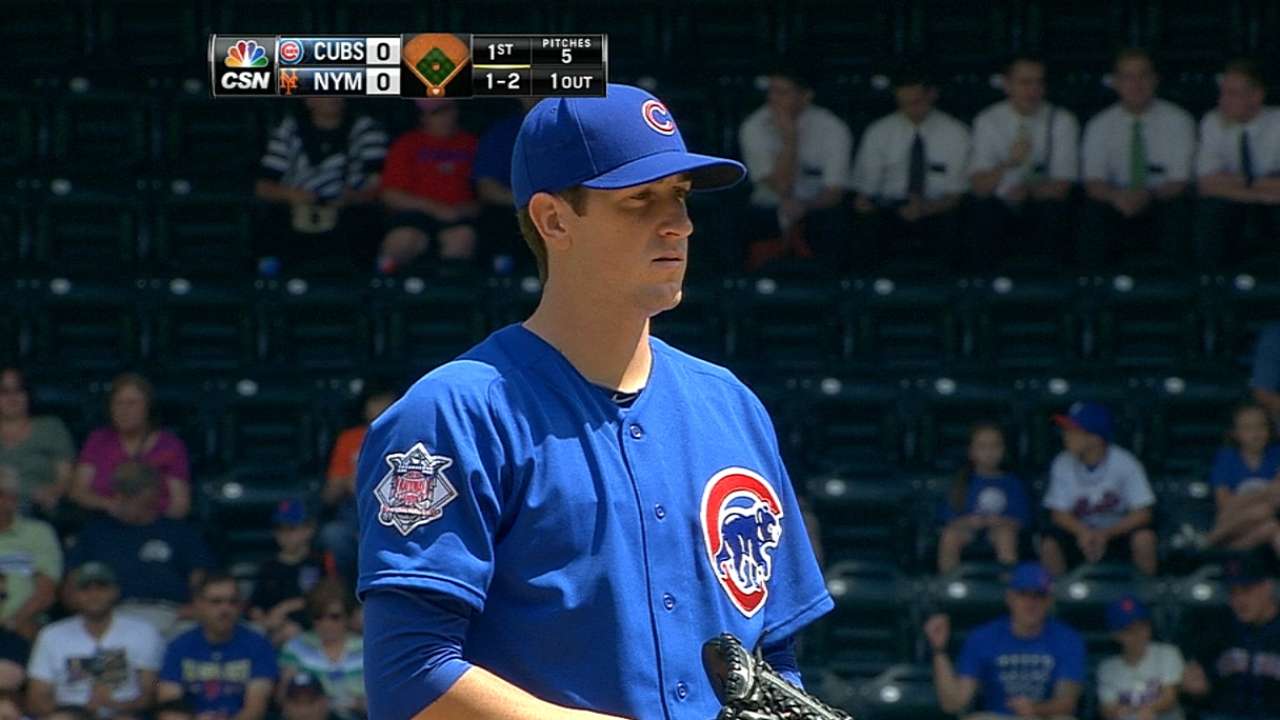 NEW YORK -- Rookie Kyle Hendricks has seen Javier Baez hit monster home runs before, so he wasn't awed by the upper deck blast in the ninth on Monday at Citi Field.
"That's typical right there -- it's not really shocking for us," Hendricks said. "He can do that any time he's up."
Baez belted a two-run homer in the ninth and Anthony Rizzo hit a go-ahead solo homer in the eighth to back Hendricks and lead the Cubs to a 4-1 win over the Mets to split the four-game series.
It was Hendricks' sixth straight quality start, and the right-hander has fit into the Major Leagues without many hiccups.
"Having a lot of young guys coming up, we've played together for a long time, so it makes it more comfortable and it's easier to play -- you feel more comfortable out there," Hendricks said.
Baez apparently is feeling pretty good, too.
"For me, it's the same game, just more fans and bigger [ballparks]," Baez said. "They still have to throw the ball over the plate."
Rizzo's homer was his 28th and Baez's was his fifth, and both helped the Cubs pick up their ninth win of the month, one more than they totaled in August 2013, when they went 8-20.
The Cubs need to make sure Baez and Hendricks are in the lineup at the same time.
"Usually when he's pitching, and he has a good game, I have a good game, too," Baez said.
"He'll just continue to get better, I hope," manager Rick Renteria said of Baez.
The rookie infielder is the first player to hit five home runs in his first 14 games since Evan Gattis did so, April 3-20, 2013, for the Braves. Baez has tied Kevin Roberson (1993) and Carmelo Martinez (1983) for the most homers in a player's first 14 games in Cubs history.
And Baez didn't think he had a very good day because he struck out twice.
"I just have to realize with the guys behind me, they're going to pitch to me so they don't have to pitch to Rizzo," said Baez, who bats second ahead of Rizzo. "I just have to be patient and learn from it."
Hendricks scattered three hits over seven innings, and is the first Cubs rookie to post six consecutive quality starts since Kerry Wood had two stretches of seven in a row in 1998. In his Major League debut on July 10 against the Reds, Hendricks gave up three runs in the first inning, but he has been charged with seven earned runs over 47 2/3 innings since then.
"I wasn't making that many good pitches early, to be honest," Hendricks said. "I made that mistake to [Lucas] Duda [in the fourth] and it locked me in after that.
"I was trying to keep them in the game when were down 1-0, and 'Riz' was huge there with that home run and Javy with the insurance at the end -- it doesn't get much better than that."
The streak of quality starts is impressive.
"I'll take it every single time he goes out to be the same guy -- I'll take it every single time," Renteria said.
Renteria didn't want to compare Hendricks to anyone. And then he did.
"I know it's a short snippet, and he's been very, very good, but he is Maddux like in his execution and approach," Renteria said of former Cubs pitcher and recent Hall of Fame inductee Greg Maddux.
Cubs pitching held the Mets to four hits in each of the four games of the series. The last time they held a team to four or fewer hits in three-straight games was May 15-17, 1995, against the Giants.
"We had a really good meeting before the series and everybody went out there with a real good game plan, and both catchers called real good games," Hendricks said.
The Mets' David Wright was impressed.
"He's got good numbers," Wright said. "He's been shutting some other teams down, so you know he can pitch. He's got a good idea of what he's doing on the mound, but offensively we're not clicking, either. Probably a combination of the two.
"It's easy to look at this pitch count and say we were too aggressive, but if you don't go up there and swing, you're going to be down 0-1, 0-2 and that's no fun either," Wright said.
Bartolo Colon was scheduled to start for the Mets, but he was scratched so that he could travel to the Dominican Republic to be with his mother, who was ill. Carlos Torres, who pitched one-third of an inning in relief on Sunday, started and struck out the side in the first. This was his first start of the year after 53 relief appearances.
The Cubs used a defensive shift against Duda, and it paid off in the second as third baseman Luis Valbuena made the throw from the right side of the infield to get him out. But Duda beat the shift with one out in the fourth, hitting his 22nd home run into the Cubs' bullpen for a 1-0 lead.
Carrie Muskat is a reporter for MLB.com. She writes a blog, Muskat Ramblings, and you can follow her on Twitter @CarrieMuskat. This story was not subject to the approval of Major League Baseball or its clubs.