Mets' offense sputters in Torres' fine spot start
Righty fires five scorless frames; Duda belts 22nd homer for lone run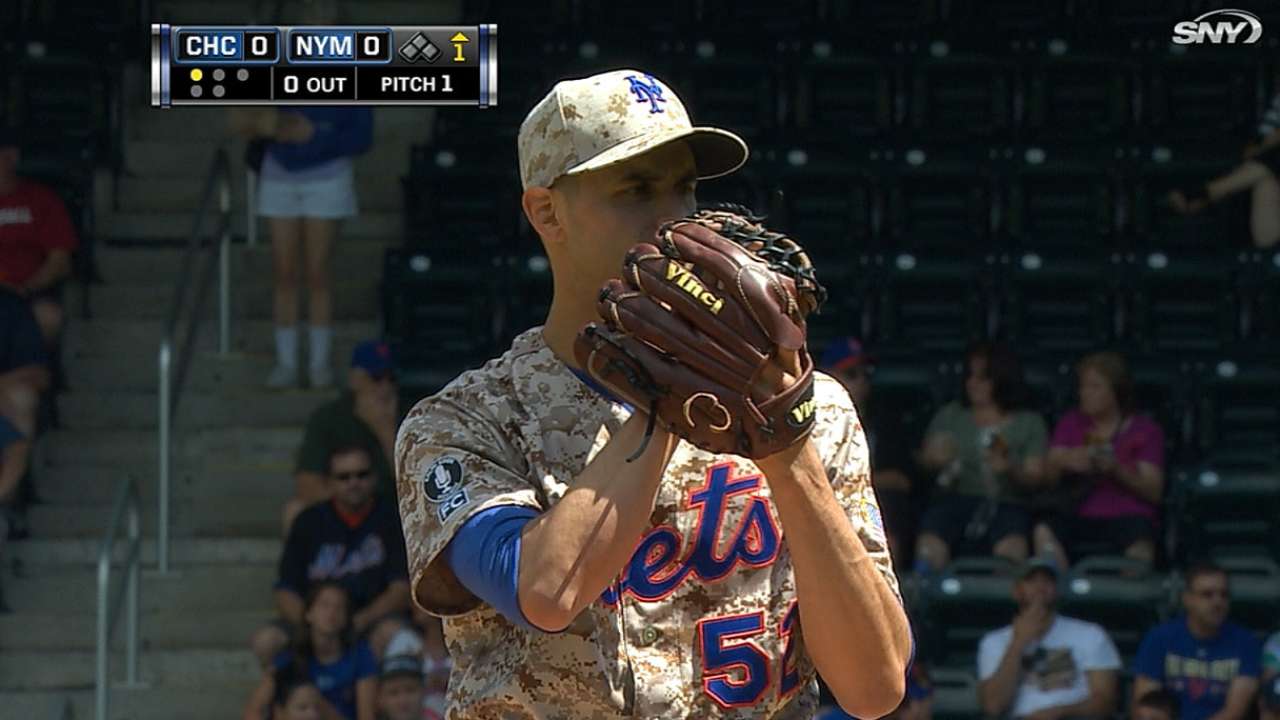 NEW YORK -- Despite a strong outing by Carlos Torres in an emergency start, the Mets' bats couldn't produce. Again.
Torres, who started in place of Bartolo Colon, fired five scoreless innings in a no-decision, as Monday's 4-1 loss to the Cubs on Monday was the fifth consecutive game the Mets finished with four or fewer hits, tying a franchise record. The Mets are also the last Major League team to do so in September 2004.
"There's no easy answers," manager Terry Collins said.
David Wright walked back to the home dugout after swinging and missing at a Hector Rondon fastball in the ninth to cap his 0-for-4 day. The Mets' third baseman heard boos from the crowd of 23,271 at Citi Field. A leadoff double by Daniel Murphy put the potential tying run in the on-deck circle with the middle of the Mets' order due up, but Wright struck out and Lucas Duda flied out before Travis d'Arnaud whiffed to end the game.
Duda provided the Mets' lone run with a fourth-inning homer. His 22nd blast of the year came after right-hander Kyle Hendricks threw him three sinkers. Duda watched the first, missed the second and connected on the third, sending it more than 400 feet beyond the wall in right-center.
Other than that, the offense was listless. Curtis Granderson, Murphy and Matt den Dekker were the only other Mets to record a hit against Hendricks, along with relievers Neil Ramirez and Rondon.
Hendricks got through seven innings on 94 pitches.
"It's easy to look at his pitch count and say we were too aggressive, but if you don't go up there and swing, you're going to be down 0-1, 0-2 and that's no fun either," said Wright, whose dealing with a sore left shoulder. "It's OK to be aggressive. We're just not squaring the ball up, and the pitches we are [hitting], we're either rolling them over and getting ground balls, or maybe getting under them a little too much and hitting fly balls."
Added Hendricks: "We had a really good meeting before the series, and everybody went out there with a real good game plan, and both catchers called real good games."
It won't get any easier for the Mets, who head to Oakland to face Scott Kazmir and Jeff Samardzija -- two All-Stars -- before dealing with the Dodgers' loaded rotation over the weekend.
Receiving little offensive support on Monday was Torres, who didn't find out he was starting until arriving at the ballpark in the morning. Colon, who went to the Dominican Republic to be with his ailing mother, will be placed on the bereavement list prior to Tuesday's series opener with the A's.
The Cubs, however, scored single runs off relievers Dana Eveland and Buddy Carlyle, and Javier Baez added a ninth-inning, two-run homer off Jenrry Mejia.
Anthony Rizzo's homer off Carlyle in the eighth, a laser to right-center, broke a 1-1 tie and ended the right-hander's 13-inning scoreless streak.
Torres didn't have particularly sharp command of the strike zone -- he threw 48 of 86 pitches (56 percent) for strikes and issued first-pitch strikes to just seven of 20 batters -- but the results were solid. He struck out six while scattering three hits and two walks.
Torres' biggest jam came when Chicago loaded the bases with two outs in the fourth. Welington Castillo swung and missed at a cutter away to end the inning.
"Toward the end, you could tell I was getting a little tired," Torres said. "I just needed to get back in there, get on top of the ball a little more and drive it down, vs. leaving them a little higher."
It was Torres' first start since last September, and this outing was his longest of the season. He went about it carefully.
"You start with one and hope you get through one and go from there," Torres said. "Because that very easily could have been two innings and out of the ballgame with eight runs. So you have to go with one inning no matter what, whether you're starting or relieving."
Most days, it would've been good enough for a win. Most days, the Mets' offense doesn't get shut down the way it has of late.
"I don't think it's a mindset or I don't think it's a philosophical thing," Wright said. "It's a more of execution, and we're not doing that."
Tim Healey is an associate reporter for MLB.com. This story was not subject to the approval of Major League Baseball or its clubs.