Prospect May's wildness resurfaces in home debut
Righty cruises early, walks three in three-run fifth; late rally falls short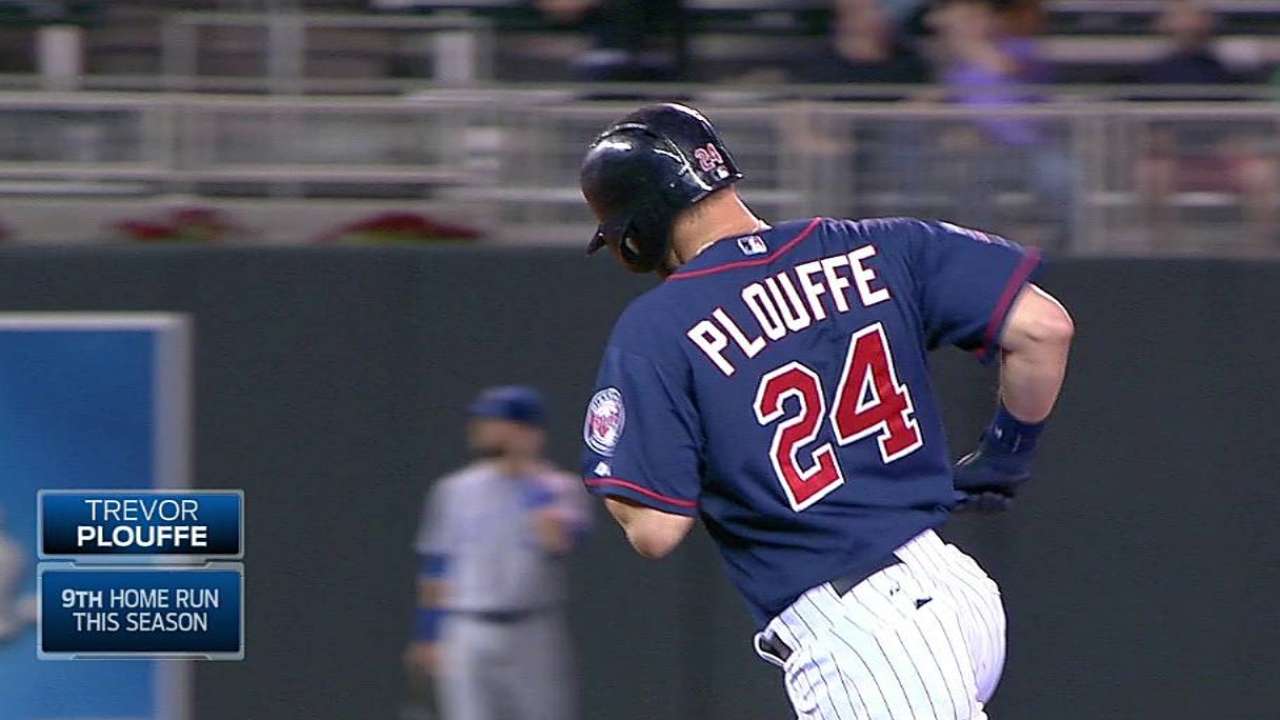 MINNEAPOLIS -- Given his status as a highly regarded prospect and his strong track record in the Minor Leagues, the Twins still have plenty of high hopes for Trevor May.
But May has had trouble finding the strike zone early in his big league career, and while he was better in his Target Field debut Monday night, walks did him in again.
May appeared to put his control issues behind him early, but ultimately struggled with walks in a three-run fifth inning in a 6-4 Twins loss to the Royals.
May, who walked seven in just two innings in his Major League debut against the A's on Aug. 9, cruised through four innings before running into trouble in the fifth because of three walks that all led to runs.
"I thought it was a definite stepping stone," said Twins bench coach Terry Steinbach, who served as manager after Ron Gardenhire was ejected in the first inning. "But the basic thing in baseball is that walks are going to kill you. And it was a perfect example tonight."
May issued back-to-back free passes to Alcides Escobar and Jarrod Dyson with one out in the fifth before walking Omar Infante on a borderline 3-2 pitch to load the bases with two outs. Salvador Perez followed with a two-run single before Billy Butler singled home another run.
"They had a couple good at-bats," May said. "I maybe let one get away here or there. The difference between an out and a walk sometimes is just one pitch. And I wasn't able to make them there and they made me pay for it."
One positive was that May wasn't hit hard, as Perez broke his bat on his two-run single and the Twins had a play at the plate on Butler's single, but catcher Eric Fryer couldn't handle the throw home from center fielder Danny Santana.
Fryer said he was forced to try to make the play in front of the plate because of the new collision rules, which led to a tricky hop. But he said he saw improvements this time out from May, who also tossed 2 1/3 innings in relief against the Astros last Tuesday to help him with his jitters.
"I think for the most part he was solid," Fryer said. "The first four innings, especially. In the fifth inning, he got some bad luck with Perez dropping one in there off the end of the bat. That's the way it goes sometimes."
May remained in to face Alex Gordon, but surrendered another single to load the bases and was removed for long reliever Anthony Swarzak, who was able to strike out Josh Willingham to end the inning.
It wasn't as rough as his debut, but May ended up allowing three runs on seven hits and four walks over 4 2/3 innings in his first career start at Target Field to get the loss. But the young righty said he can build on this start.
"I definitely see an upward trend on where things are going," May said. "It's all stuff that's happened to me before in my career with rough patches. It's always about adjustments needing to be made."
Swarzak went 3 1/3 innings in relief, giving up two runs on four hits, including a broken-bat solo homer to pinch-hitter Erik Kratz in the seventh and an RBI single to Dyson in the eighth.
It was the first of two homers for Kratz, who added a solo blast in the ninth off Ryan Pressly. Both homers proved costly in the two-run loss.
"You tip your cap because it was a broken bat on the ball to left," Steinbach said. "In all my years, I don't think I've seen that. So you tip your cap on that one and he hit a monster one to center."
May was outpitched by Royals left-hander Jason Vargas, who went seven strong innings, allowing just one run on four hits and a walk.
The Twins scored their only run against Vargas in the seventh on a solo shot from Oswaldo Arcia that hit off a flag pole on Target Plaza in right field. It was Arcia's 12th homer and his fourth over his last six games.
Trevor Plouffe made it a two-run game with a three-run blast in the ninth off reliever Aaron Crow. But it wasn't enough, as the Twins went 1-for-4 with runners in scoring position. Minnesota went just 5-for-30 in those situations in the series, losing three of four to first-place Kansas City.
Rhett Bollinger is a reporter for MLB.com. Read his blog, Bollinger Beat, and follow him on Twitter @RhettBollinger. This story was not subject to the approval of Major League Baseball or its clubs.