Battery plays major role in eighth straight series win
Vargas goes seven strong, while Kratz homers twice after Perez's exit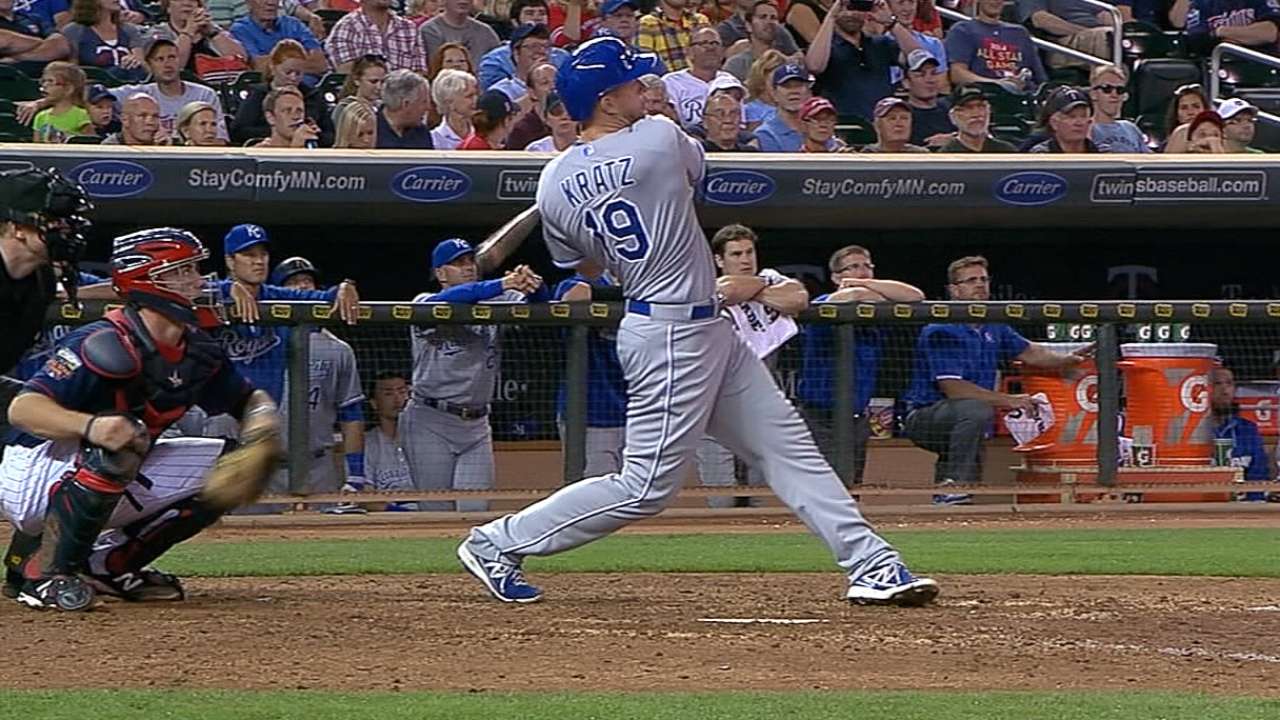 MINNEAPOLIS -- Quite a news-making evening for the Royals' catching staff.
First, All-Star catcher Salvador Perez had to leave the game with a sore right knee. Then, backup Erik Kratz replaced him and socked two solo home runs.
In the end, there was good news all around. Perez's injury wasn't considered serious and Kratz's home runs provided the margin of victory in Kansas City's suddenly tight 6-4 victory over the Twins on Monday night at Target Field.
"I'll play tomorrow night," Perez insisted, looking ahead to Tuesday night's game at Colorado.
Maybe, maybe not, but at least what manager Ned Yost called a pinched patella tendon was not believed to be at all serious.
Kratz swung right into action as a pinch-hitter for Perez in the seventh inning, blasting the first pitch he saw from reliever Anthony Swarzak over the left-field wall for a 4-0 lead. Then, in the ninth, he sent a 1-0 pitch from Ryan Pressly over the center-field wall, 412 feet away.
"The first home run -- it shows you how strong he is -- he actually broke his bat," Yost said. "On the second home run, to drive a ball to center field like that shows a lot of strength."
Left-hander Jason Vargas held the Twins to one run -- Oswaldo Arcia's homer -- in his seven innings. He improved his record to 10-5.
As a team, the Royals had a variety of accomplishments:
• They won their eighth straight series, the first time they've done that since 1991.
• They climbed 14 games over the .500 mark at 69-55 for the first time since Aug. 9, 1994, when they were 64-50. Alas, the '94 work stoppage ended the season a day later.
• The victory was the Royals' 21st in their last 26 games, a stretch that coincides with the string of series wins.
As it developed, this latest victory didn't come very easily.
Vargas was zipping right along and the Royals finally got to rookie right-hander Trevor May, who was making just his second Major League start. He did himself no good by walking the bases full in the fifth inning.
There were two out but Perez lined a two-run single into center field, starting on his journey around the bases that eventually would pinch his knee. Billy Butler followed with an RBI single and when Alex Gordon's hit again loaded the bases, May was through.
Swarzak arrived to strike out ex-Twin Josh Willingham to keep the score 3-0.
Then fate brought Kratz into the game for Perez, who remained in the game to catch two more innings.
"I knew he was dealing with something, but when you're catching, you're always dealing with something and it's something he played through a little bit," Kratz said. "I was ready to go down to the bullpen to warm the guys up down there, not necessarily to go in the game."
But into the game he went in the seventh to unleash his broken-bat blast, something he couldn't recall happening to him before.
"No, I wouldn't say that's something that you normally do," Kratz said.
Twins coach Terry Steinbach, who took over from ejected manager Ron Gardenhire, was astounded.
"It was a broken bat on the ball to left," Steinbach said. "In all my years, I don't think I've seen that. So you tip your cap on that one and he hit a monster one to center."
Yep, after a fifth run in the eighth, Kratz unloaded again in the ninth.
"The next person is ready to step up," Vargas said appreciatively. "Salvy's a huge part of our team but, at the same time, we've got to keep him healthy and keep him in there for the long haul. For Kratz to come in and step up and go big fly twice is pretty nice. Especially when they were able to extend the game a little bit, those two runs really counted."
Oh yes, that little extension in the Twins' ninth. Wade Davis threw a perfect eighth, extending his string to 20 2/3 scoreless innings, and Kratz's second homer boosted the Royals' lead to 6-1.
So, hoping to give closer Greg Holland a third straight game off, Yost brought in Aaron Crow to pitch the ninth. But, after an out, Crow gave up two singles and a three-run homer to Trevor Plouffe.
Suddenly the lead was down to two runs and the summons went out to Holland.
"That's why I always do my stretch routine and get ready, because you never know," Holland said. "You get a little chink ground ball and, all of a sudden, the guy works the count full and you've got to throw him a fastball and he hits a three-run homer. You've got to be ready for those situations."
So in he came and immediately got two outs, recording his 38th save.
Dick Kaegel is a reporter for MLB.com. This story was not subject to the approval of Major League Baseball or its clubs.