Pirates rally in ninth, but fall in 11th vs. Nats
Bucs finish winless road trip with three straight one-run losses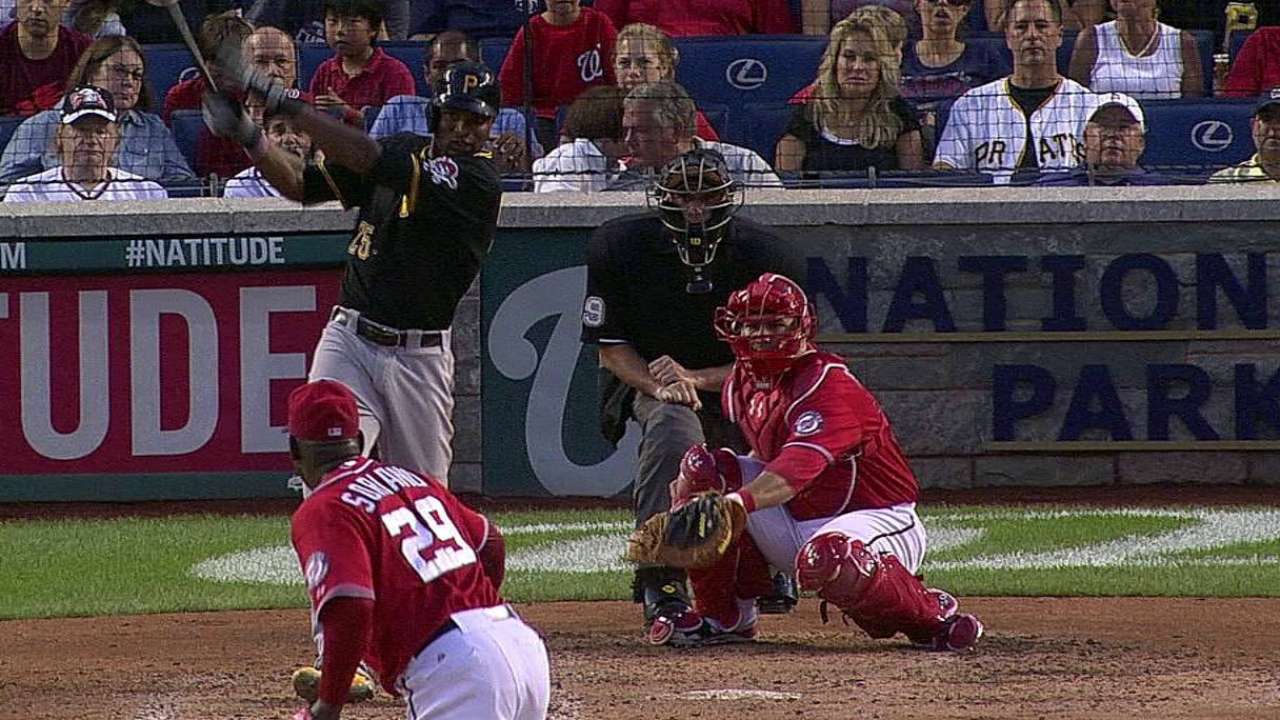 WASHINGTON -- Both teams blew saves, blew plays, blew scoring opportunities. Ultimately, the Nationals blew out with relief after surviving a desperate comeback by the win-starved Pirates.
Scott Hairston's sacrifice fly off Brandon Cumpton with one out in the 11th inning gave the Nats a 6-5 victory over the Bucs on Sunday night at Nationals Park.
Having the Nationals walk off on them for the second straight night also gave the Pirates an 0-5 road trip, sending them home on their first five-game losing streak since Sept. 18-22, 2012.
"That was a tough way to lose at the end. At the same time, if we continue to play with that level of aggression and intensity, we'll be just fine in the long haul," said reliever Jared Hughes, who had been victimized by the sloppiest defensive inning on a night there were several of them, on both sides.
Manager Clint Hurdle showed a squared jaw to a tough, lost weekend which saw the Pirates get swept in three games by a total margin of three runs.
"You get to do this late in the season -- we love our jobs," Hurdle said. "We get to play in front of 120,000 people over the weekend, playing a good team. Got to keep battling, score one more run than they -- that didn't happen for us this weekend.
"You've got to embrace the good -- and the hard. We're gonna show up and play. We all know what's at stake. We're playing for something, and we'll keep pushing."
Cumpton's second extra inning on the hill had begun with a double by Jayson Werth, who had remained in the game after entering as a pinch-hitter in the ninth to draw a one-out walk that led to the tying run. Werth moved to third on an infield grounder by Denard Span before scoring as Hairston lifted Cumpton's first pitch to medium-deep left.
All night long, it had the feel of a game that would be claimed by whoever got in the last punch, after a docile beginning which saw right-handers Edinson Volquez of the Pirates and the Nationals' Doug Fister exchange two-hit shutouts through five.
The Nationals first had the Pirates and their closer, Mark Melancon, on the ropes in the ninth. With Melancon protecting a 5-4 lead, Werth, who up to that point had sat out the series to rest a sore shoulder, drew a one-out walk and scored the tying run on consecutive singles by Span and Asdrubal Cabrera.
Span had pulled his hit at the end of an eight-pitch battle, which Melancon considered the pivot of the inning.
"I wanted that out. He put up a tough at-bat," Melancon said.
Hurdle referred to it as "a battle at-bat. That was big from Span."
Center fielder Starling Marte made an astounding diving catch of Anthony Rendon's liner with two men on to protect the tie and prolong the game.
Continuing with the earlier theme of the game -- help your opponents help themselves -- Washington closer Rafael Soriano had entered in the top of the ninth to protect a 4-2 lead and hit Marte with a pitch to begin the inning. Marte eventually scored on a Soriano wild pitch, shortly before Gregory Polanco ripped a two-run double to give the Pirates a short-lived 5-4 lead.
The Pirates were beneficiaries of two gift, unearned runs off Fister in the sixth. But the Bucs were in an even bigger giving mood.
Washington's first run was pushed into scoring position by a two-out walk. The Nationals' three-run seventh was triggered when Volquez bounced a pitch with one out off Michael Taylor's knuckles -- plate umpire Andy Fletcher's original call that he wasn't hit was overturned on Washington manager Matt Williams' challenge.
A pair of ensuing singles loaded the bases, leading to Volquez's exit and the entrance of Mr. Bases Loaded -- as Hurdle refers to Hughes, for his ability to have his sinkers beaten into the ground and turn into double plays.
This time, Hughes got the ground balls, but not the outs. First, Ike Davis threw wide of the plate after fielding Cabrera's grounder, allowing two runs to score. Then, after gloving Rendon's grounder, Pedro Alvarez threw it over catcher Russell Martin's head for his 23rd throwing error of the season and a 4-2 Washington lead.
"I just ran out of glove," said Martin, who both times had fought to keep his foot on the plate while reaching for the throws.
"We got the ground balls from Hughes, and had an opportunity to put the inning away without letting them score," Hurdle said. "And we didn't execute on either corner."
Hurdle had spoken openly about making a defensive substitution for Alvarez late when the Bucs own a lead. In fact, gaining the flexibility to do that accounted for the pregame recall from Triple-A Indianapolis of infielder Brent Morel.
Yet, while taking a slim 2-1 lead into the bottom of the seventh, Alvarez remained at third -- primarily because he was due to bat in the top of the eighth.
"That will always be a tough decision," Hurdle conceded. "Again, you're trying to get one at-bat from [Alvarez], and you take your chances."
Tom Singer is a reporter for MLB.com and writes an MLBlog Change for a Nickel. He can also be found on Twitter @Tom_Singer. This story was not subject to the approval of Major League Baseball or its clubs.