Lucroy drives in five to key Brewers to series sweep
Peralta deals six scoreless frames to tie for MLB lead with 15th win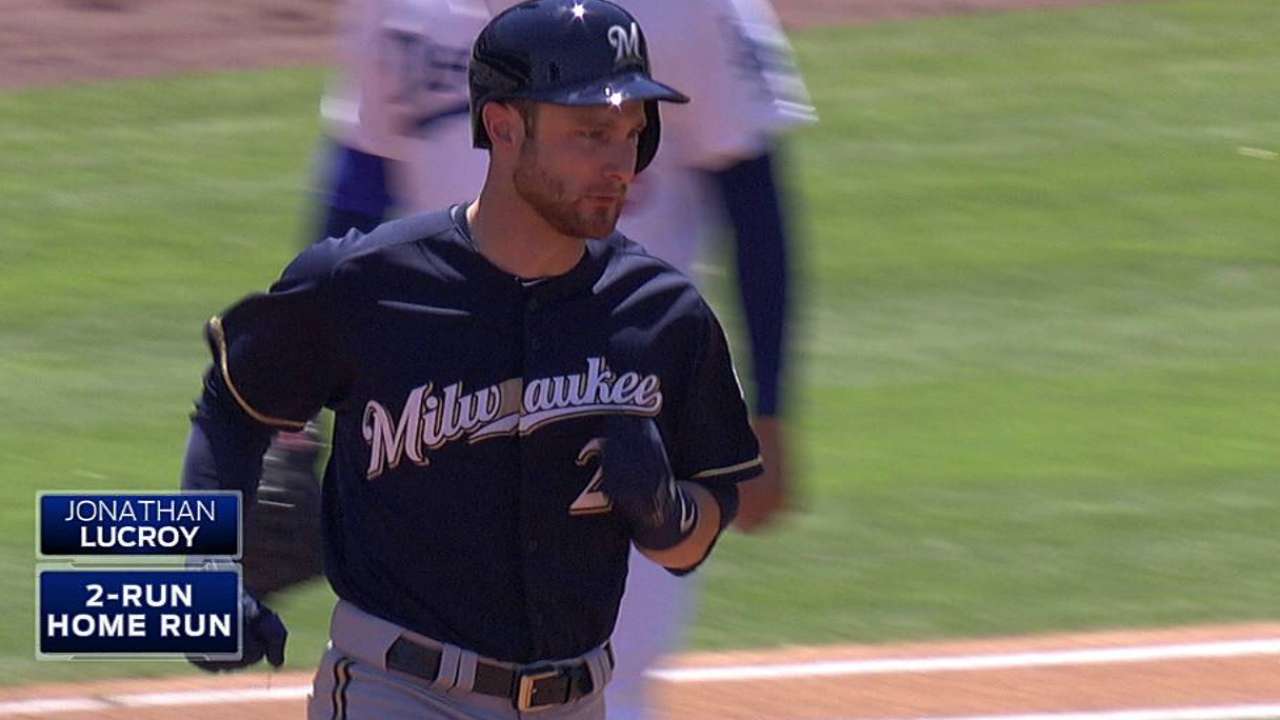 LOS ANGELES -- Jonathan Lucroy hit, Wily Peralta pitched and the Brewers dominated the Dodgers on Sunday to finish a three-game sweep, the significance of which was not lost on Milwaukee's All-Star catcher.
"This could be a potential matchup in the playoffs," Lucroy said. "I mean, I think that with how good that team is and how good our team is, we could end up meeting down the road if things work out like we want it to, hopefully.
"Anytime you can take five of six during the season, if we meet up with them again at the end of the year, it will give us that confidence knowing that we can hang with them."
The season series finale was a 7-2 Brewers rout on a sun-splashed Sunday at Dodger Stadium, with Lucroy logging five RBIs in the first two innings and Peralta working six scoreless innings to tie for the Major League lead with his 15th victory.
The National League Central-leading Brewers defeated the NL West-leading Dodgers five times in six games over a span of 10 days, with Dodgers aces Clayton Kershaw and Zack Greinke starting four of the games for Los Angeles. The Brewers took two of three last weekend at Miller Park before dealing the Dodgers their first losing sweep in a series of more than two games all season.
"In a sense, they kind of just came in here and said, 'We think we're better than you,'" Dodgers manager Don Mattingly said. "And for these three games, they were."
Now the teams are tied atop the National League with 70 wins apiece. The 70-55 Brewers are already four victories shy of their total from all of 2013 with 37 games to play, and headed home Sunday evening with a three-game advantage in the NL Central over the second-place Cardinals, who just took three of four from the Padres.
Was whipping the Dodgers a statement?
"I'm not thinking that way," manager Ron Roenicke said. "We played a really good series against a good team. We did a lot of things right in this series."
On Sunday, many of those things happened early. Lucroy's first-inning, two-run home run froze Dodgers left fielder Carl Crawford where he stood and gave the Brewers the lead for good before right-hander Dan Haren recorded a single out. Lucroy added a three-run double in the second inning after an Adrian Gonzalez error extended Milwaukee's rally, leaving Lucroy two RBIs shy of a franchise record he'd already matched twice before, with seven full innings to go.
Lucroy drove home no further runs, but other Brewers did. Jean Segura hit a sacrifice fly in the third inning that helped chase an ineffective Haren from the game, and Carlos Gomez greeted reliever Carlos Frias with a leadoff homer in the fourth to make it 7-0.
"It's really good when you get a lot of run support early," Peralta said. "When you get on the mound, you get to attack hitters. That's good. You don't have too much pressure, that you have to make a perfect pitch."
Peralta had to fight through his six innings but allowed no runs on five hits and three walks, with five strikeouts. It was the Brewers' 22nd quality start in the team's last 26 games.
With victory No. 15, Peralta tied the Reds' Johnny Cueto and the Cardinals' Adam Wainwright for the Major League lead. Wainwright and Peralta both joined Cueto on Sunday. No Brewers pitcher has led his league -- much less the Major Leagues -- in victories since Pete Vuckovich won 14 times in strike-shortened 1981.
Peralta's is only the 25th season for a pitcher in Brewers history with at least 15 victories.
"Sooner or later, you have to pay attention to him," Lucroy said when asked about Peralta's modest national profile. "I think it's a byproduct of playing in the Milwaukee market. We're not looked at as much, which is fine. That's the way I like it, personally. But he definitely deserves a lot more credit than he's getting."
Lucroy's own profile was significantly raised last month when he was the NL's starting catcher in the All-Star Game. He almost boosted it even higher during his final at-bat on Sunday, when Lucroy, batting with a runner aboard and needing two RBIs to tie the Brewers' franchise record for a game, pounded a long fly out to right field.
Off the bat, he thought the ball had a chance to fly farther.
"I actually thought that was the best swing of the whole day, my last AB," Lucroy said. "But I guess the wind kind of caught it and it didn't carry out there. It's all good, man. They've got a pretty decent staff, so any time you can go out there and have good at-bats, whether it works out or not, I consider it a good day."
Adam McCalvy is a reporter for MLB.com. Read his blog, Brew Beat, and follow him on Twitter at @AdamMcCalvy. This story was not subject to the approval of Major League Baseball or its clubs.