Wright gets treatment on ailing shoulder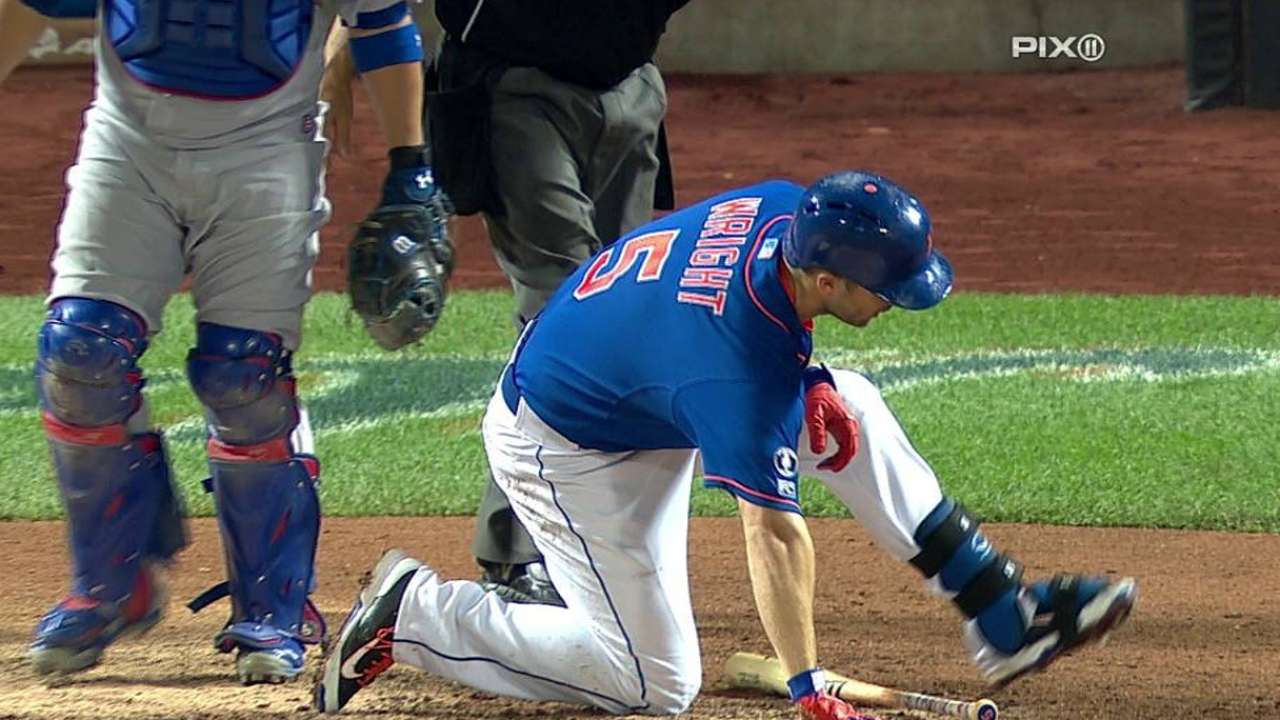 NEW YORK -- As the Mets showered, dressed and scurried out of the clubhouse, eager to enjoy a rare evening without work or travel, following a 2-1 loss to the Cubs on Sunday, their captain remained.
David Wright was busy receiving 45-60 minutes of treatment on his sore left shoulder, which has given him problems for two months and was re-aggravated when it absorbed the blow of an 88-mph fastball on Saturday night.
Wright, who was unavailable to the media before and after Sunday's game, didn't play in the loss. Manager Terry Collins made it sound as though Wright's availability on Monday -- at the very least -- was in doubt, as well.
The injury comes at an unfortunate time for Wright, whose recent 13-game hit streak helped him break out of a second-half slump. His slash line is still just .232/.289/.250 since the All-Star break -- which coincides with him receiving a cortisone shot in his ailing shoulder -- and he is weathering a down year overall. Wright's .711 OPS is far below his career mark of .874, and he's on pace for career lows in on-base percentage (.331) and slugging percentage (.380).
Collins downplayed the idea that this could be the beginning of a decline for the 31-year-old.
"David Wright will bounce back, whether it's next week or next year," Collins said. "This guy keeps himself in tip-top shape."
The manager did, however, acknowledge that the more recent struggles could be related to the shoulder issue.
"I do believe any time you compensate for an injury, you're going to change something so the pain is not there," Collins said. "The minute you change something, you can fall into a habit -- not necessarily a good habit. I know David, when he talked about it, tried to do some things at the plate to keep it from bothering him. It got to the point where he just had to finally speak up [in late June].
"Did he create some bad habits? Possibly. Has it been bothering him lately? I trust my players. When he says it hasn't been bothering him, it hasn't been bothering him. We'll see where it goes from here."
Tim Healey is an associate reporter for MLB.com. This story was not subject to the approval of Major League Baseball or its clubs.