Phillies can't take advantage vs. Lincecum
Eight of 12 runners allowed by Giants starter end up stranded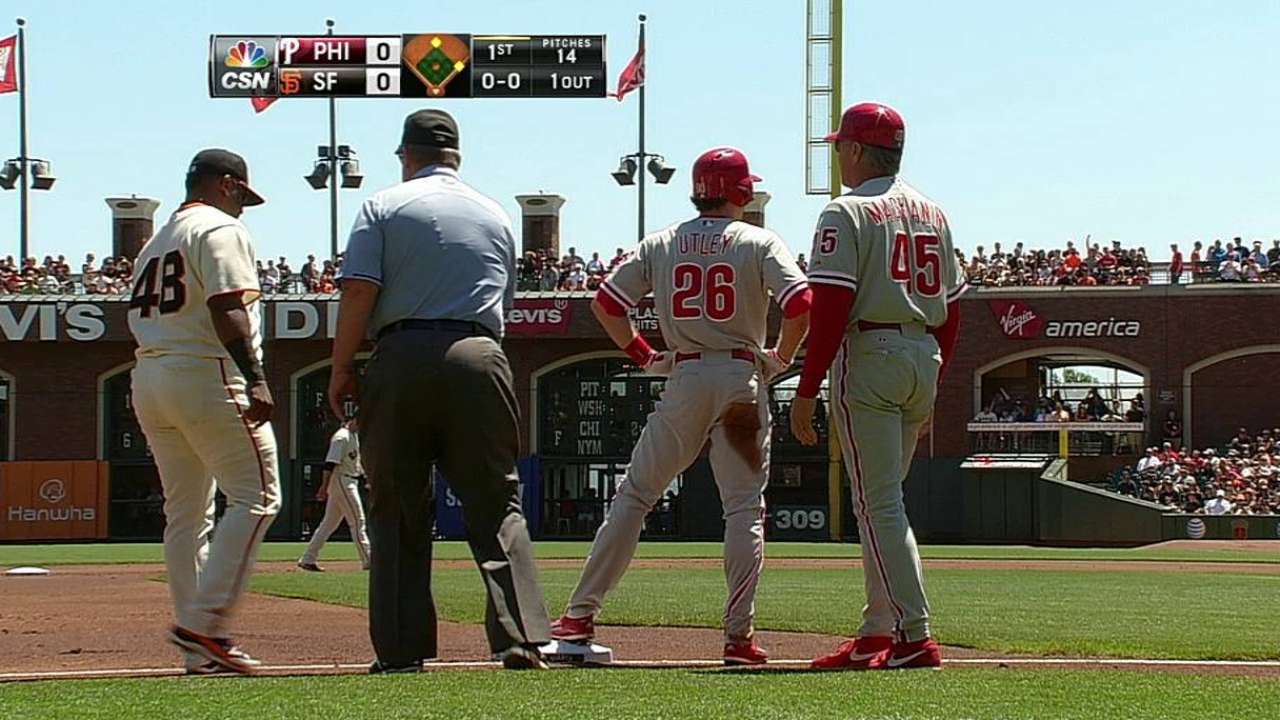 SAN FRANCISCO -- The Phillies chased Tim Lincecum from the mound after just five innings Sunday afternoon at AT&T Park.
He allowed seven hits and four walks and hit a batter, throwing 97 pitches in the process. That is 12 baserunners in five innings for those not interested in arithmetic on the weekend. But Lincecum still left with a one-run lead as the Phillies stranded eight of those 12 runners -- seven in the first three innings -- continuing their season-long offensive struggles, despite a healthy lineup and a franchise-record payroll.
The Phillies lost, 5-2.
"Yeah, it's just kind of frustrating," said Phillies center fielder Ben Revere, who went 3-for-5. "The first three innings we had a chance to get runs and couldn't do it. But it's definitely frustrating. It kind of ticked me off and the whole team."
The Phillies (54-70) boarded a flight for Philadelphia with a 1-4 mark on their brief road trip against the Angels and Giants and are a season-low 16 games under .500.
The Phillies entered the afternoon 11th in the National League with runners in scoring position, hitting a meager .242. They were 12th with runners on base, hitting .247.
Of course, those numbers fall in line with their overall .242 batting average, which ranked 12th in the league. They are on pace for their lowest team batting average since 1991, when they hit .241. Their .668 OPS (on-base plus slugging percentage) also is on pace to be their lowest since 1991, when it was .662. That team finished 78-84 and third in the National League East.
This team is on pace to finish 71-91 and last in the NL East.
"It's clear that we're not offensive enough a club," Phillies general manager Ruben Amaro Jr. said earlier on the trip. "We haven't been performing offensively enough to be able to be a contending team right now."
But where does the front office begin? There are so many holes to fill.
"Yeah, the consistent punch," Phillies manager Ryne Sandberg said. "At home we haven't been able to hit the ball out of the ballpark too much. The long ball and the extra-base hit with men on base have been tough to come by."
The Phillies hit plenty of singles. They opened the afternoon tied for fifth in the league with 731 singles, but 12th with 312 extra-base hits. Their .365 slugging percentage ranked 13th in the league and is on pace to be their lowest since 1991, when they posted a .358 mark.
The Phillies took a 1-0 lead in the first inning when Chase Utley tripled to score Jimmy Rollins, but less than 24 hours after sloppy defense cost them in Saturday's 6-5 loss, the Phillies made another costly error to hand the Giants the lead.
The Giants had runners on first and second with two outs in the second when Brandon Crawford singled to right. Michael Morse scored easily, but the throw to third base from Phillies right fielder Marlon Byrd got behind Cody Asche, whom Sandberg said should have made a better effort to block the baseball. Phillies right-hander David Buchanan also needed to be on the left side of the diamond so he could back up a throw to home or third, but he was stationed on the right side.
"In between [home and third], then read [the play]," Sandberg said.
Andrew Susac scored easily with nobody backing up Asche on the play to make it 2-1.
Lincecum walked in a run in the third to tie the game, 2-2, but the Giants took a 3-2 lead in the fourth when Morse singled and eventually scored on Susac's single to center.
Buchanan allowed nine hits, three runs (two earned) and one walk and struck out four in 6 2/3 innings in his third consecutive quality start as Cliff Lee's replacement. He is making a case to make next season's rotation out of Spring Training.
"My job is to go as deep as I can," Buchanan said. "I tried to keep us in the game. But I'm getting really tired of not finishing innings. I don't know what it is. I don't know if I'm pressing or what. I have to figure something to get out of those innings and leave the bullpen alone for the seventh. Save them for the eighth and ninth. I tried to keep us in the game. I did the best I could. We didn't come out with a win, but I'll take it again in five days and see what happens."
Todd Zolecki is a reporter for MLB.com. This story was not subject to the approval of Major League Baseball or its clubs.