Santo Domingo captures RBI Softball title
Four-run third secures second championship in three years and third overall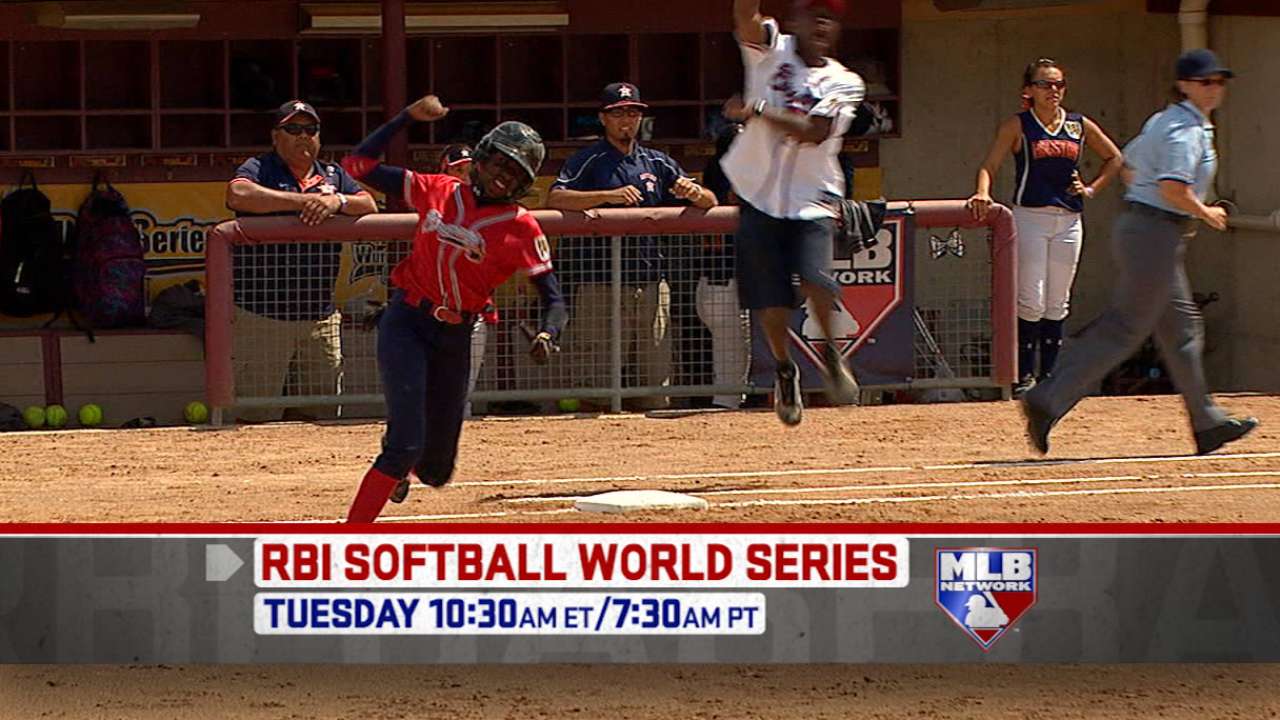 DENTON, Texas -- The Reviving Baseball in Inner Cities (RBI) Softball World Series came to an end on Sunday with RBI Santo Domingo bringing the championship trophy back to the Dominican Republic for the second time in three years and third time overall with a 4-1 victory over Houston Astros RBI at Texas Woman's University.
The RBI World Series is the international baseball and softball championship tournament of the RBI program, which currently serves more than 230,000 young men and women worldwide. The RBI program is administered by Major League Baseball and gives young people from under-served and diverse communities the opportunity to play baseball and softball, while also encouraging academic achievement and teaches the values of teamwork and important life lessons.
RBI Santo Domingo reached the championship game after routing Harrisburg RBI, 14-1. Houston Astros RBI made its second straight title game appearance with a 5-4 upset victory over Atlanta Braves RBI.
After a short rain delay at the start of Sunday's game, the bats from both teams took time to get started, too.
Entering the third inning of a scoreless game, RBI Santo Domingo struck first with a four-run inning behind five singles. The top of the order continued to produce as it had done all tournament. Lisbeth Rodriguez's single was the first of five straight batters to reach base.
The breakout inning was all RBI Santo Domingo needed with the stellar pitching performances from Cauris Rincon -- who was the winning pitcher in the semifinal game -- and relief pitcher Anyelis Disla.
Rincon went 3 1/3 innings, allowing three hits and striking out one. However, Rincon struggled with her command in the fourth when she walked the bases loaded to start the inning, bringing Disla into the game.
With one out and the bases loaded, Disla ended the Houston scoring threat with two ground-ball outs to retire the side. Disla went the final 3 2/3 innings, surrendering only two hits -- both of which came in the final inning -- and allowed Houston's only run.
"I'm very proud of the girls and what they've accomplished this week," said RBI Santo Domingo head coach Dotel Santos, who was also the coach of the 2012 Dominican Republic RBI World Series champions. "The main thing with this team is to stay together, to have fun and to remain positive all the time. That's what it takes to win games and we did that."
Houston Astros RBI had chances to score throughout the game, but left eight runners on base.
RBI Santo Domingo had 11 hits. First baseman Lupe Matos received Most Valuable Player honors, going 2-for-4 with two singles and two RBIs.
Ryan Cox is a contributor to MLB.com. This story was not subject to the approval of Major League Baseball or its clubs.