Minor outduels Lester as Braves sweep A's
Atlanta lefty allows two runs over seven; J. Upton, Johnson homer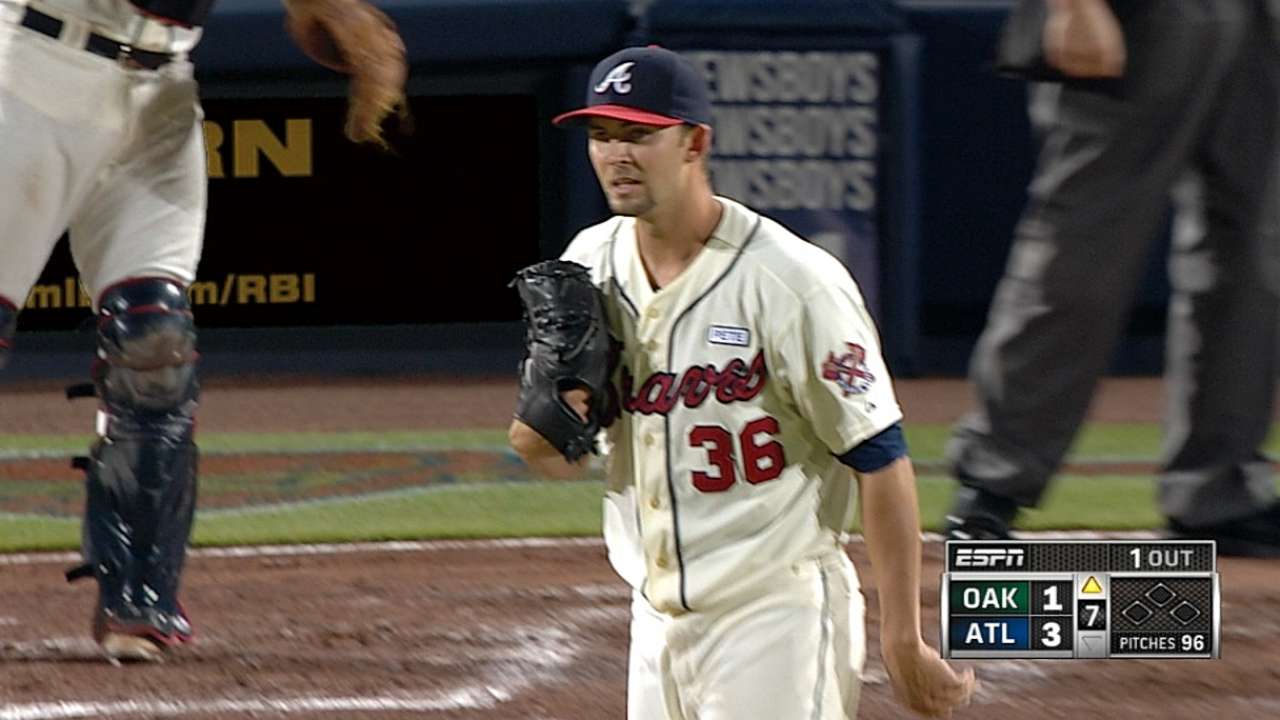 ATLANTA -- If this was a glimpse of what Mike Minor might have to offer over the next six weeks, the Braves have reason to feel optimistic about their future, which was brightened on Sunday night when they completed a three-game sweep with a 4-3 win over the A's.
"That's the Mike Minor of old, being able to throw that two-seamer just like [Alex Wood] does to right-handers to freeze them with pitches," Braves first baseman Freddie Freeman said. "He was on tonight. He made two mistakes, but thankfully, they were solo shots."
Displaying the rejuvenated and confident spirit he gained after ineffectiveness forced the Braves to skip one of his starts earlier this month, Minor scattered four hits over seven innings and limited his damage to the two solo home runs he surrendered to Nate Freiman.
Freiman's power was not enough to overcome the support Minor received from Justin Upton, who hit a two-run shot in the fourth inning, and Chris Johnson, who delivered the decisive offensive blow with a seventh-inning solo shot off Jon Lester, who had allowed more than one home run in just two of his previous 24 starts.
With Minor rekindling the successful form he displayed much of last season, the Braves notched the win they needed to secure a winning record during this 10-game homestand that had the potential to wreck their season. They entered this stretch in the midst of an eight-game skid and managed to go 6-4 against the Nationals, Dodgers and A's, a trio of teams that were all in first place in their respective divisions when they arrived in Atlanta.
Though they still sit six games behind the Nationals in the National League East, the Braves are just 1 1/2 games back in the battle to win the second NL Wild Card spot. They are tied with a Pirates club that they will battle the next three days in Pittsburgh.
"To finish off a homestand like that against one of the best teams in the American League is definitely a big lift for us," Freeman said. "We can't standings-watch. We have to worry about ourselves going into the last 38 games we have left. We have to keep playing like we are right now."
If the Braves are going to extend this success, they will need to continue receiving production from Upton, who hit .322 (10-for-31) with four home runs during the homestand , and Freeman, who stands as the other most influential member of Atlanta's lineup. But they truly could benefit from a strong finish by Minor, who has started to look like the same pitcher who outdueled Zack Greinke in Game 2 of the NL Division Series last season.
When Minor was in the midst of producing a 7.33 ERA in the 10 starts he made from June 10-Aug. 1, he likely would not have escaped the two key jams he faced on Sunday night. After Coco Crisp began the game with a double, the Braves southpaw worked his way through the heart of the lineup and was fortunate that Johnson made a diving stab of Derek Norris' liner.
After inducing double-play grounders in the fourth and fifth innings, Minor was staring at trouble when Jonny Gomes reached second base courtesy of second baseman Phil Gosselin's inability to secure a one-out fly ball along the right-field line. Instead of buckling under the pressure, Minor proceeded to record consecutive strikeouts of a pair of right-handed hitters -- Josh Donaldson and Norris.
"I feel like I'm in a different mindset going out there," Minor said. "I really don't feel like anything bothers me anymore. I just want to go after hitters. When things happen, I want to pick up teammates, because I feel like they pick me up all of the time."
Minor still has plenty to prove over the remainder of the season. But while working into the seventh inning and allowing three earned runs or fewer in the two outings he's completed since his start was skipped, he has provided some indication that he is capable of once again looking like a front-of-the-rotation starter for the remainder of the season.
"He's got five, six or seven starts the rest of the way," Braves manager Fredi Gonzalez said. "We're going to need him to get us where we want to go."
Mark Bowman is a reporter for MLB.com. This story was not subject to the approval of Major League Baseball or its clubs.