Rangers stun Angels with ninth-inning rally
Tepesch, bullpen set stage for Rosales' walk-off hit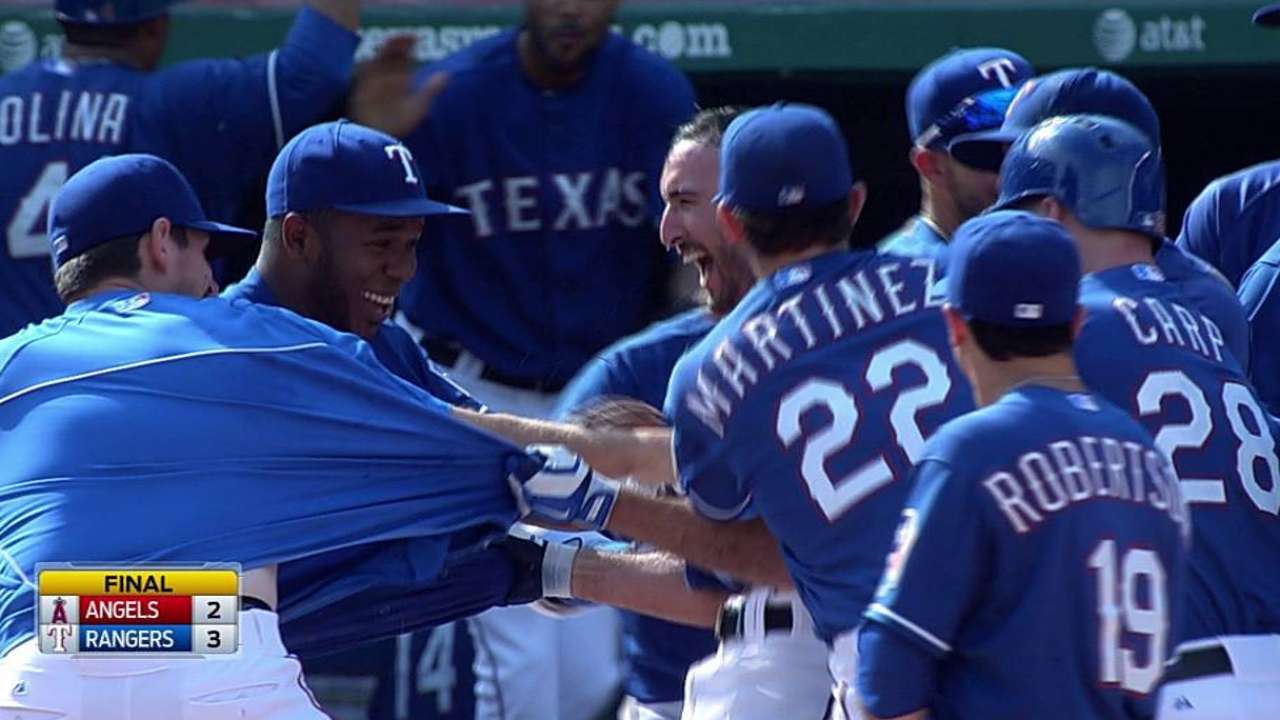 ARLINGTON -- By the bottom of the ninth inning Sunday, the Rangers appeared to be on the verge of wasting another fine outing by starter Nick Tepesch and another strong showing by their bullpen.
After all, offense has not been the Rangers' strong suit in a month in which they had scored more than four runs just twice in 15 games, and the Angels were three outs away from a three-game sweep with closer Huston Street on the mound looking for his third save in as many days.
This time something clicked for the Rangers. With no outs, Alex Rios, Adrian Beltre and Mike Carp each singled, the last base hit tying the game. Adam Rosales followed with a walk-off single to give the Rangers' a 3-2 victory and snap a four-game losing streak.
"Today we were able to cash it in," manager Ron Washington said. "We were able to get the big hit at the right time."
Rougned Odor drove in a run off Angels starter Hector Santiago in the fifth, but that was all the Rangers could muster until the climactic finish.
Washington was quick to point out that the big hit would never have been possible without Tepesch, who allowed two earned runs in seven-plus innings, and relievers Shawn Tolleson, Neal Cotts and Neftali Feliz, who combined for two scoreless innings.
The Angels had the bases loaded twice -- in the second inning against Tepesch and the eighth against Tolleson and Cotts -- but the Rangers' pitchers stood fast and the offense came through at the end to avoid a third-consecutive one-run loss.
"It all started with the pitching," Washington said. "We'd be up in here 'coming close' again if Tolleson and Cotts and Neffy and Tepesch wouldn't have done what they did today."
Washington talked about "the new Nick Tepesch," noting that the second-year starter is beginning to take greater control of games as far as pitch selection and execution.
"Of our young pitchers, he's got the most experience out there," Washington said. "It's starting to come together for him."
Tepesch has allowed only four runs over 14 innings in his past two starts, lowering his season ERA from 4.84 to 4.15. He has allowed three or fewer runs in four consecutive starts, good for a 2.45 ERA during that stretch.
"I've got a better plan, what I want to do before I even step on the mound versus waiting to see the suggestion from the catcher," Tepesch said.
In the second inning, Tepesch allowed four consecutive singles to Erick Aybar, David Freese, Efren Navarro and Collin Cowgill. Two runs scored in that frame -- the latter on Kole Calhoun's RBI groundout -- but that was all Tepesch gave Los Angeles. The Angels managed six hits off him.
"That second inning there, they had the bases loaded with nobody out and I'd already given up a run," Tepesch said. "It was just a matter of minimizing the damage and trying to do what I can do to control myself and not let the situation control me."
Tepesch settled into a groove after the second inning. He retired eight of the last nine batters he faced and left after walking Mike Trout to start the eighth. That's when it got dicey again for Texas.
Tolleson relieved Tepesch and immediately gave up a double to Albert Pujols, putting men on second and third. The Rangers decided to walk Howie Kendrick to load the bases, and then Tolleson got both Aybar and Freese to strike out swinging.
"With the way the games have been so close lately with the Angels, I was thinking [I had to] stop damage more than limit it," Tolleson said.
With Navarro up, Washington elected to bring in Cotts for the lefty-lefty matchup. Cotts got Navarro swinging.
Feliz threw a perfect ninth, giving Rangers' relievers a low 0.40 ERA over their past six games. The Texas bullpen has allowed just one run in the past 22 2/3 innings.
In the bottom of the ninth, Rios and Beltre quickly reached base with singles and Carp, who had pinch-hit for J.P. Arencibia in the seventh, golfed a blooper to center on a pitch that was close to his shoes.
Then, with the outfield in, Rosales drove a ball to left over Cowgill's head for the game-winner. Those were the first runs Street has given up since the Angels traded for him on July 19.
"It's always a strange feeling when you don't get your job done," Street said. "It's not really strange so much as it's frustrating, but it happens, it's the game, that's why we play them. I didn't make very good pitches out there. That's the bottom line."
The Rangers were more than ready to celebrate being on the right side of a one-run margin.
"You think, eventually we're going to pull one of these out," Rosales said. "Today was that day and it was fun. It was much-needed."
Dave Sessions is a contributor to MLB.com. This story was not subject to the approval of Major League Baseball or its clubs.