Spirited rally falls just short after sluggish start
Offense unable to pick up Despaigne from Cards' early surge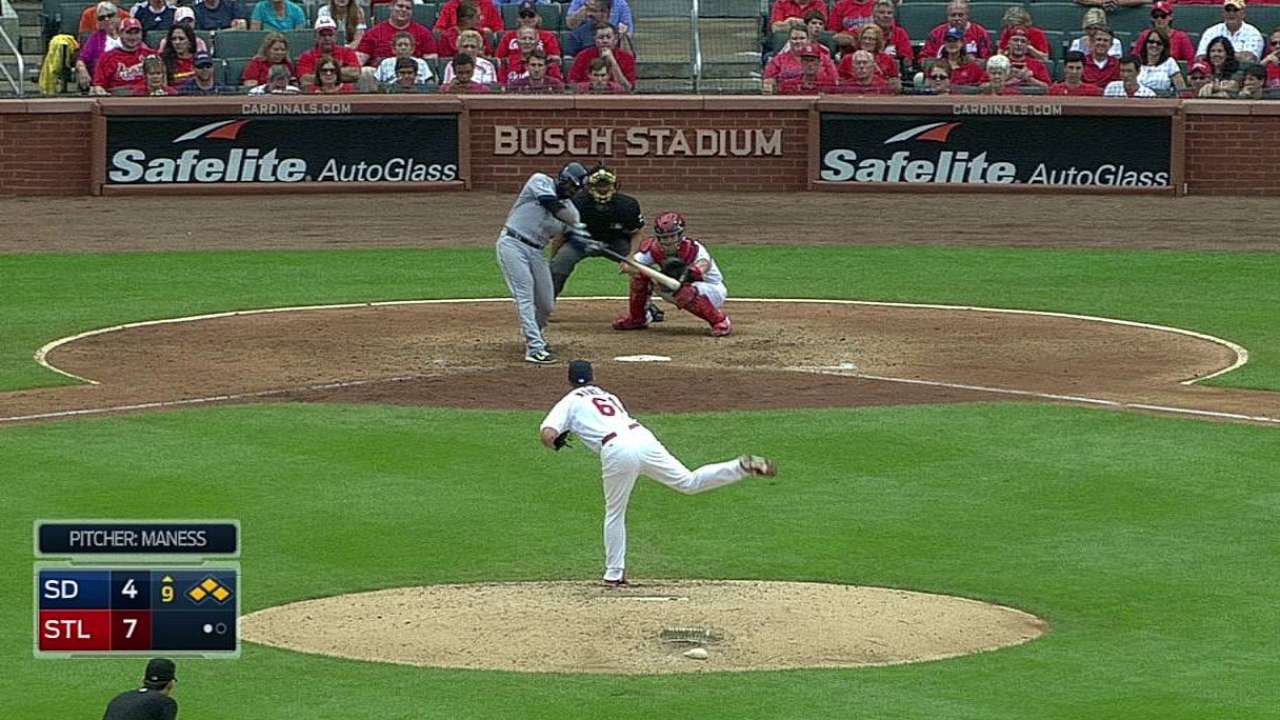 ST. LOUIS -- Forty-two pitches defined Odrisamer Despaigne's start Sunday, overshadowing any subsequent success that would follow. From those first 42 pitches came five singles, a walk and home run, the latter capping a five-run scoring spurt from the Cardinals' first 10 at-bats. That burst proved plenty for the Cardinals as they escaped with a 7-6 win, taking three of four games from the Padres.
"I had problems throwing strikes, and then in situations that I had to throw strikes, good hitters made me pay," Despaigne said with first-base coach Jose Valentin interpreting. "That was the situation. Just one of those days I tried to throw strikes but my location wasn't as good today."
Despaigne's trouble began when a leadoff single was followed by a walk and a one-out single to load the bases in the first inning. A single from Jon Jay brought in a run and two two-out singles plated three more before Despaigne emerged from the 37-pitch, four-run inning.
The fifth pitch of the second inning floated at 66 mph across the plate, and Matt Carpenter sent it over the wall in right-center.
"Ball up, elevated, not making pitches," Padres manager Bud Black said of the slow start. "Just couldn't finish off any hitters. The ball was up out over the plate. He couldn't get any of his pitches where he needed to get them."
Despaigne would settle in after the second-inning home run. He retired the next three batters in the second on four pitches and tossed perfect third and fourth frames with seven and eight pitches before being lifted for a pinch-hitter in the fifth inning.
Following the tumultuous first 42 pitches, Despaigne picked up nine straight outs with only 19.
"[He] started making pitches," Black said. "The velocity kicked up a little bit, kept the ball down better, worked with a quicker tempo. Those things add up to zeros."
The rookie right-hander allowed five runs over four innings, the fourth time in his last five outings that the opponent has scored at least four runs. After posting a 1.31 ERA through his first five Major League starts, Despaigne has a 5.88 mark in his last five.
The Padres' offense slowly battled back as two one-out singles led to two runs in the fourth, when Alexi Amarista plated one with a single to center and Yangervis Solarte did the same with a sharp two-out grounder that ricocheted off Cards starter Adam Wainwright. Jake Goebbert tripled in a run during the sixth and scored himself on an overthrow at third base, bringing the Padres within one.
The Cardinals quickly responded, though, with Carpenter's two-run double off reliever Tim Stauffer in the bottom of the inning pushing the lead back to three.
One last comeback attempt would come up short in the ninth. Following three walks to load the bases, Abraham Almonte's two-run single brought the Padres back to within one before Seth Maness stranded runners at second and third to end the game.
"That's a good sign," Black said. "Our guys are playing hard, they're playing their hearts out, which is great. Gave them another great finish today, it just didn't happen. Didn't get that big hit at the end."
"They're just relentless," Cardinals manager Mike Matheny said.
In the end, the Padres, who are now 17-11 in the second half, dropped two one-run games and a two-run outcome in losing three of four against the Cardinals. That aspect of this series in St. Louis did not go unnoticed.
"For a young team, I feel like we were in every game," Goebbert said. "We always answered back, and that's a quality that is commendable for everybody involved. I know we lost three out of four, but we could have very easily won three out of four."
Alex Halsted is an associate reporter for MLB.com. This story was not subject to the approval of Major League Baseball or its clubs.