Matheny's late move helps Waino secure 15th
Maness escapes jam in ninth; Carpenter's big day fuels offense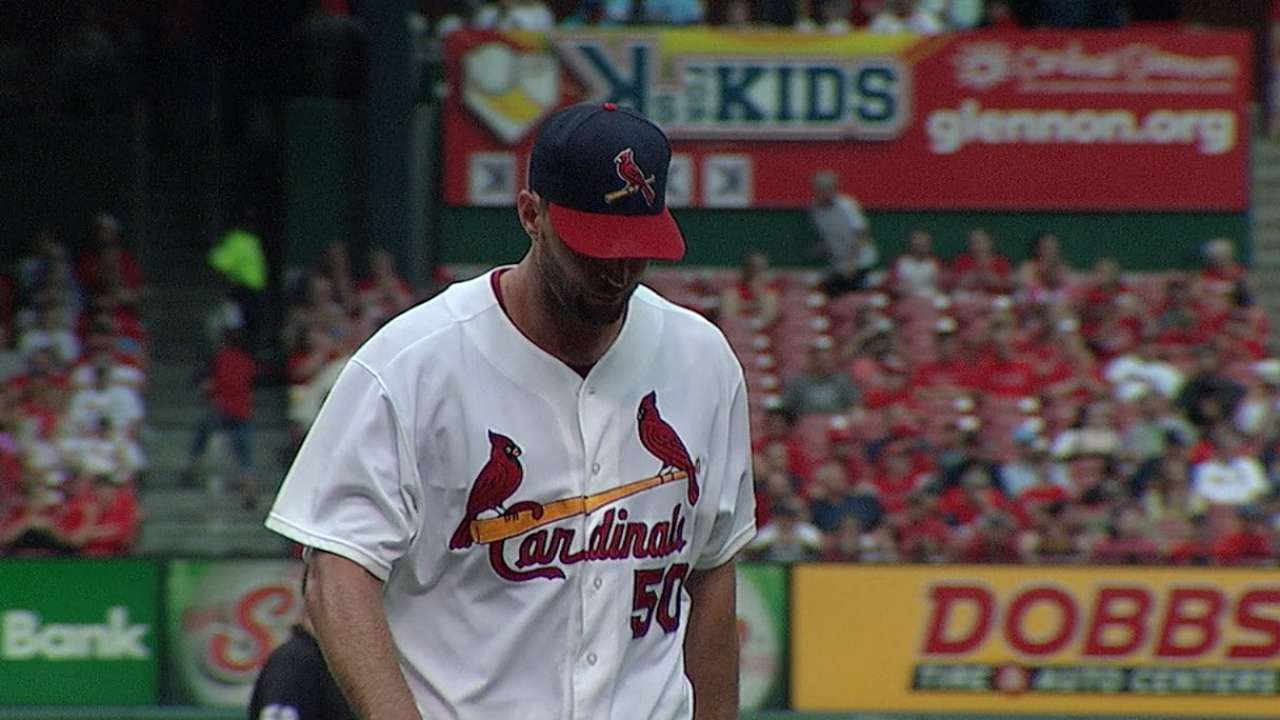 ST. LOUIS -- The sting of spoiling a four-run lead still fresh, manager Mike Matheny went off script in the ninth inning of Sunday's series finale against the Padres.
Normally a fervent proponent of giving his closer the necessary leash to get out of a self-made mess, Matheny had seen enough after 18 pitches from Trevor Rosenthal. Seth Maness inherited the bases-loaded jam and with an assist from the right side of his infield ensured that the Padres wouldn't again wipe away the Cardinals' lead.
Maness, the go-to groundball guy, induced a flyout to finish the escape act, helping the Cardinals hang on to a 7-6 victory in front of 43,149 at Busch Stadium. Matt Carpenter drove in three in the series-clinching victory, while Maness' save clinched win No. 15 for Adam Wainwright, the second pitcher to reach the plateau.
"Even teams that are not considered playoff contenders can find a way to come back and beat you," Carpenter said. "Every out, every run, every pitch is so important. Today was a great example of that."
After some sloppy defense in the middle innings unnecessarily complicated Wainwright's start, a bit of redemption was found in the ninth, which opened with the Cardinals ahead, 7-4. There were immediate control problems for Rosenthal, who walked the first two batters on nine pitches and then, after a strikeout, issued another.
Matheny, sensing early that Rosenthal might not recover and remembering the 24-pitch outing the righty had in the first game of the series, wasn't going to wait.
"At the time, you're going to have trouble finding that rhythm on the mound," Matheny said. "That's exactly where Trevor was today. He came back, got a big strikeout, but we didn't feel like we were going to sit around and watch too much today without giving him a break."
Maness took on the task and got a ground ball on his first pitch. It went through to center to pull the Padres within one. The next ground ball was hit sharply to the right side but was stopped by first baseman Matt Adams. Second baseman Kolten Wong, on the move to back up Adams, fielded the carom and threw to Maness, who covered first.
Had the ball gotten out of the infield, the Padres almost certainly would have scored the tying run.
"We know that guy is a pull hitter, so we both knew that we had to be ready," Adams said. "I was just trying to do everything I could to knock it down."
Yasmani Grandal's lazy fly ball stranded those final two runners.
"You have Adam pitching the way that he does and we get off to a big lead, that would have been a tough one to swallow," Matheny said. "It was still tough to swallow that it got to the point that it did. But I think it shows, once again, that they keep fighting and someone else jumps in and gets it done."
Carpenter led the offensive charge to score early and add on late. After Wainwright breezed through the first on eight pitches, the offense manufactured its second four-run inning as many days.
Jon Jay, who had been hit by pitches in four of his previous seven plate appearances, delivered a two-run double off Padres starter Odrisamer Despaigne. Two-out RBI singles by Peter Bourjos and Tony Cruz capped the 37-pitch inning. The pair of bottom-of-the-order hitters helped spark a rally in the sixth that was capped by Carpenter's two-run double.
In between, Carpenter padded the lead by knocking a 66-mph curveball over the wall.
"I had problems throwing strikes, and then in situations that I had to throw strikes, good hitters made me pay," said Despaigne, whose day ended after four innings. "Just one of those days I tried to throw strikes but my location wasn't as good today."
After scoring four runs in fewer than half of their first 115 games this season, the Cardinals have now reached that mark in seven of their last eight.
"The offense has been the thing that we've needed to pick up all year," Carpenter said. "We're starting to find out what we're capable of and starting to feel really good about our chances, saying our best ball is yet to come."
For some time, it looked like the early burst of scoring would be more than sufficient for Wainwright. The staff ace retired the first 11 batters of the game before Seth Smith's single foiled that run. Wainwright struck out five in those first four innings, which only took him 51 pitches to complete.
The ease with which he handled the Padres early would not be sustained. A pair of defensive lapses extended the fifth and sixth and helped the Padres close the deficit to one.
Matheny stuck with Wainwright for one last inning, which the right-hander effectively got through. It was Wainwright's 20th start of at least seven innings, though he's now allowed four runs in half of his six post-All-Star Game starts.
"It's been a grind for over a month now," said Wainwright, who still has a shot at a 20-win season. "I'm about ready for it to end. I think you go through a stretch like that sometimes throughout a season. This is the opposite way of how I felt early in the season, especially the whole first half. I'm going to keep believing that I'm coming out of it, and I'm going to continue to carry my team deep into the game."
Jenifer Langosch is a reporter for MLB.com. Read her blog, By Gosh, It's Langosch, and follow her on Twitter @LangoschMLB. This story was not subject to the approval of Major League Baseball or its clubs.