Cuddyer's cycle highlights Rockies' nightcap rally
Goes 4-for-5 with three RBIs; club sweeps doubleheader from Reds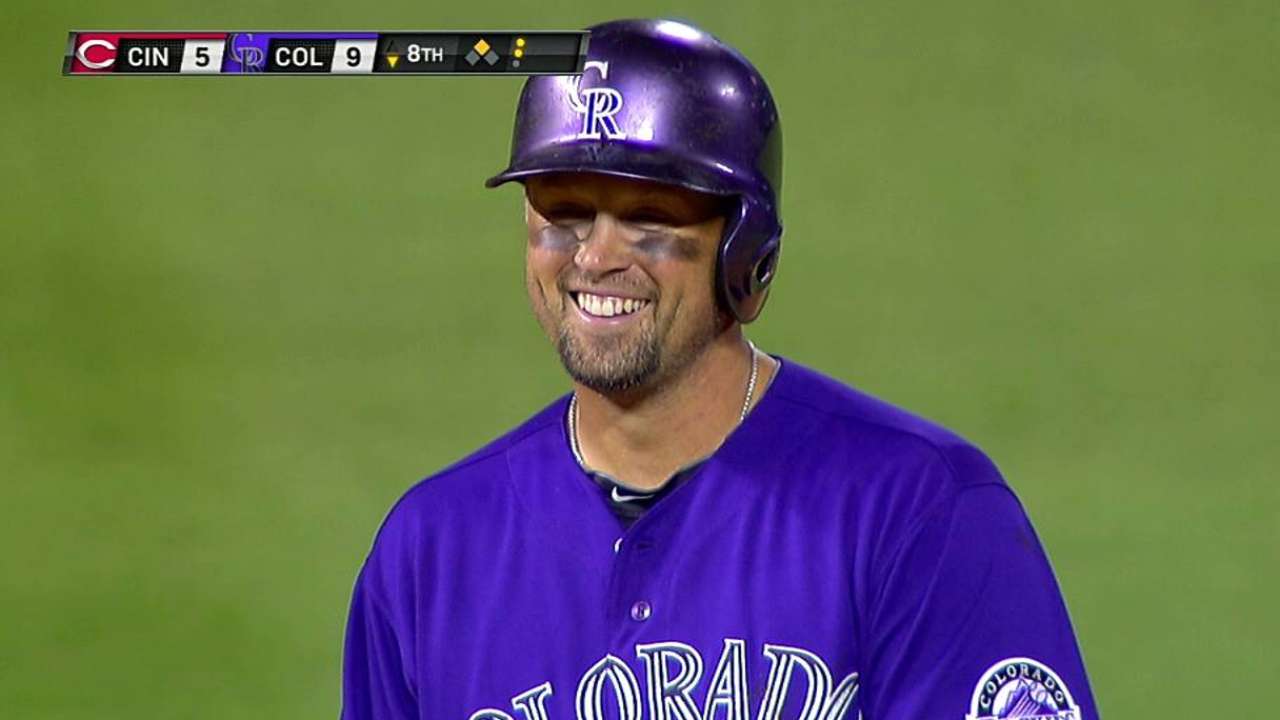 DENVER -- The Rockies began Sunday celebrating the past, then had one of their best days of this difficult season.
Michael Cuddyer -- on his first day back after missing 60 games with a fractured left shoulder -- hit for the seventh cycle in club history, and the Rockies fashioned their second late comeback of the day, beating the Reds, 10-5, on Sunday night to take three of four in the series.
The Rockies trailed, 5-2, before tying the game in the seventh. They then loaded the bases with two outs in the eighth before Corey Dickerson, who extended his career-best hitting streak to 12 games earlier in the contest, doubled in two runs off Reds reliever Manny Parra.
Cuddyer came back to a team that has been fighting to stay out of last place in the Majors. The wins -- Drew Stubbs' three-run homer in the ninth brought a 10-9 victory in the first game -- put the Rockies a game ahead of the Rangers, who have had an equally injury- and disappointment-filled season.
But after the Rockies began the day by retiring longtime star Todd Helton's No. 17, there was no room for wallowing in a rough record (49-75). The Rockies did it without regulars Justin Morneau (stiff neck) and DJ LeMahieu (sore left ankle). Both could return Tuesday against the Royals.
"I always say no matter what your record is or where you are in the standings, it's always more fun to smile after a game than it is to frown," Cuddyer said. "We were able to smile after two games today.
"Today was a fun day. With Todd's number being retired, if you're a Rockie fan, you should be able to smile, at least after today. That's a good thing."
Cuddyer delivered the Rockies' first cycle since Carlos Gonzalez accomplished the feat on July 31, 2010, against the Cubs. It was the second career cycle for Cuddyer, who did it May 22, 2009, for the Twins against the Brerwers. Parra yielded the first three hits -- a home run, a double and a single -- that game at the Metrodome. The triple came off Jorge Julio, a onetime Rockies reliever, in the sixth.
Rockies manager Walt Weiss could smile more than anyone. He was a teammate of Helton's, so the ceremony was special. And he missed Cuddyer, who also missed 25 games early in the season with a left hamstring strain.
"It was good to see 'Cuddy' out there, swinging, like he was in midseason form," Weiss said. "Great night for 'Cuddy.' And No. 17 worked his magic today."
Cuddyer, who tripled in the first, homered in the sixth and singled in the seventh, doubled in two more runs in the eighth. Cuddyer scored on a single by Stubbs.
The rally made a winner of Adam Ottavino (1-4), who struck out two in the eighth. LaTroy Hawkins earned his 19th save with a clean ninth. In the first game, after celebrating Helton, Stubbs' homer completed a four-run ninth.
"Today was awesome," said Ottavino, who has a devastating slider and has been able to hump his fastball to 97 mph in recent outings. "We were here a long time, anyway. If we're going to be here anyway, might as well win them. We made two great comebacks."
The rally in the nightcap pulled winless lefty Yohan Flande off the hook after he pitched well for five innings but faltered in the sixth, when he gave up four hits including Kris Negron's fifth homer and second of the day, and Brayan Pena's RBI double.
Flande, a longtime Minor Leaguer, has pitched decently in his last four appearances, three of them starts, but must be more consistent the third time in the order to be considered a starter going forward. On Sunday, he struck out six and gave up four runs and six hits in 5 1/3 innings.
Brandon Barnes opened the fifth with his sixth homer, and Cuddyer opened the sixth with his sixth homer.
Reds leadoff hitter Billy Hamilton forged a 5-2 lead in the seventh with his speed. Hamilton singled off reliever Brooks Brown, easily beat catcher Wilin Rosario's throw on a pitchout and took third when the ball sailed into center field. Ramon Santiago's sacrifice fly scored him.
The Rockies managed three hits and a walk in the seventh against reliever Carlos Contreras (0-1). Dickerson added an RBI single. With one out and the bases loaded, Nolan Arenado grounded to third baseman Ramon Santiago, who stepped on third and tried to double up Arenado late. The ball sailed past Pena for an error that allowed Cuddyer, who had singled, to score from first to tie the game.
Dickerson said he saw a rally coming.
"We crushed the ball early, but it was going straight to people, we had no luck," said Dickerson, who finished the day at .326 -- an average that would put him ahead of National League batting leader Morneau (.323) if he had enough plate appearances to qualify. That could happen by season's end.
Thomas Harding is a reporter for MLB.com. Read his blog, Hardball in the Rockies, and follow him on Twitter @harding_at_mlb. This story was not subject to the approval of Major League Baseball or its clubs.