Reds endure difficult doubleheader sweep
Three-run lead erased in nightcap following Game 1 walk-off loss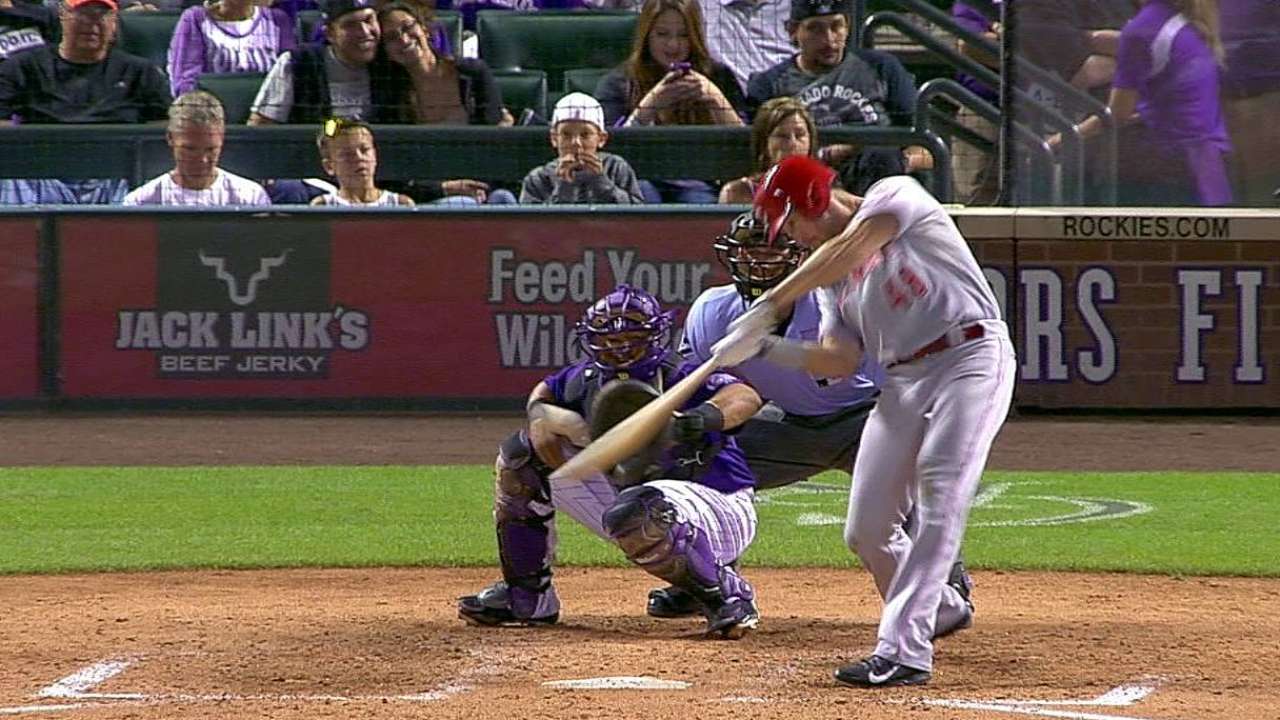 DENVER -- With hardly any time to digest the Rockies' five-run, ninth-inning rally from Game 1, the Reds came out of the gates blazing for the second act of Sunday's day-night doubleheader.
But there would be no revenge, as the bullpen blew another large lead to seal the Reds' third straight series defeat with a 10-5 loss at Coors Field.
The Rockies rallied for three in the seventh and five in the eighth, racking up five runs off right-hander Carlos Contreras across that span.
Sunday's devastating turn of events has the Reds 4 1/2 games out of the second National League Wild Card. It also had manager Bryan Price nearly speechless.
"I wish I had more for you," Price said. "I don't know what to say. The first one got away from us and the second one got away from us."
Although it wasn't quite the four-run advantage Aroldis Chapman and J.J. Hoover burned through in Game 1, Contreras came on in the seventh to hold the Reds' 5-2 lead.
After registering his first out in routine fashion, Contreras allowed the next two to reach, setting up an RBI single from Corey Dickerson. With the bases loaded following Michael Cuddyer's single, Contreras gave his defense a chance for a double play by coaxing Nolan Arenado into a ground ball right to Ramon Santiago at third.
Instead of going 5-4-3, Santiago chose to take the unassisted out at third, hustling to the bag to beat Dickerson. With not much time to force the off-balance throw to first, Santiago missed his mark by a large margin, allowing two runs to score as the ball ricocheted off the home dugout into no-man's land.
"I think if [Santiago] were to do it over again, he probably would have turned it at second base," said Price of the game-tying play.
Left-hander Manny Parra took over for Contreras in the eighth with two on and one out, but fared no better. Dickerson's double gave the Rockies two runs and the lead. Cuddyer's double gave the Rockies two more and gave him the second cycle of his career.
Just for good measure, Drew Stubbs, the Game 1 walk-off hero, added another with an RBI single before Parra could stop the bleeding.
While all the damage was going down, Price could do nothing but sit and watch in the aftermath of a Game 1 that left him with a three-man bullpen. Price was forced to dip into his relief corps earlier than expected earlier in the day with Mat Latos lasting just five innings. Chapman then compounded the situation by walking four in the ninth without an out.
"I know runs score here in a hurry, but we really did everything we could with our bullpen to get to the place where we had a chance to win that first game," Price said. "That's one we should have put away and we didn't. That left us vulnerable for Game 2. We didn't really get to match up. We just tried to run as far as we could with the guys that we had left in the bullpen. And it didn't work out."
The Reds jumped out to their largest lead in the sixth. In that inning, Ryan Ludwick made Rockies left-hander Yohan Flande pay for his leadoff walk by punishing a two-run shot to left-center. Two batters later, Brayan Pena's double over center fielder Brandon Barnes gave the Reds a 4-1 edge.
Billy Hamilton led off Game 2 with a double before coming around to score on Jay Bruce's groundout. Hamilton scored again in the seventh on Santagio's sacrifice fly. He also stole his 45th base of the season, beating right-hander Brooks Brown's pitchout by at least three steps in the seventh. He finished the doubleheader 5-for-9 with three doubles and four runs scored.
Barnes and Cuddyer each got to right-hander Dylan Axelrod for solo homers to left field. But outside of the long balls, Axelrod proved quite reliable in his first Major League start since Sept. 25, 2013, striking out seven across six innings.
"It's unfortunate the way both games turned out today, but I was happy with my performance," Axelrod said after filling in Homer Bailey.
The Reds head to St. Louis for a three-game series against the rival Cardinals, who own the first NL Wild Card. Even with a doubleheader on a getaway day, Price knows there's no time for jet lag or excuses.
"We're in a bad place right now," Price said. "But tomorrow, we're professionals, we have to come back to play. There's no excuse for hangover in this league. We're going to wear it. And we should."
Cody Ulm is an associate reporter for MLB.com. This story was not subject to the approval of Major League Baseball or its clubs.