Stanton powers Marlins back to .500
Slugger drives in four; Yelich goes 3-for-5 as Miami clinches series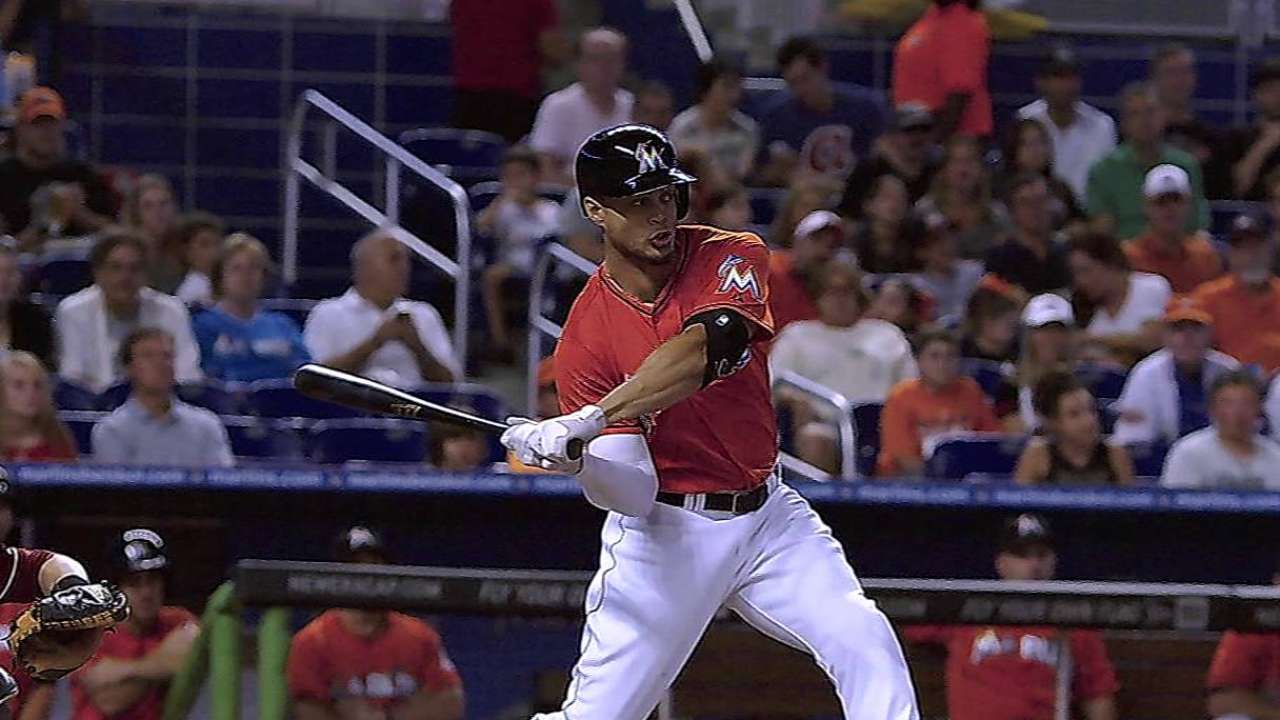 MIAMI -- Runs were at a premium throughout the Marlins' four-game set with the D-backs at Marlins Park. Each of the first three games were decided by one run.
But on Sunday, Giancarlo Stanton had four RBIs and his bat propelled the Marlins to .500 for the first time since July 29 as they beat Arizona, 10-3, and secured their third consecutive series win.
The Marlins have won seven of their last 10 games, and the .500 threshold is pivotal for them if they want to put together a late-season run in the National League Wild Card race. The last time they were above an even mark was on June 20.
"To get back to .500 at this stage of the season is huge for us," manager Mike Redmond said. "Definitely right where we want to be. We talked about coming into this series needing to take care of business. ... To win three out of four here is huge."
Stanton and the Marlins wasted no time getting to Arizona's Josh Collmenter. Christian Yelich led off the first with a double and Jeff Baker drew a walk, bringing up Stanton. The slugger hit a towering home run into left field that landed in the D-backs' bullpen for an early 3-0 cushion.
Stanton's season total for RBIs climbed to an NL-best 88, surpassing his career-high of 87 set in 2011. Although he joked about not breaking 100 yet, he recognized the importance of helping Miami secure 62 wins on Sunday. The Marlins had 62 wins all of last season.
"It's helping us win," he said. "That's more than any single accolade I could have."
"It's an intimidation factor that [Stanton] brings to the ballclubs, and this guy just continues to do it," Redmond praised. "We just played a long stretch of ballgames and guys are tired and emotional and on tilt. ... To come out on a day game -- they're always tough to play -- [and] for him to set the tone was huge."
Stanton drove in the first run of the Marlins' seventh inning after Yelich, who'd reached third on an error and a stolen base, led off the inning with his third hit of the afternoon.
The scoring didn't stop there. The Marlins sent nine to the plate and added five total runs in the frame, thanks to a pair of walks and RBI hits by Marcell Ozuna and Jarrod Saltalamacchia.
"We've had close games all the way down to the wire for a while now, so to be able to secure this in the seventh inning was good," Stanton said.
The Marlins also saw each of their one through eight batters reach base in the game. Garrett Jones put together a 2-for-3 afternoon, including a first-inning solo homer, after entering the game with one hit in his last six contests.
The offensive outburst provided plenty of support for starter Tom Koehler, who ran into trouble in the first and sixth innings, as he posted his ninth win of the season.
"When your big guy [Stanton] is producing the way he is, you've got a chance of winning a ballgame," Koehler said. "When you see him swinging the bat well, it makes everybody else not press and just go out there and do what they're capable of doing in that game."
Koehler needed just seven pitches to get the first two outs of the game, but then he allowed a single and two walks. Pitching coach Chuck Hernandez trotted out to the mound after Koehler threw five straight balls, one of which was a wild pitch.
The message Hernandez delivered about slowing down clearly paid dividends, because Koehler struck out Jake Lamb with the bases loaded to end the inning. He then retired 11 of the next 12 batters before giving up two runs in the sixth. Koehler struck out seven batters and walked two through six innings.
"He got a little wild, but he got back together," Redmond said. "Chuck went out there, settled him down. ... He had some really nice innings. In the sixth inning, he kind of just ran out of gas."
Miami has scored 10 runs six times this season, but Sunday's total was the most they'd scored since they beat the Rays, 11-6, on June 5.
Maria Torres is an associate reporter for MLB.com. This story was not subject to the approval of Major League Baseball or its clubs.