After Collmenter falters early, 'pen digs deeper hole
Right-hander gives up five runs; Marlins get to Delgado for five more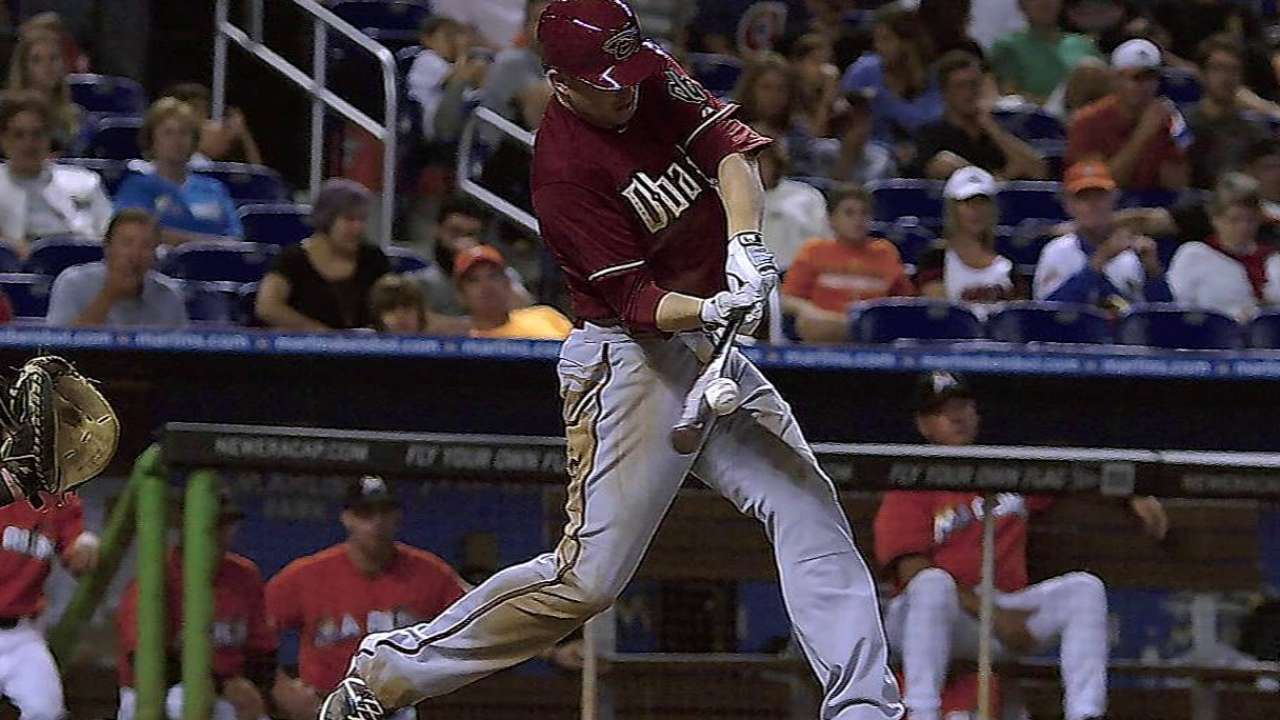 MIAMI -- Josh Collmenter's last start was wiped out by rain as if it never existed.
The D-backs right-hander probably wishes he could have washed away Sunday's first inning, as well.
The Marlins scored four runs off Collmenter in the opening frame as they beat the D-backs, 10-3, to take three out of four in the series at Marlins Park.
"He didn't seem to have his good stuff today at all," D-backs manager Kirk Gibson said. "He struggled, his velocity was way down. He really didn't have it today."
Collmenter (8-7) started against the Tribe on Tuesday night in Cleveland, and after three innings, that game was postponed due to rain. Since it had not gone at least five innings, it was restarted the next day.
There would be no do-over Sunday.
"I felt fine, just everything was a little flat and the pitches didn't do what they were supposed to do, and I think that's why they hit them out of the park," Collmenter said.
The Marlins got a double from Christian Yelich to start things off for them and Jeff Baker followed with a walk.
Giancarlo Stanton quickly cleared the bases with a home run to left -- his 32nd of the year -- to give Miami a 3-0 lead. It was the first homer the D-backs had allowed to Stanton this year.
One out later, Garrett Jones homered to right to push the Marlins' advantage to 4-0.
Collmenter threw 92 innings out of the bullpen last year and is already at 129 1/3 this year after being thrust into the rotation in April.
Considering Collmenter's velocity was also down in the first inning, the question is whether the added workload this year might be too much.
"There's a lot of reasons why guys' velocities vary from start to start," pitching coach Mike Harkey said. "He's working on 130 innings. He hasn't done that in a couple of years. We're going to have to reevaluate if it's something going forward that we need to be concerned about. We'll figure it out. He says he feels good."
Collmenter did not blame the workload for his performance, but he also did not rule out the role it could play in his velocity being down.
"I haven't thrown this many innings in over a year, so it could be," Collmenter said. "But I try to do everything to be ready to throw a lot of innings, whether it's out of the 'pen or as a starter. It could have something to do with it -- I'm not so sure."
Gibson said the team will have discussions about whether to make any changes with Collmenter, but that skipping one of his starts or moving him out of the rotation are not options at this point.
"He just didn't seem to be himself today," Gibson said. "He said he was just a little sluggish and didn't throw the ball like he can. We'll have more conversations, and maybe we'll adjust his routine in between and freshen him up."
Said Harkey: "We're going to evaluate it soon. We don't know if it's fatigue or just a bad day. There's been a couple of outings where he's struggled early in a game and ended up giving us six or seven innings. He just didn't have it today. We're don't want to hurt anybody. But if he says he feels good, you're usually not going to make a determination on one start. We'll have to look at a few of them and see what happens."
After the Marlins pushed the lead to 5-0, the D-backs' offense finally broke through against right-hander Tom Koehler in the sixth. Mark Trumbo drove home a run with a double to center and Jake Lamb capped the inning with an RBI single to pull the D-backs to 5-2.
The Arizona bullpen, however, was not able to keep things close, as the Marlins battered Randall Delgado for five runs in the seventh.
"Got within 5-2, and then Randall came in and the wheels came off," Gibson said. "He's been throwing the ball good for us, but we let that inning get away and didn't play particularly well again today. You get five runs, we chip away, we got two and you're at least in the picture, but you've got to hold them and we didn't do that."
Steve Gilbert is a reporter for MLB.com. Read his blog, Inside the D-backs, and follow him on Twitter @SteveGilbertMLB. This story was not subject to the approval of Major League Baseball or its clubs.