Blue Jays battle back but can't catch White Sox
Hutchison recovers to go seven after being lit up in the first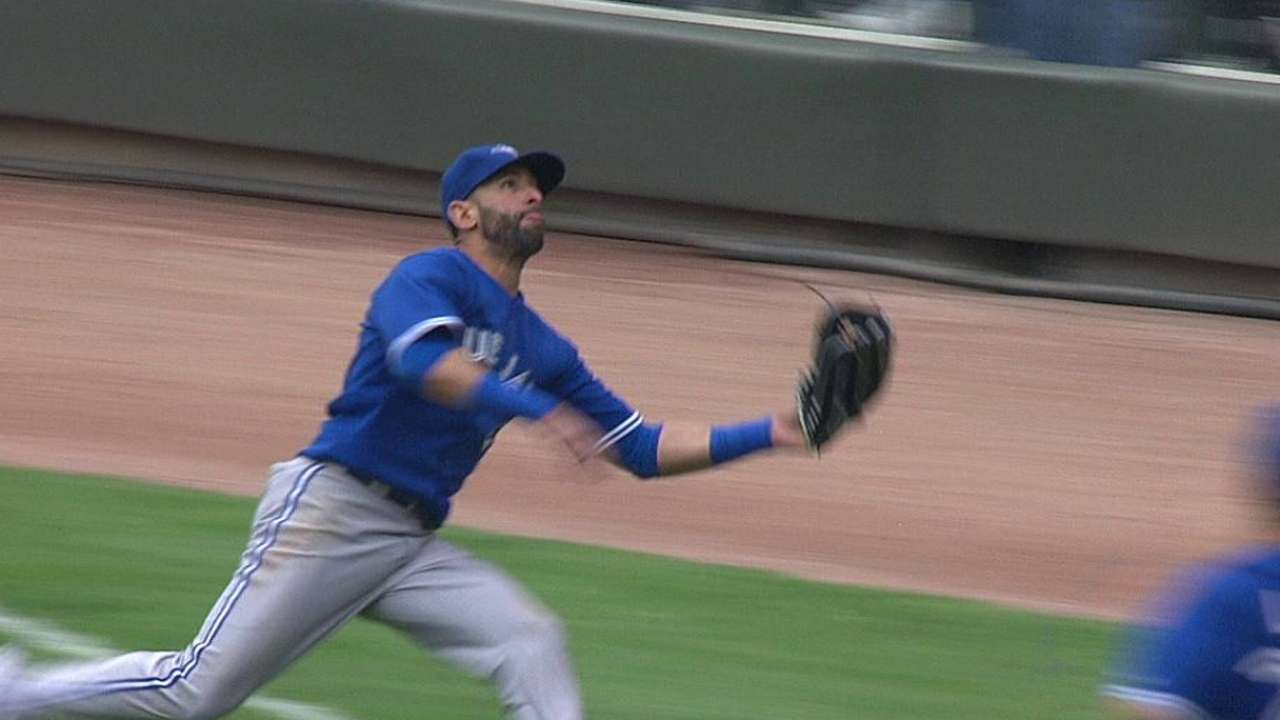 CHICAGO -- The Blue Jays find themselves in the midst of a road trip that just won't end.
Toronto dropped to 1-5 during its current slate in the States after Sunday's 7-5 loss that gave the White Sox their first series win of the month.
Drew Hutchison was the second starter who struggled to get out of the first inning this weekend, allowing six earned runs in the opening frame, including a grand slam. The sour showing early piggybacked Marcus Stroman's five earned runs in two-thirds of an inning Friday after 37 pitches.
"Well Hutch was close too, now," manager John Gibbons said of his starter's first-inning pitch tally, which reached 40. "Simply because when they start throwing a lot of pitches in one inning, with those young arms, you don't want them to blow them out. So he wasn't too far out of that either coming out of that thing, which would've been disaster."
All six runs were manufactured through two-out homers. Conor Gillaspie's grand slam came on two strikes. This all an embodiment of what the Blue Jays hoped to be a turnaround road trip.
Toronto sits at 4-11 this month after surging to start the second half 11-3. The Blue Jays were a season-high 6 1/2 games ahead in first place in the American League East on June 6, but now sit four games out of the second Wild Card spot.
"Obviously it's not the most comfortable because you're not at the top and you're not in that comfortable position," right-fielder Jose Bautista said. "But even if we were, are we going to just relax and play in a nonchalant way the rest of the season? No."
Despite what looked like an early calamity, the Blue Jays crept their way back and had the bases loaded, down two with one out in the ninth.
Colby Rasmus popped out to the left-center field gap, but a sprinting Alejandro De Aza made the catch and heaved home. The throw was off line and en route to the backstop, but Gillaspie dove to halt it at the mound.
Nolan Reimold grounded out to end the game, furthering the conviction that the Blue Jays have been plagued by plenty of contact hindered by untimely drops.
"No question about it," Gibbons said. "We've been beat up a little bit in the staff and certain starts, but we've had some of the right guys at the right time. We just couldn't get to cash in that big one."
Yet the Blue Jays registered 16 runs over three games in Chicago, showing a glimmer of what the offense can produce at full strength.
In the fifth, Edwin Encarnacion hit his first homer since July 2, after returning Friday from a month-plus stint on the disabled list. His 27th long ball was a two-run shot, part of a three-run inning for the Blue Jays.
They pulled within one an inning later when pinch-hitting Dioner Navarro lined an RBI single to bring home Rasmus -- the only run they registered on four hits in the sixth.
Hutchison manned the mound through the comeback, throwing just 58 pitches over the next six innings. He left after seven with seven earned runs on eight hits while fanning three and walking three.
"I felt good, the last six innings should reflect that," said Hutchison, who dropped to 2-2 with a 6.68 ERA in the second half. "I feel I had a bad inning in the first inning, I had two outs and two strikes on a guy. Things happen -- that's pretty much it."
Said Gillaspie: "It was definitely good to jump on him early, because they can swing the bat. So, it was good to get a few runs there and get us a little cushion."
The Blue Jays have an off-day Monday then open a two-game series against a Brewers squad that sits atop a competitive National League Central. Milwaukee has won eight of its last 11, including a three-game sweep of the Dodgers this weekend in Los Angeles.
"It's going to be a battle with them too," Rasmus said. "They've got good pitching and good hitting. I expect it's going to be a boat race at that park because the ball flies."
Daniel Kramer is an associate reporter for MLB.com. This story was not subject to the approval of Major League Baseball or its clubs.