Dominant Kuroda leads Yanks to series win
Gardner notches clutch two-run single while Teixeira goes yard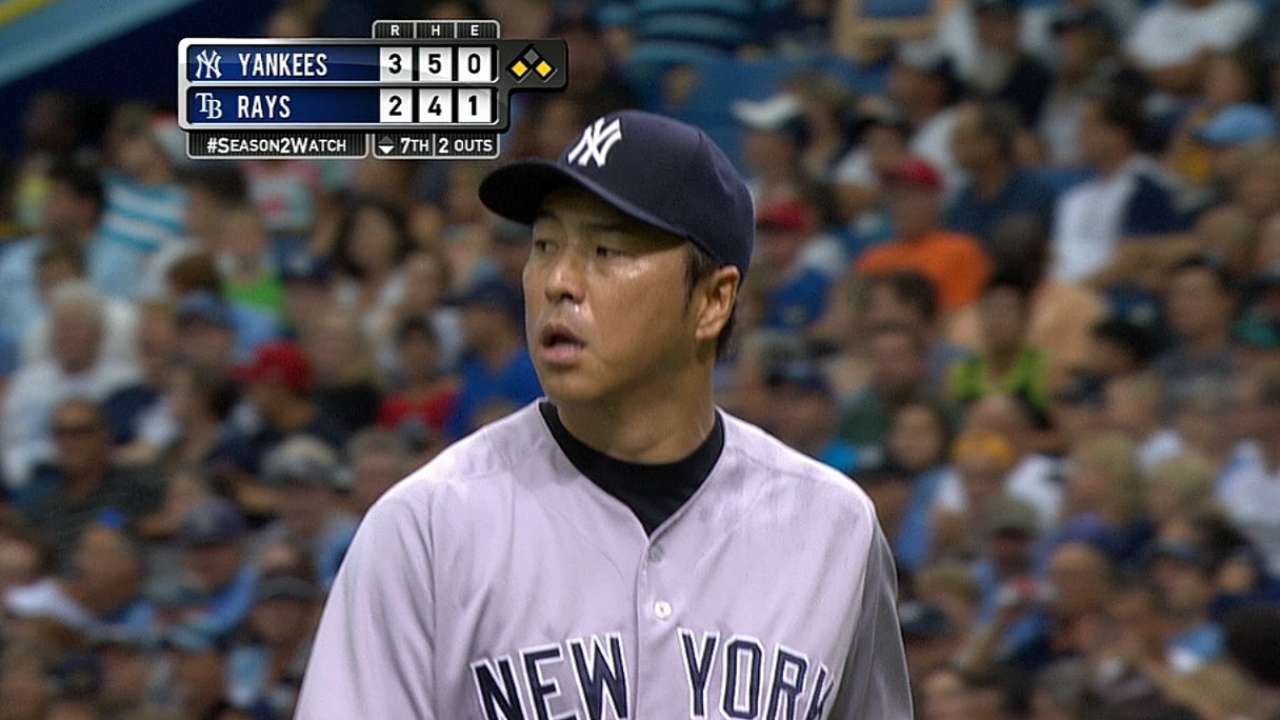 ST. PETERSBURG -- Hiroki Kuroda said that two extra days of rest offered some physical refreshment, as well as giving him an opportunity to clear his head. The way things have been going of late, the Yankees should be able to appreciate a little break whenever possible.
Kuroda retired 17 straight batters to highlight a dominant outing, logging his first victory in four starts, and Brett Gardner drove in two runs as the Yankees headed for home after celebrating a 4-2 victory over the Rays on Sunday at Tropicana Field.
"A good week and things can turn around in a hurry," Gardner said. "We've just got to stay positive and keep working hard. Hopefully, our pitchers will keep throwing the ball well and we'll come together and score some runs. Hopefully, it's not too little, too late."
Mark Teixeira also hit an eighth-inning homer, tying Joe DiMaggio at No. 80 on the all-time list with No. 361 of his career, as New York wrapped up a weather-shortened five-game trip with a pair of wins over Tampa Bay.
"It's better when you win," Teixeira said. "It's a good bounce-back week. We hadn't played well the first few games of the road trip, so it's really good bouncing back the way we did the last two games."
After two losses to the Orioles in Baltimore and another to the Rays on Friday, hitting coach Kevin Long said that he sensed team morale was sagging. The weekend recovery had the Yankees in much better spirits heading into Monday's off-day.
With the Blue Jays' loss to the White Sox, New York moved into second place in the American League East for the first time since Aug. 8, sitting seven games behind the Orioles. They are 3 1/2 games behind the Mariners for the second Wild Card spot.
The Yankees were held hitless into the fifth inning by Jeremy Hellickson before mounting a two-out rally that produced three runs. Martin Prado notched the Yankees' first hit of the afternoon, a double to left field that followed a walk to Stephen Drew.
Gardner cashed both runs with a base hit into center field, and after Derek Jeter singled through the left side of the infield, Jacoby Ellsbury picked up his first hit of the road trip with a single to left field. Ellsbury had been in an 0-for-17 skid.
"I think, for the most part, we've got our full lineup together and healthy," Gardner said. "I think we're in a pretty good spot. We've just got to play up to expectations."
Hellickson was done after that 38-pitch frame, having allowed four hits with two walks and five strikeouts.
"It's tough," Hellickson said. "Getting on the board early against [Kuroda], with the stuff he had, 1-0 might have to stand. So I've got to make big pitches when I need to and start putting guys away with two strikes."
Evan Longoria drove in both Tampa Bay runs off Kuroda, who permitted a pair of first-inning singles to Ben Zobrist and Matt Joyce before Longoria got a run home with an RBI groundout that started Kuroda's string of 17 straight outs.
"For me, I think my slider -- especially against righties -- was a pretty decent staple," Kuroda said. "For me, the thing was I wanted to pound the zone today and be aggressive."
Rays manager Joe Maddon said that Kuroda was "sharp," showcasing increased velocity with a good splitter and slider combo.
"That's as good as I've seen him in a while. He pitched really, really well," Maddon said.
The infield defense, particularly several nice plays by Prado at second base, helped as well. The 39-year-old was given extra rest after Tuesday's rainout, as the Yankees hope to avoid the second-half swoon that ruined Kuroda's final eight starts of 2013. Girardi said that the rest certainly "didn't hurt."
"It's obviously for the team to decide, but for me, whenever I get a turn to pitch, I want to get on the mound," Kuroda said through an interpreter.
Joyce finally broke through against Kuroda with a seventh-inning double, scoring on Longoria's single, but Kuroda recovered to get the next two outs. Shawn Kelley struck out pinch-hitter Brandon Guyer swinging on a high fastball to strand the go-ahead run on base.
"That's a huge out, obviously," Girardi said. "If he doesn't, they're going to tie the score and have a chance to take the lead. It's a really big out."
Teixeira gave the Yankees some breathing room in the eighth with his 20th homer of the year, a solo shot to right-center field off Joel Peralta, and David Robertson retired all three batters he faced in the ninth inning for his 33rd save.
"The last two days have gone pretty good," Gardner said. "We continued to pitch great and hopefully this week our offense can pick up the slack and give our pitchers a little breathing room."
Bryan Hoch is a reporter for MLB.com. Follow him on Twitter @bryanhoch and read his MLBlog, Bombers Beat. This story was not subject to the approval of Major League Baseball or its clubs.