Tigers fumble away Wild Card lead to M's
Detroit allows four unearned runs as bats struggle vs. Seattle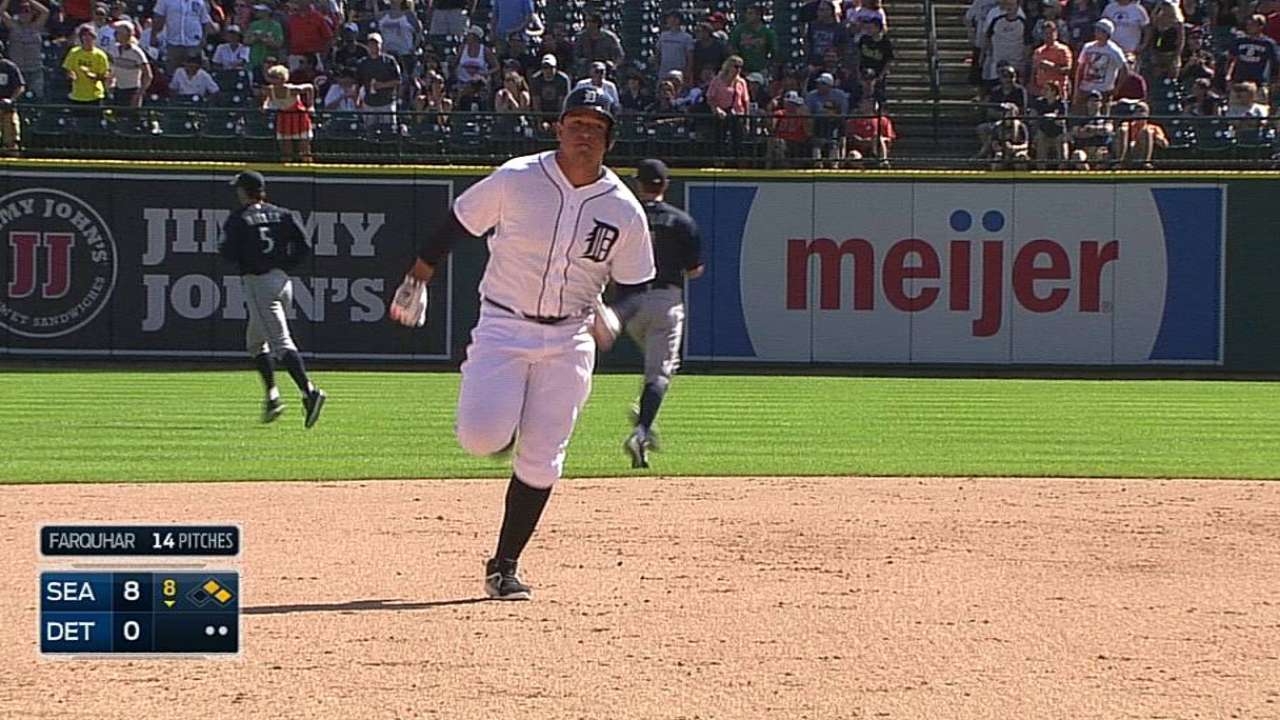 DETROIT -- The Tigers' ugly 8-1 loss against the Mariners on Sunday wrapped up in time for fans and players to get out of Comerica Park just as the crowd was moving in for the One Direction concert next door at Ford Field. Maybe that was fitting, and not just for downtown traffic.
The Tigers have been moving in the opposite direction of their competition for the past couple weeks, which is how they find themselves on the outside of the American League playoff picture. Just when they thought they had reversed the trend, they fell back into it.
They played up to former manager Jim Leyland's old adage that momentum is only as good as the next day's starting pitcher. And yet, it was more than that.
They put up quality, stingy at-bats Saturday night against Felix Hernandez to not only beat the toughest pitcher in the league, but knock him out early. Against Chris Young, those at-bats were nowhere to be found, and the overall play suffered.
"You want to get good at-bats. That's what you want to get, get deep in the counts, like we do yesterday with Felix," said Miguel Cabrera. "I think we don't do a very good job with this pitcher today. I think we have to battle better. We have to do a better job offensively.
"We had a great game last night, take out Felix in the fifth inning, sixth inning. Not to take anything away from the pitching today, but I think we need to do a better job to work counts and try to get on base."
Cabrera hasn't said much to the media over the past few weeks, let alone about their current skid. When approached after Sunday's loss, he talked to a smaller group of reporters.
"We play hard," Cabrera said, "but I think we have to do better. That's what I want to say. I say we have to play better."
He won't get any disagreement from his manager on that.
"It is baseball, but we need to play better," Brad Ausmus said. "We're a better team than this. Period."
Ausmus' primary concern is an offense that has quieted the past few weeks, despite its league-leading numbers. That is not his only concern.
While Seattle chased left-hander Robbie Ray after five innings with four runs allowed, three earned, on seven hits, three Tigers errors led to four unearned runs between Ray and Detroit's bullpen. Meanwhile, the 6-foot-10 Young tossed six scoreless innings on a day when the Tigers went 0-for-9 with runners in scoring position, stranding Rajai Davis twice in a game when he stole three bases to try to provide a spark.
"I just try to get into scoring position," Davis said. "It's easier to score from 90 feet closer than it is from 90 feet further away."
The only run the Tigers scored Sunday came in from first base, Cabrera rumbling home in the eighth inning when Victor Martinez doubled off the wall.
Seattle, to be fair, has had a good pitching staff, posting a team ERA of 2.94 despite playing in the hypercompetitive AL West. The Mariners have done things like this to a lot of teams.
"You expect to be in some trouble at some point versus a lineup like that," Young said. "It's important to continue to make pitches even when there are guys on base."
The Tigers, justifiably, felt like they could've fared better.
"I think we were overaggressive, and we were swinging at a lot of pitches out of the zone, and he took advantage of that," Davis said.
Cabrera indicated that pressure might have a part in it.
"That's why you see when we have men in scoring position, we swing at a bad pitch," Cabrera said, "because we want to make something happen."
Offense ebbs and flows, Torii Hunter said. Defense shouldn't. That, said Hunter, is what concerns him.
Davis said he simply missed Kendrys Morales' fifth-inning fly ball. His bruised left thumb had nothing to do with it. Nick Castellanos' eighth-inning fielding error was his 10th error of the year, and his second misplay in three games. Add in Martinez's error, and they've allowed nine batters to reach base on errors in August.
"Some days we play good defense and then we don't hit," Cabrera said. "Some days we hit good and don't play good defense. If we want to win, we have to stick together, play defense, hit and pitch at the same time.
"I think we still have a good shot because we still have a lot of games against Kansas City and Cleveland, against our division. When we play against our division, we play good. What we can do is go out there and play hard."
Jason Beck is a reporter for MLB.com. Read Beck's Blog and follow him on Twitter @beckjason. This story was not subject to the approval of Major League Baseball or its clubs.