Mariners make statement, trounce Tigers
Young tosses six scoreless; Denorfia gets three hits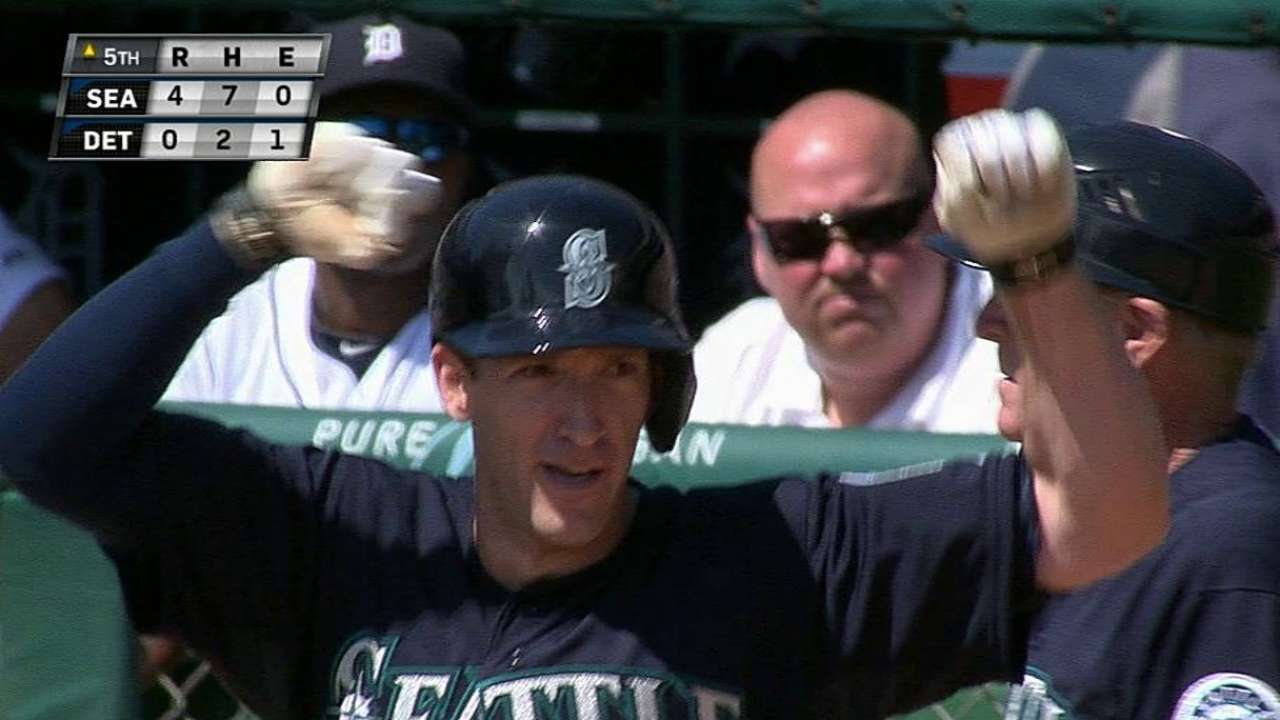 DETROIT -- If they hadn't already, the Mariners announced to the other American League playoff contenders this weekend that they are very much a part of that group.
Seattle used a stellar pitching performance from the red-hot Chris Young to capture, all at once, Sunday's series finale against the Tigers, the weekend series and, for now, the AL's final playoff spot. Behind six scoreless innings of four-hit ball from Young, the Mariners won, 8-1.
"They're all big wins at this point, regardless of who we're playing," Young said. "Obviously, they're a great club, a great team that's been where we want to go. To come in here and win two of three is big."
Young improved to 12-6 on the year and 7-2 in his last 12 starts. The 12th win tied a career high for Young, who has been one of the major keys to Seattle's success this season after years of dealing with shoulder problems.
Over those last 12 starts, the big right-hander has posted a 2.45 ERA. He used his slider to keep hitters off balance all afternoon.
While Seattle has come to rely on that type of performance from Young and the rest of the starting rotation, the Mariners also got help Sunday afternoon from an unexpected source: Chris Denorfia, who entered the game with a .185 batting average in 27 at-bats since joining the club at the Trade Deadline. Both Kyle Seager and Mariners manager Lloyd McClendon commented after the game on how crucial the experience that midseason acquisitions like Denorfia and Austin Jackson can be to the club.
Denorfia, who had three hits on the day, knocked the third and final Mariners single in the first inning. Detroit starter Robbie Ray labored through the inning, allowing two runs and throwing 28 pitches.
"He swung the bat extremely well," McClendon said of Denorfia, who also set up a run with a triple. "I was very pleased."
Seattle racked up 13 hits Sunday. More importantly, the Mariners held their hosts to just seven runs in the series. According to Detroit manager Brad Ausmus, facing quality starting pitching was only part of the problem his team ran into.
"Chris Young pitched well, but it wasn't all Chris Young," Ausmus said. " … After the game last night is such an adrenaline high, facing a guy like King Felix, we had a few good at-bats here and there, but really we've got to have better at-bats, up and down the lineup."
The Tigers certainly did little to help themselves in the third inning, when Seattle pushed across its third run. With two outs, Logan Morrison hit a chopper to first baseman Victor Martinez that should've ended the inning, but he couldn't get a handle on it. In the next at-bat, with the bases loaded, Ray came up short on a wild pitch that allowed Robinson Cano to score from third -- one of four unearned runs the Mariners scored.
In the sixth, Seattle took advantage of some poor defense on the part of Detroit to extend its lead to 7-0. With a run in already, Kendrys Morales blooped one to left field that was dropped by Rajai Davis, allowing Jackson to score. Jackson had two hits on the day, and three over the weekend series, against his former team. The inning continued with an RBI single by Kyle Seager, who drove in three runs.
A sellout crowd of 41,181 at Comerica Park broke into applause as Detroit plated its lone run in the bottom of the eighth on a Martinez double.
With 39 games remaining, the Mariners, who have won 11 of 14, lead the Tigers by a half-game for the second Wild Card spot.
"Lloyd has said it all along," Young said. "'Trust your talents. Come out and play the game the right way because you're a good team.' I think we're starting to believe in that."
Matt Slovin is an associate reporter for MLB.com. This story was not subject to the approval of Major League Baseball or its clubs.