Astros capitalize on review, eclipse '13 win total
Amid 4-for-5 day, Altuve swats first slam to cap six-run second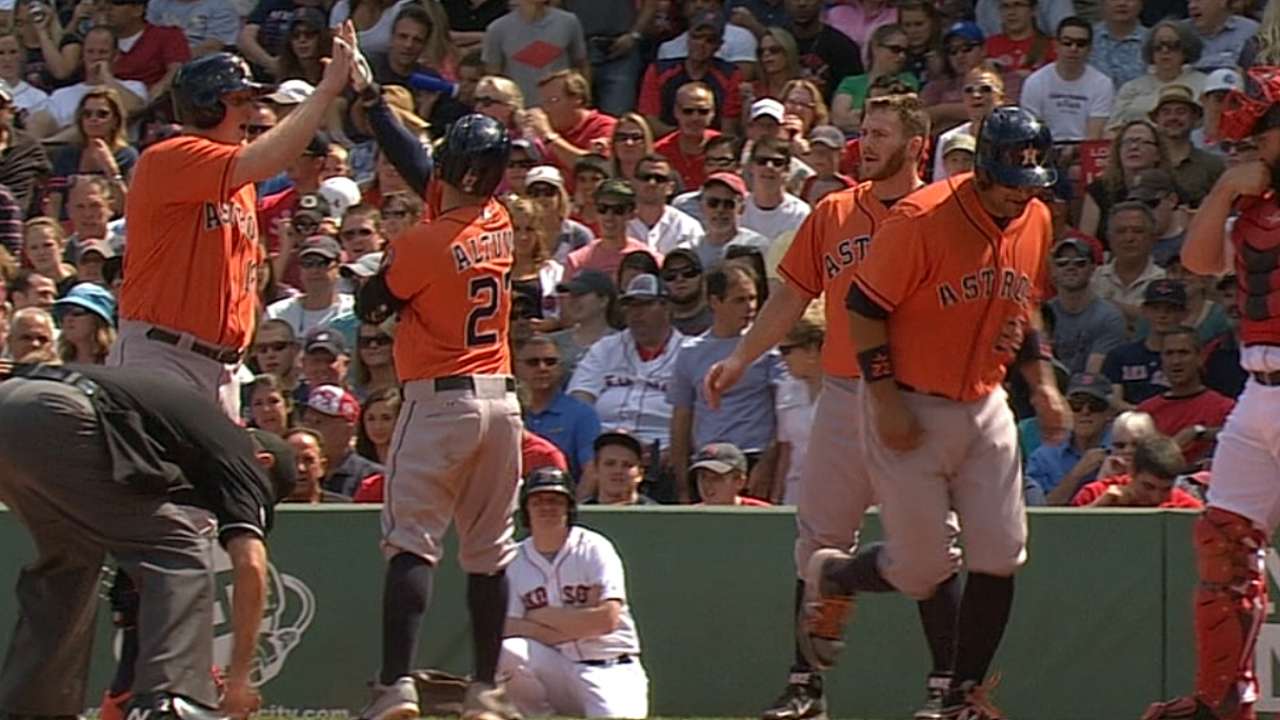 BOSTON -- As the media filed into the cramped space that was manager Bo Porter's office for the Astros' four-day stay at Fenway Park, the muffled shouts of bench coach Dave Trembley could be heard on the other side of the door.
"What a ballgame! What a ballgame!"
What a ballgame, indeed.
Jose Altuve went 4-for-5 and cranked his first career grand slam home run to cap a six-run outburst in the second inning following a crucial replay overturn of an inning-ending double play, helping send the Astros to an 8-1 win over the Red Sox and a split of the series Sunday afternoon. With their 52nd victory, the Astros surpassed their win total from a season ago.
"Oh man, the big guy," Porter said of his 5-foot-6 All-Star second baseman. "He put a charge in that one. Every time we have situational hitting and we let them pick their situation, Altuve, as always, he goes: 'Bases loaded, bases loaded!' He got bases loaded today and put a really good swing on it."
Altuve, Dexter Fowler and Jon Singleton each homered for the Astros, who have 16 games of at least three home runs (14-2). Altuve became the first Astro to collect a grand slam and four hits in a game since Jeff Bagwell on April 9, 2004, at Milwaukee.
Altuve leads the Major Leagues in hits (173), batting average (.339) and multi-hit games (53).
"I feel really happy," he said, "we could take the lead early in the game and it's a big win for the Astros."
The grand slam never would have happened if Red Sox shortstop Xander Bogaerts hadn't thrown a ball to first base before his foot touched second base when trying to turn a Marwin Gonzalez grounder into an inning-ending double play.
The Astros were leading, 2-0, and had runners at first and second with one out in the second when the play occurred. The replay showed Bogaerts released the ball too soon, meaning Marc Krauss should have been safe at second. Porter asked for a review, and the umpires checked with the replay center in New York before reviewing and subsequently overturning the call.
The overturned call put runners at second and third with two outs, and Robbie Grossman drew a walk to load the bases. Altuve followed by launching a grand slam over the Green Monster to break the game open and break the Red Sox's spirits.
"Pat Listach, our third-base coach, he did a great job," Porter said. "He turned around right away and was motioning to the bench, and I had already headed out there after that. Because it's the last out of the inning, you have to be on the field within 10 seconds, and our video team did a great job of getting the information down to the bench.
"Right away, by the time I got to the umpire, I knew that I wanted to challenge. Just wanted to make sure obviously that you're not challenging the neighborhood play, which is something that you can't challenge."
Astros starter Collin McHugh (6-9) won his second consecutive start by holding the Red Sox to one run and seven hits in six innings. He's allowed one run in each of his four August starts, going 2-0 with a 1.42 ERA.
"Results are great, but I think it's obviously still a work in progress," he said. "Every day you're coming to the park and trying to get a little bit better, so I think we did some good things today and we definitely have some things to work on leading up to the next start. Overall, we're happy to get the win. It's a great team win. The offense really bailed me out, so it was nice."
The Astros loaded the bases with no outs in the second against Joe Kelly (0-1 AL, 2-3 overall) for Krauss, who hit a fly ball to left field that Yoenis Cespedes misplayed into a run-scoring single. Matt Dominguez followed with a sacrifice fly to make it 2-0.
Kelly, who allowed seven runs, seven hits and walked six in four innings, said the overturned call in the second didn't negatively affect his psyche.
"You've got to find a way to lock back in," he said.
Brian McTaggart is a reporter for MLB.com and writes an MLBlog, Tag's Lines. Follow @brianmctaggart on Twitter. This story was not subject to the approval of Major League Baseball or its clubs.